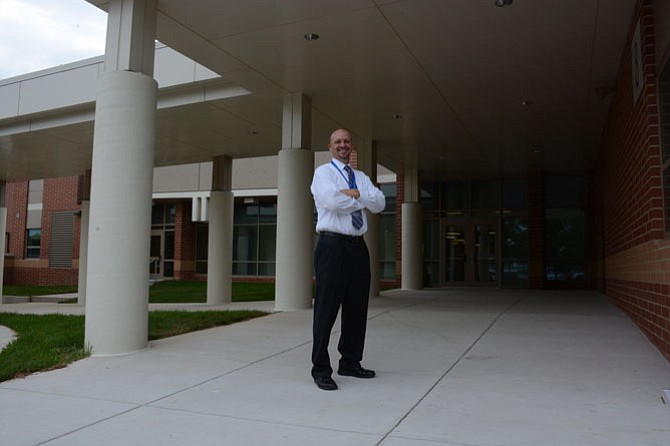 Molly Field, of Burke, is going on her 13th year as a Terra Centre Elementary School parent. Her third of three children will be in sixth grade there this fall. And though the educational experience hasn't been lacking for her, friends have referred to the school as "The Shire," a subtle dig at the mid-1970s design to be more efficient and environmentally friendly by using a green roof and sealing off many opportunities for natural light in favor of heating and cooling cost savings.
"The kids were like the Hobbits," said Field, who has also served as president of the Terra Centre Parent-Teacher Association. "It was not at all a traditional environment," she added, referring to the often dim, pie-shaped classroom "pods" that clustered around large pillars in the original school's floor plan.
But over the last two years, the school has undergone a county-funded transformation. Its number came up for renovation, a 2011 county bond brought forward funding, construction started in July 2013 and the finishing touches are now being completed, well in time for the first day of school in September.
Field's son is excited for the exterior upgrades, including an upper grass field with new backstops and a large new blacktop area on the side of the school with several pairs of basketball hoops.
Field herself is a fan of the more traditional squared off floor plan for classrooms, the new springy floor in the gym, a restored School Zone light on Burke Centre Parkway and doors on all the classrooms, bathrooms and offices where there were previously none.
"What's not to be positive about?" said Field. "I'm psyched, I wish it had happened a lot sooner. It's a victory for the community, the children, the school -- the school looks like an actual school, that says we're a community and we are here."
Schools, Expansion and Renovation
*For the 2014-2015 school year, more than 35 percent of Fairfax County Public schools were over capacity. That number is expected to grow to more than 45 percent in the next five years, from increasing enrollment.
*Every 25 years is the "preferred" cycle, though at present it is 34 years. Rising costs mean the cycle is expected to increase to more than every 42 years in the near future.
*There are around 1,000 portable classrooms (trailers) in use across the school district.
Source: Fairfax County Public Schools
68,000 square feet of school were renovated, with an additional 20,000 that included an all-new front entrance, cafeteria extension, two School Age Child Care program rooms, library, roof access stairway and four preschool and art classrooms. The student drop-off "Kiss-n-ride" lanes and entrance were also completely redone to facilitate better traffic flow.
THROUGHOUT THE SCHOOL, expansive windows now allow natural light to stream in. While sealing out the sun was better for efficiency in the '70s, "Today, we like to see natural light in every learning space, almost every room possible," said Fairfax County Public Schools director of design and construction Kevin Sneed.
Now, he said, about 80 percent of the structure's power demands go towards ventilation and lighting, not heating and cooling. "Our most important function is to make sure classrooms are conducive to learning," Sneed added. "The place was a little dark. I give whoever came through there credit."
"The newness energizes everyone," said principal Greg Brotemarkle, "the students and staff. We just have to keep it going."
Megan McLaughlin, Braddock District Fairfax County school board representative, echoed Brotemarkle in expressing her excitement to see the project come to completion.
"It will greatly enhance the learning environment both inside and outside of the classroom," she said, in an email. "In addition, I greatly appreciate Fairfax County taxpayers' long-standing support for our public schools and these important capital improvements."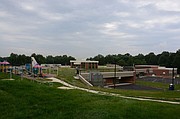 All told, the project cost about $17,545,000 and took 21 months of construction, according to Sneed. He said that though demolition was a challenge given the school's uncommon design, no additional work orders were written and the original contract wasn't exceeded. In other words, it "came in exactly on the budget," he said.
Brotemarkle said student enrollment has been fairly steady over the past several years -- unlike other areas of the county such as the Route 1 corridor in Mount Vernon -- around 550 students.
BUT CAPACITY was still an issue, with fifth and sixth grade students forced to take turns learning in trailers outside the school.
As more classroom space became available during the project, they began moving back inside. Though her son thought the special treatment of being in a different space was cool for a time, Field likes how everything has come together.
"It's beautiful, it's a school now," she said.