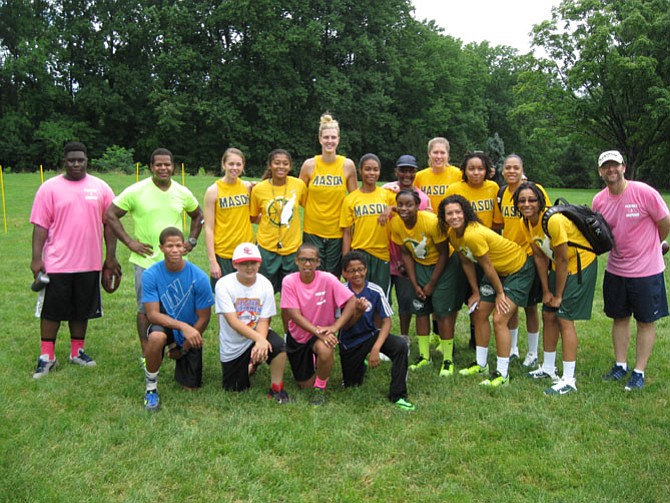 In spite of the morning rain, a Family Sports Challenge was held Saturday, July 18 at Van Dyck Park in the City of Fairfax to benefit Our Daily Bread's Collect for Kids Back to School Program. Sponsored by local nonprofit Parties 2 Inspire, the City of Fairfax Parks and Recreation Department and XSport Fitness, participants paid $5 or donated backpacks and scientific calculators for a chance to take part in a number of sports challenges, including Jazzercise, a hula hoop contest, and soccer, football and basketball challenges.
"This has been an extraordinary day because through the rain, we've had so much help with our volunteers, including the George Mason Women's Basketball Team, and other nonprofits joining in to inspire our community and children with health, fitness and fun to raise awareness for families in need," said Hawanya Turner, president of Parties 2 Inspire, which sponsored the event.
"Our Back-to-School program is part of a countywide effort to help local kids in need go back to school with all the supplies they need," said Heather Webb of Our Daily Bread (ODB). "We're working to help 2,000 kids in Central Fairfax."
ODB's goal is to provide supplies for 2,000 qualified needy children who attend Fairfax High School, J.E.B. Stuart High School, the elementary and middle schools that feed into them, and some additional central Fairfax schools that have requested assistance.
Webb said a donation of $15 can translate into all sorts of school supplies in the Collect for Kids' Back to School program. Some 52,000 school children who qualify for the free or reduced meals in the schools, or 27 percent of the school population, are eligible to receive backpacks with school supplies.
Anyone interested in helping may donate through Our Daily Bread's website, www.ODBFairfax.org, or mail a check to 4080 Chain Bridge Road, 2nd Floor, Fairfax, VA 22030. Donations of new backpacks and/or gently used scientific calculators are also welcome. They may be brought to ODB's offices through Aug. 7, Mondays through Fridays between 10 a.m. and 2 p.m. Contact Dawn Sykes 703-273-8829 or holiday@ODBFairfax.org or visit www.ODBFairfax.org.