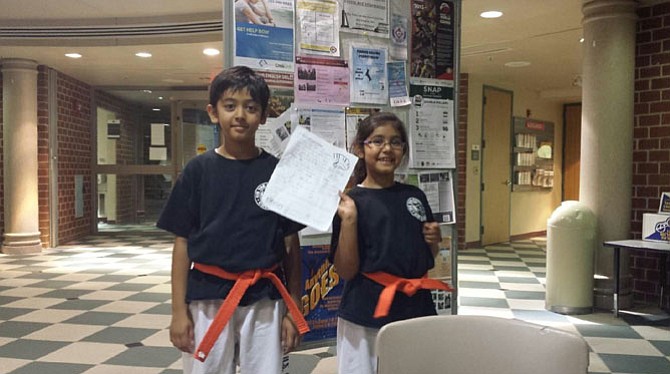 The Summer Reading Program runs from June 19 to Sept. 5 and is open to children from birth to twelfth grade. Participants in sixth grade or younger are to read 15 books, and those in grades seven through twelve read six. Upon completion, the readers may bring their list into the library and submit it in exchange for an extensive coupon booklet, as well as getting to write their name on the local library wall of fame.
At the Herndon Fortnightly Library, a dedicated staff works to engage children in the reading program. Mary Fox, the branch's Youth Services Manager, uses volunteer-run programs to encourage children to increase their literacy.
On July 9 and July 23, volunteer Rick Fox led one such program called Rocketry 101. In this program for ages 7 to 11, Fox taught the children about some very basic rocket science principles. Also, the children learned how to make a rocket using a balloon, a straw and some string.
"I try to give them a spark," said Fox, "something that will inspire them to go look up anything either on the Internet or in a book." Fox has been a volunteer for the summer reading program for three years. He became involved to help his wife, Mary (who, as mentioned above, is the Youth Services Manager). "Since she's been here, the number of kids participating in this stuff has skyrocketed," said Fox.
These fun activities as well as the coupon booklet prize keep children participating every year. Siblings Bhumi and Akshat have been participating in other summer reading programs since before they moved to the area from Texas. "My favorite part of it [the summer reading program] is reading books," said Bhumi, "because I don't think about them; I just have fun." Her brother, on the other hand, enjoys the reading but said, "I like the coupon part because you get to go a lot of fun places." The two siblings report that they are eagerly awaiting their first adventure to Six Flags America, one of the places included in the coupon booklet.
Mary Dunn, the second-in-command for the Summer Reading Program at Herndon Fortnightly, explains that the summer reading program is geared towards younger children. "We want to encourage literacy as early as possible," said Dunn. To help with this, the library is recommending a program called TumbleBook. TumbleBook is a free, online ebook library with interactive books for children.
Tumblebook, free programs for children and contests are all parts of the summer program at the Herndon Fortnightly Library. To learn more about upcoming programs at the Herndon Fortnightly, call 703-437-8855.