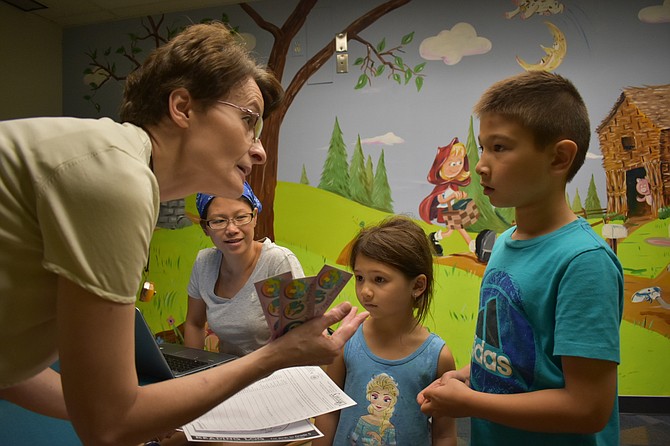 Sally Carter, Youth Services Librarian at Reston Regional Library, has a dream of being a children's book illustrator.
"I think that children's art is just amazing – what you find in picture books," Carter said. "I very often wish adults would come and take a look at them, because they're just incredible."
Though Carter became a librarian instead of an illustrator, she holds onto her dream and love of picture books through running children's programs at the library. On June 18, she held an event where school-age children could vote on their favorite picture book illustrators.
This event is just one of the many programs that the Fairfax County Public Libraries have throughout the summer. There are also scheduled programs each week that range from adult book clubs to family yoga. All of these programs are free of charge.
Between June 15 and Sept. 1, children and teens can participate in the libraries' summer reading program to earn a coupon booklet as a prize. Babies through third graders must read or have read to them 15 books, fourth and fifth graders must read 10, and sixth through twelfth graders must read five theoretically longer books to earn the prize.
"We encourage children of all ages to participate in our program," said Dorota Rodgers, Youth Services Manager at Reston Regional Library. "They can read many books and enjoy the joy of reading with parents or their siblings."
The Fairfax County Public Libraries, as part of a national program, also offer an incentivized reading challenge for younger children called 1,000 Before Kindergarten. This is an initiative that encourages parents to read to their children and to have their children read on their own in hopes that they may reach 1,000 books by the time they begin kindergarten. If one book is read multiple times, it can be counted more than once toward the grand total. The children can earn prizes at different milestones on the way to 1,000 books.
Through programs like these, Fairfax County librarians hope to instill a joy of reading in children.
"I always tell the kids when I'm doing a program that the books are just waiting on the shelves for them to be picked so that they can carry the kids off on one adventure after another like a magic carpet, which is what I've always felt," Carter said.