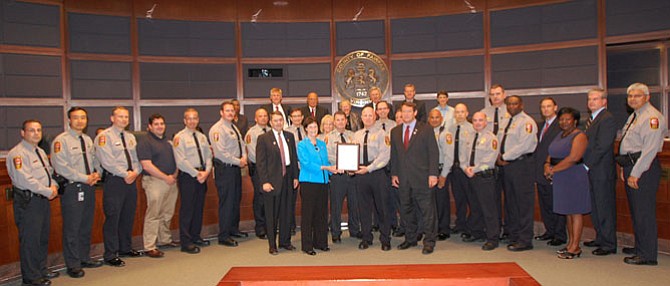 Voters will decide in November on nearly half a billion dollars in bond sales for schools and public safety projects. The Fairfax County Board of Supervisors authorized the referendum on the two possible bond issues at its last Board meeting, Tuesday, June 2.
If approved by Fairfax County voters, $151 million would be available to renovate five fire stations, build a new police station and animal shelter in the south county area, plus renovate several police facilities.
The $310 million school bond would renovate nine elementary schools, two middle schools and two high schools, along with funding an addition to South Lakes High School and plan a new Northwest County area elementary school.
The Fairfax County School Board adopted its own resolution on May 7, urging the Board of Supervisors to authorize the bonds.
FIVE AGING fire stations, Merrifield, Reston, Penn Daw, Woodlawn and Edsall, would be renovated with $51 million. The stations range in age from 36 to 48 years, and require the replacement of major systems "which have reached the end of their useful lives," according to Fairfax County documents. "These stations do not meet the current operational requirements of the Fire and Rescue Department."
Renovations will expand equipment bays to provide adequate space for current apparatus and current station staffing requirements, including bunk rooms and locker facilities for male and female personnel.
Public Safety Bonds
Merrifield Fire Station, $8 million
Reston Fire Station, $13 million
Penn Daw Fire Station, $10 million
Woodlawn Fire Station, $10 million
Edsall Fire Station, $10 million
South County Police Station and Animal Shelter, $30 million
Heliport, $13 million
Police Tactical Operations Facility (Pine Ridge), $24 million
Emergency Vehicle Operations Center & K9, $10 million
Franconia Police Station, $23 million
THE POLICE would use $100 million to: build a new animal shelter and police station in the South County area; renovate Franconia District Police station; do construction and renovation for the police heliport, K9 Center and several other facilities.
The new police station would create smaller coverage areas.
"This is a critical need given the significant current and future population growth in the area," according to county documents. "A new station will allow the department to organize smaller patrol areas and decrease response times throughout the County."
Fairfax County has highest credit rating possible for any government, and this means bonds sell at low interest rates.
This plan, including the proposed fall 2015 referendum was approved as part of the FY 2016 – FY 2020 Adopted Capital Improvement Program.
The School bond sales will be maintained in the annual amount of $155 million.
The County will issue a pamphlet about the bonds to be mailed to all county households in the fall.