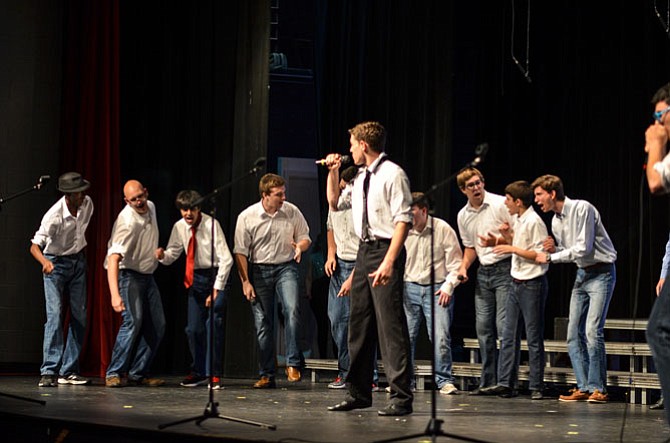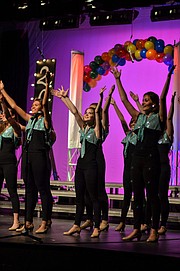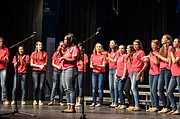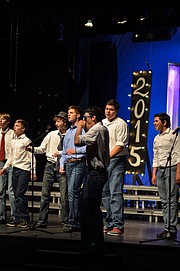 Herndon High School Choir presented the Pops Concert on Thursday, June 4 at Herndon High auditorium. This was one of the final concert shows for the year for students. Admission was free and the show was open to the public, although donations were accepted at the door to benefit the Herndon High School (HHS) Choir Department. The concert was well attended by family, friends and local residents. "There is a lot of talent in this show, and the choreography was impressive," said parent Brad Hummel.
Directing the show was choral director Dana Van Slyke, who has served as choral director at Herndon High School since 1995. During her time there, she has conducted the Concert Choir, Herndon Chorale, the Heatwave show choir, the Madrigal Singers, Bennett Street Boys and the Shebees. In addition, she has taught AP and introductory music theory. Playing the piano for many songs was her husband, Jim Van Slyke. Earlier this school year, Herndon High students Rebecca Wichman, Caitlyn Homet, Jordon Golomb, Sarah Overton and Zach Klein were selected to participate in the All Virginia Choir.
The program opened with a presentation of "Will It Go Round in Circles" by the Herndon High School Choirs, followed by "Gone, Gone, Gone," sung by the Concert Choir. Playing accompanying instruments were Joey Rudek, Jackob Reeves, Colby Gardiner, and Noah McKee. The event was also an opportunity for every senior student to perform a song. "The live variety of music lets everyone tap their toes and have a great time. The music is fabulous," said Herndon resident Rhonda Long, whose son is in the choir. Students were also pleased with the event. "It has been great, all of our hard work has paid off," said sophomore Jack Norcross.
"On behalf of the Herndon Choral Booster's Board of Directors and Executive Board, I would like to extend our appreciation to all the Choral Booster parents who gave of their time and means to support the Herndon High Choir this year," said president of the Herndon Choral Booster Andie Lytle. Monday, June 8, Herndon High hosted Herndon Band Awards. On Wednesday, June 10, a ceremony and reception at Herndon High cafeteria will celebrate the 2015 Choir Awards.
"It has been a fantastic show, there has been so much talent," said parent Susan Horting. The program included song, dance, costume and set changes, and music from every genre of popular music: rock to hip hop, mellow to metal, country to coffeehouse. The Herndon all-female a cappella performance group Shebees presented "Your Lips Are Movin'," followed by the all-male a cappella performance group The Bennett Street Boys, who presented "Uptown Funk."
The concert concluded with the sentimental song "I Will Remember You" performed by the HHS Choirs and alums of HHS choirs.
To read more about Herndon High choir visit www.herndonchoir.com.