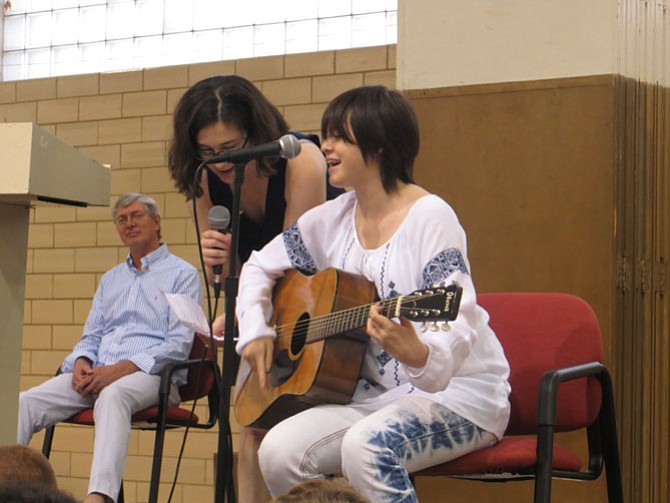 During graduation, while other schools would have a sea of caps and gowns in rows of seating, the class of 2015 from H-B Woodlawn lounged around on the floor or on sofas in an array of Hawaiian shirts. Even with less than 100 students graduating from H-B Woodlawn, the ceremony still went on for three hours. At H-B Woodlawn, or just H-B for most, students aren't just names in a long list, and they don't just grab a diploma and take a seat with hundreds of their peers. At the graduation ceremony on June 17, teachers spoke about each student. They shared memories of adventures and hardships they watched the students overcome. In addition to their diploma, each student received a set of gifts from the teacher: a set of drumsticks for one student, a pink Superman cape for another, each representing a part of that student's life at H-B.
Parents, students, and teachers describe the school, with a heavy note of understatement, as being a little different from other public schools in Arlington. Founded in 1978, H-B is an alternative all-county public school that serves grades 6 through 12. Students are selected through a lottery system, which keeps the student population around 600.
At graduation, parents of 11th graders prepare a potluck dinner for teachers and families of the graduates. Families gathered in the cafeteria before the graduation.
Ronnie Hovatz said her favorite memories with her grandson, Joseph "Joe" Sanz, were seeing him perform in concerts. Joe Sanz began at the school seven years ago and began learning how to play drums, so seeing him master his skill and play alongside his peers was, for Hovatz, a very fulfilling moment. Gerry Sanz, Joe's father, said that his son plans on attending the University of Maryland after graduating to study Aerospace Engineering.
"He's always been interested in STEM (Science, Technology, Engineering and Math), especially over the last few years," said Gerry Sanz. "He wants to design and build a space-elevator."
Joe Sanz also played ultimate Frisbee, one of H-B's most popular sports teams. Rachel Branman played alongside Sanz and said her times with the sport were some of her best memories at the school.
"I played soccer before … but ultimate Frisbee is more about the team. It's a family." Branman said ultimate Frisbee provided an atmosphere that emphasized positive reinforcement rather than negative.
"As a parent, I'll always remember her on the ultimate Frisbee team," said Diane Gordon, Rachel Branman's mother. "I'll remember seeing her become Junior Varsity captain and watching her find herself."
After graduating, Branman plans on attending the University of Virginia, and while she's still making up her mind on what to study, she's currently leaning towards physics.
"It's bittersweet. I'll miss it," Branman said, "But I'm ready to move on."
Gordon said the school completely changed her children's lives. Her son also attended H-B after one year at Williamsburg Middle School. She described her son's experience at Williamsburg as miserable, but said he loved it at H-B. Branman credits the school with her son applying and getting accepted to the University of Michigan.
The school's founder, Ray Anderson, said the school has hardly changed over the last 44 years. Anderson pointed to the cafeteria walls, covered in painted messages from past graduating years. Each year the graduating class is allowed to paint images or phrases on the walls. The class of 2015 left their mark on one of the second floor hallways.
"This school hasn't changed at all," said Anderson. "You just have to look at the walls, painted from the 1980s, and it's happening again today."
Anderson said the core concepts haven't changed, particularly the expectations of students to be responsible for themselves.
"Do teenagers always make perfect decisions, no," said Anderson, but quoted the school's motto as a response: "Verbum Sap Sat: a word to the wise is sufficient."
Aaron Margosis, a 1979 graduate of H-B Woodlawn and his wife, Elise Margosis, a 1983 graduate of H-B, were both in attendance to see their daughter Elana Margosis graduate. Unlike her parents, who attended for the full seven years, the lottery system kept Elana from attending until her final two years of high school. Still, Aaron Margosis said she made the most of it.
"[Elana] represented her school at the Virginia General Assembly … and has opportunities for all kinds of internships and got to meet important people," said Aaron Margosis.
Elise Margosis said she was most impressed with her daughter's work with the Feminist Majority Foundation and their Girls Learn International. Elise Margosis said her Elana was able to meet women from across the world through the program. With what she learned, Elana was able to teach a human rights elective to underclassmen when she was a senior, an experience Elise says was probably the highlight of her daughter's year, if not her entire experience at H-B. After graduating, Elana Margosis is planning on attending Rice University.
Kathi Morrison-Taylor was not only attending the graduation as a parent, but as a teacher. Morrison-Taylor and Michael Coughlin teach HILT, High-Intensity Language Training, for students for whom English is not their native language.
"I'm incredibly proud," said Morrison-Taylor, "These students come from very different backgrounds, and most have second jobs to support their families."
"It's a big accomplishment," said Coughlin. "We've both taught at other schools. It's a dream being here. We're given the freedom and respect needed to teach kids. [As teachers,] we usually know best what the needs are and we're given a lot of latitude in that regard."
As was brought up several times that night, Morrison-Taylor described the school as a family.
"We've had kids face extremely difficult circumstances," said Coughlin. "We've seen them be so determined and never give up, no matter the odds."
During the graduation, Coughlin gave each student in his program a dictionary and a word to look up following the graduation ceremony.
For Frank Haltiwanger, 2015 would be his last year at a graduation as principal. While he plans on attending future graduations, as Anderson attended graduations each year, he still said this experience was extremely emotional. Haltiwanger has worked at the school for 25 years and has spent the last 11 as the facility's principal. Haltiwanger plans on working at H-B until August when he can help transition the new principal, Casey Robinson, into the position. Robinson, a graduate of H-B in 1995 and later from Rice University and the University of Michigan, has been teaching at H-B since 2002. Haltiwanger said he believes the school will be in good hands with her.
"She's homegrown," said Haltiwanger. "She's familiar with the way the school works."
Halitwanger's decision to leave the school comes synchronized with the School Board decision to move the program to a new facility in Rosslyn in 2019. The new H-B will host 775 students, the largest student body the program has experienced. Haltiwanger said he had concerns about the move.
"Our operation is highly dependent on our small size," said Haltiwanger. "We have low levels of supervision, no rules, tremendous trust of staff and students .... We talk with [our students]. We trust them and they come to trust us. Being on a first name basis and being very informal allows us to have pretty significant relationships with the kids. They have access to us they wouldn't have at other schools. Kids feel a sense of responsibility and ownership. They care about the well being of the school because it's theirs."
Haltiwanger said he'll still be involved with the school on the sidelines, but said that if the school was undergoing a change of location, it was fitting for that to correspond with a change in leadership.
"It doesn't make sense for me to be involved in making this move," said Haltiwanger. "It was a good time."
After his retirement, Haltiwanger plans to travel to Montreal and Italy with his family. He also expressed an interest in focusing on music, his true passion. Haltiwanger plays the fiddle, mandolin and guitar. Honoring this passion, at the beginning of the graduation ceremony, graduating seniors Margaret Gorman and Maryrose Durbin performed a song for their departing principal.
During the ceremony, H-B instructor Tom Mallan summarized one of his students, Carter Stucki, as the embodiment of what H-B hopes to find in students.
"He's unique, but never alone," said Mallan. "Carter [Stucki] is a pleasure to teach, but hard to squeeze into a standardized test. He's more than a transcript."