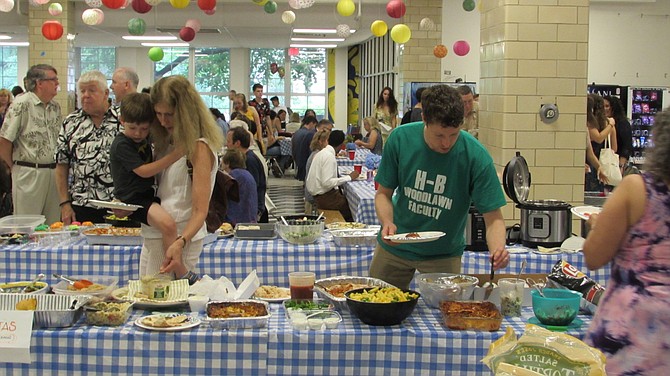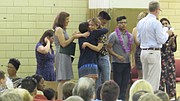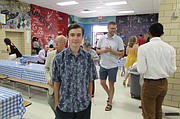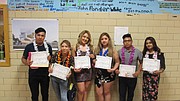 Graduation is an informal affair at H-B Woodlawn. The cafeteria is filled with the hum of light conversation as students mingle with family and faculty at a pre-graduation potluck. Rather than the traditional caps and gowns, the students dress casually in sundresses and Hawaiian shirts.
The ceremony, which took place Wednesday, June 19, maintained the relaxed atmosphere of a family reunion. After opening remarks by Dr. Casey Robinson, the school's principal, the ceremony began with teacher advisors giving short speeches for each of the 105 graduates.
Rather than having guidance counselors, H-B Woodlawn operates with a system of teacher advisors. "Individual teachers act as guidance counselors … for these small groups of students," said Michael Coughlin, one of the teacher advisors. This approach to counseling is one of the ways the school tries to foster deeper connections between students and faculty. "It's a much more personalized way for staff to be involved with students," said Coughlin.
Each student stood side-by-side with their teacher advisor as their teacher spoke of their past experiences, unique qualities, and plans for the future. Some began to tear up as they spoke and, at the end of every speech, the teachers embraced their long-time students. Robinson waited off to the side with a diploma and lei necklace for each graduate. "Our ceremony is not short, but it is special," said Robinson.
H.B Woodlawn is one of the few schools that teaches grades 6-12, and much of the staff expressed how proud they were of the students for all they have accomplished during their time at the school. "[The students] have a wide array of talents," said Robinson. "This is a particularly musical and theatrical group, but we also have some great mathematicians. They have done so many things in the seven years that they've been here and I'm just really proud of them for that."
The students seemed to have a positive attitude towards the more personal approach to schooling. "Definitely the personal connections you develop with teachers and friends … I wouldn't trade it for any other experience," said Alex Jones, a graduate who will be attending the University of Vermont. "I love it," said Jones, "I am so glad I made the decision in sixth grade to … embark on this journey."