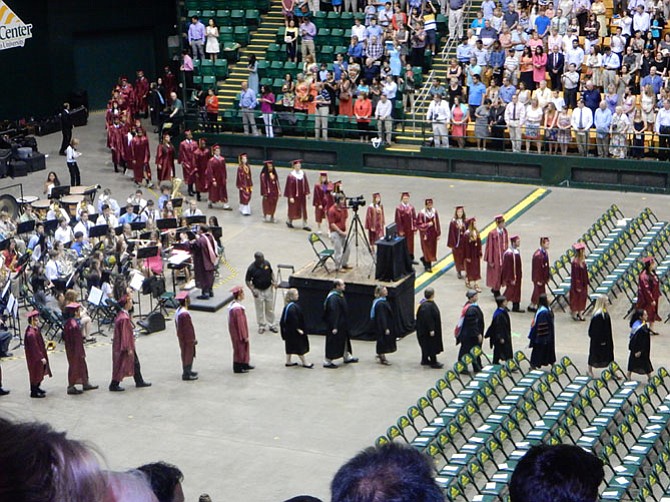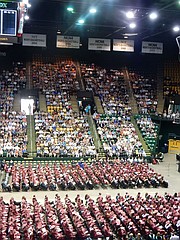 "I wasn't always this good looking. I also wasn't always this humble. On the first day of high school, I got lost and almost started crying. I even wore my gym clothes and had to wait half the day to change out of them. Now, I'm tall, dark, and handsome. This is a story of senior Megh Kumar, who set the tone in his humor-filled "Reflection" speech at Oakton High School's 47th commencement ceremony on Monday, June 22. Over 500 seniors crossed the stage at George Mason University's Patriot Center, receiving their diplomas and accolades among proud friends and family. Among these students, 154 graduated with honors, the highest number in the school's history.
"We have grown and challenged ourselves through our passions and activities," said class president Millan Khadka. "Our class had athletes, humanitarians, musicians and future leaders. We have achieved the highest of honors, all with Cougar pride".
"Four years ago, graduation seemed so far away and finishing high school so overwhelming. Yet, these were the good ol' days. What really made these moments good was the class of 2015 becoming my family and Oakton a second home to me," said Khadka. "We will always share in the pride of being Oakton Cougars."
Guest speaker, Elwyn "Chip" Comstock, former Vice President of Oakton, challenged students in his speech by posing the question: "How complete is your portrait?" He compared a blank canvas to the life of a student, telling them that they have been "primed" by family and role models. "You may have a masterpiece," he said, "but some parts need to be enhanced. Think to yourself: What will your portrait be?" He then offered words of advice from his experience in being both a parent and an educator. He told them with a smile: "Today you can clearly say you won the day. Now go out and win every day."
Students threw their caps in celebration as Oakton became their alma mater.
And how did Megh Kumar's story end? "I'm excited" he said. "We will remember the bonds we made, the tummy-aching laughs we had and the many firsts we experienced here at this school. We look to the future as a beacon of hope."