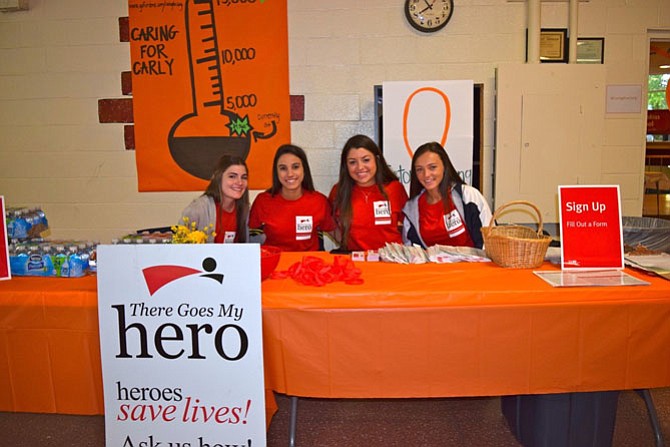 Holy Child junior Kaylie Atwood got involved in There Goes My Hero after her friend's dad was diagnosed with lymphoma and in need of a bone marrow transplant. There Goes My Hero, a Baltimore-based organization, works to find a match for every leukemia patient and assist their families through a variety of support programs.
One of the There Goes My Hero programs is called "Swab a Hero. Be a Hero" which works to save lives by registering people in the National Bone Marrow Registry so they can donate their bone marrow and save a life. Kaylie said she started a club at school in support of her friend, Sarah and her family because, "I thought we could recruit a lot of new donors through our Holy Child community. We have done swabbing events at numerous Holy Child events including Mayfield Market and Tiger Trot. We had a senior swab day at Holy Child and we have reached almost 150 swabs."


Kaylie was recently informed by Holy Child's Campus Minister Jean Plummer that Elizabeth Seton High School has a student named Carly who is in desperate need of a bone marrow transplant. Kaylie pulled together a swabbing event that took place earlier this month. Joined by fellow classmates Jenna Paro, Maddy Schnider, Maddie Gessler, and Sarah Nesbitt, they swabbed approximately 65 people.
Kaylie and her Holy Child team will be at St. Mary's Church located at 520 Veirs Mill Road in Rockville on Sunday, June 28 from 8:30 a.m. – 1:30 p.m. and 3 p.m. – 6 p.m. to swab. All are welcome to stop by and register with the National Bone Marrow Registry. For more information on There Goes My Hero, go to www.theregoesmyhero.org.

Connelly School of the Holy Child is a private, independent, Catholic girls school, grades 6-12, located in Potomac. For more information, see www.holychild.org.