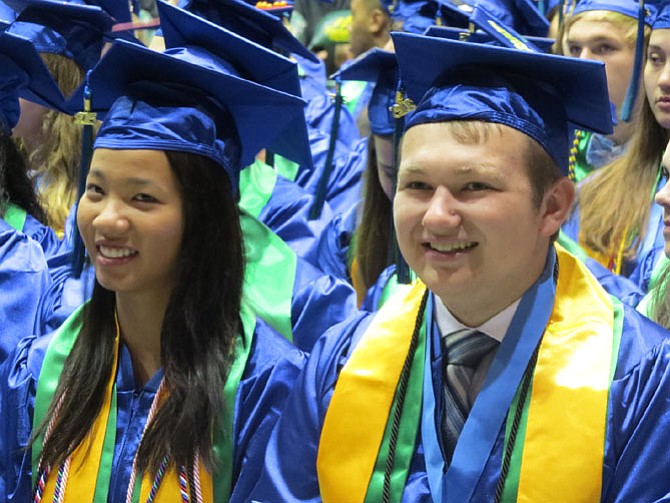 English teacher Valerie Padgett sometimes consulted an urban dictionary to understand her South Lakes High School students.
"You all made me laugh," she said. "I have been blessed to be a part of it."
The senior class chose her to be the faculty member to give the commencement address at their once-in-a-lifetime commencement ceremony.
"Of all the students I have taught, you have had the most heart," she told the Seahawks Class of 2015.
"I was both honored and horrified," she told them, to laughter. "I first want to thank you for the sleepless nights, the generalized anxiety, and right now, the overwhelming feeling of nausea."
She talked of her first year teaching in 1989 when she was determined to motivate students to love F. Scott Fitzgerald.
After 25 years of teaching, her point of view has changed.
"The goal is not to be inspiring, but to be inspired," she said to the 546 seniors who matriculated.
More than 110 South Lakes students received grade point averages over 4.0.
About six students will serve the United States in the military, and received standing ovations from teachers, classmates and people in the audience.
"The power of your spirit is always within you," Padgett told the graduating students.
Benjamin Gaiarin was the student speaker.
"My lips are, in a sense, everyone's lips," he said. He then kissed a relic spirit swivel stick used by faculty and senior class during the school year. But the words that followed spoke for and to the entire student body.
"Wherever your next steps may take you, notice the little moments," he said. "The small moments ... bring out the flavor we never expected."
Gaiarin reminded everybody of the loss of a classmate in class of 2015, Emma Clark, who died in September.
"We will always remember Emma's warm smile," he said. "Today, Emma walks with us."
Class officer Khoa Nguyen introduced teacher Peter Kownacki, who gave the principle address.
"He gave us a lot more than just an appreciation for bowties," Nguyen said.
"Always be an advocate for your own learning," said their teacher. "Remember never to sit idly by when you don't understand something."
"I am in awe of your future potential," Kownacki said.
Students entered the George Mason Patriot Center to hear South Lakes Band play "Pomp and Circumstance" by Edward Elgar and "Fanfare and Flourish II" by James Curnow.
During the ceremony, they heard fellow graduates in the 2015 Senior Chorus sing the "Star Spangled Banner" by Francis Scott Key and "I Was Here" by Diane Warren. And after receiving their diplomas, students marched off the George Mason University floor to "Keep Ya Heads Up," "Happy," "ABC," and "Shake it Off."
Valerie Padgett referenced J.R. Tolkien.
"Class of 2015, safe travels, until we meet again."
South Lakes Class of 2015
Sofia Wara Abdala
Makhabat Abdisattarova
Jonathan Hossein Abdollahzadeh
Ahmad Sanjar Abdul Ali
Jared Louis Abelson
Muhamad Sufyan Abuel-Hawa
Paola Gabrielle Acosta
Kyla D.A. Adams
Brianna Stefanie Agee
Jordan Mahin Aghamiri
Princess Tegheosase Aghayere
Flwah Adel Al Wayli
Sebastian Halit Albayrak Palacino
Evan James Alexa
Mohsin Ali
Reem Hashim Ali
Malik Tyree Allen
Zack Montgomery Allen
Jacob Philip Anders
Justin Lin Anderson
Elise Grace Andrich
Noah Lee Argleben
Anthony Arias
Marvin Osvaldo Aries-Mendoza
Sahana Simha Arkalgud
Shawn Christopher Armao
Samuel Joseph Arpee
Alexander Abbas Arshadi
Meron Tesfayohannes Asgedom
Corey Richard Aurentz
Heydi Joanna Ayala Alfaro
Kaitlyn Ann Ball
Jacob Ruiz Barajas
Paige Ellis Barlow
Jacob Benjamin Barnes
Angela Denise Barrale
Taylor Anthony Basnight
Hans Michael Baussus von Luetzow
Henning Alexander Baussus von Luetzow
Niklas Maximilian Baussus von Luetzow
Jaivir Singh Baweja
Kathryn Joy Beach
Aleah Ashley Beale
Elaine Fitzgerald Bee
Sara Pearl Bekenstein
Megan Alyse Bell
John Christopher Bellman
Sean Patrick Berg
Sean Michael Bermingham
Erin Leigh Bidwell
Andrew James Billingsly
Ashley Chara Birman
Kirsten Jane Bohnenberger
Christina Jayme Bohnet
Leonardo Antonio Bojorge
Alexis Isabel Bolivar
Jonathan Bonelli
Adonis Josue Bonilla Gomez
Abigail Josephine Bossie
Mark David Bouwmeester
Justine Elyn Bromley
Joshua Aaron Brooks
Charlotte Merrill Brown
Gavin Miles Brown
Ashley Mary Brundage
Kevin Matthew Bryan
Kaylee Ann Buckley
Virginia Elizabeth Bulger
Emily Nicole Bull
Burtrice Jamika Bumbrey
Lindsay Mariel Bur
Tristan Stephen Bustamante
Ethan MacLennan Byrd
Kelly Marie Carney
Rebekah Faith Carrai
Javier Emilio Carrasco Torrez
Sequoia Christianna Carrillo
Alina Valentian Cartwright
Luis Miguel Chacon
Joselyn Esmeralda Chavez
Alexis Cierra Cherry
Michelle Chien
Oziomachukwu Chinaka
Chloe Marie Lynn Chindgren
Grant Benjamin Chustz
Matthew Edward Cibak
Joshua Yujin Clark
Estefani Vanessa Claros Escobar
Ryan Clinton Coghlan
Lindsey Anne Cohen
Kathryn Tandy Cole
Zachary Azriel Coleman
Benjamin Walter Constantine
Jewel Yonni Cooper
Kalle Pentti Velhelmi Copeland
Aliyah Jade Cotton
Anthony Spencer Cox
William David Craun
Andrew Evan Creekmore
Edmund Matthew Crump
Sydney Elise Crutcher
Juan Manuel Cruz
America Gail Cuchillas
Kayla Denice Cummings
Marcus Dupree Damper
Farnaz Daneshvaran
Julian Dawit Danielsson
Benjamin Richard Darby
Madeleine Rose Daum
Gabriel Brennen Davis
Katherine Margaret Degutis
Emily Quinn Deker
Maria Elena DeMorat
Hope Renee Deschene
Daniela Mijares Dew
Harrison Edwin DeWolfe
Simran Dhungel
Benjamin Rainer Dietz
Erin Elizabeth Dlott
Samantha Nicole Dobies
John Richard Doley
Jerrick Anthony Dorsey
Layne Mannon Dos Santos
Leah Michelle Duffy
Susan Teresa Duffy
Andrew Daniel Duran
August Beattie Durham
Brodie Woods Edgerton
Bryce Thomas Emerson
Gavin Robert Thompson Erard
Hannah Kathryn Ericksen
Graciela Elizabeth Escamilla
Rafael Antonio Escobar
Anna Mariko Evans
Catherine Otera Evans
Ebony Monay Farmer
Astrid Helene Favre
Emma Ruth Kaimi Ferguson
Alexis Adonys Fernandez
Joshua Michael Filchock
Abigail Ascher Fine
Lara Jane Finley
Sara Jo Finley
Sarah Ann Fioramonti
Joseph Arthur Flynn
Brandonn Willis Fogno Kamga
Leon Dmitri Fomil
Christian Ian Manala Francisco
John William Frauenheim
Joseph Ethan Freidin
Kalie Renee Fultz
Benjamin Carlo Gaiarin
Ryan Erik Galliher
Edwin David Garcia
Jeffrey Garcia-Cartagena
Isabel Olivia Garvey
Marissa Lee Garza
Samuel Louis Gavin
Charles Gabriel Geddes
Kristian Thor Gendron
Carlos Armando Geronimo Osorio
Saul Ernesto Geronimo Osorio
Pierre Jean Davy Giaon
Brian Joseph Gibbons
Erin Grace Gibbons
Samantha Beth Gifford
Savannah Dawn Gilkes
Maxwell Zaire Gillum
Myles Zachary Gillum
Ramya Priya Gogineni
Aviella Rebekah Goldsmith
Rafaella Simone Goldsmith
Jonathan Jeffrey Gomez
Alejandra Gomez Zarate
Julia Nicole Gonzales
Jose Rigoberto Gonzalez Alvarado
Elias Andrei Gorine
Megan Elizabeth Greatorex
Kamylia Gribi
Carlina C. Gross
Sabrina Lee Groves
Jessica Anne Grubbs
Dona Vassileva Guenova
Daniel Sean Gurley
Jonathan Gutierrez-Santos
Merna Osama Habib
Melissa Angela Maida Hadley
Joshua Namdi Hairston
Deonte Christopher Hall
Thomas Jackson Hall
Lina Han
Nicholas Francisco Harasty
Andrea Carolina Harbour
Yusnitafili Harefa
Penina Louise Harte
Dean Cordova Hartke
Yasmine Abdel Moneim Hasan
Alison Sylvia Haselhorst
Darius Diontre Hawkins
Dylan Bryce Hawley
Katelyn Aubrey Heiman
Christopher Ellis Heishman
Katie Melissa Henriquez
Fatima Hernandez-Ayquipa
Connor William Herron
Oscar Antonio Hidalgo Castillo
Alexis Noel Hijar
Meaghan Kelsey Hill-Lugo
Ian Franklin Marshall Hodges
Katherine Paige Hoelzl
Dana Jeffrey Horton-Geer
Jacquelyn Elaine Horvath
Hanna Ellyn Horwitz
Joseph Khiem Hosi
Ceasar Elias Padua Howe
Karl Thomas Howley
Ellen Kei Huber
Joseph Brady Hughes
Alaa Omar Hummad Gimi
Salman Mohammed Hussein
Son Ly Ngoc Huynh
Naiemul Islam
Vijay G. Iyer
David Ahmad Jelis
Emily Rose Jenkins
Kara Ann Jeong
Austin Neil Jobson
Allison Marie Johnson
Tyquan Quantae Johnson
Esquteasha Sieata Leslie Johnson-Kidd
Yasmeen June-Alice Jones
Zoe Kelsy Jones
Robel-Desalegn Kabtyimer
Christian Joseph Kalinowski
Spencer Joshua Kalman
Adam Charles Kanode
Sarah Kanu
Philip Maximiliano Katz
Alexander Jacob Kaufman
Serigne Mahanta Kebe
Cheyenne Nicole Keeter
Gabrielle Jade Keuper
Obayi Abdulmoneim Khalid
Talib Ali Khan
Kyle Bert King
Ericka Tatiana Kinsey
Tyler Sugino Kirk
David Stephan Klein Martinez
Joshua David Kobayashi
Sneha Kuchipudi
Mariel Alyse de Leon Kurland
Emma Dufie Kyei
William Ernesto Lainez Rivera
Colin Christian Kammerer Lamoureux
Ryan Randolph LaPorte
Vanessa Yamileth Lazo
Kimberly Ngan Le
Jalen Amoz Leacock
Jonathan Robert Lee
Talia Lee
Tavarius Randolph Yati Lee
Andrew James Legge
Abraham Dejesus Lemus Henriquez
Alexander Joseph Leonhard
Josaphat Levi Letona
Jacky Michca Leupeu Mejiadeu Kameni
Julian Simon Levy-Myers
Colleen Paige Lewis
Joe Li
Jing Xiang Lim
Yenifer Lisseth Linares Mejia
Brian Frank Linovitz
Madison Renee Lintner
Abigail Marie Lloyd
Jacob Laurence Loehr
Timothy Charles Logan
Joshua Quinton Long
Arturo Lopez Orellana
Lesly Lopez Orellana
Katherine Manssiel Lopez Quintero
Andrea Iliana Lopez Savinon
Samuel Enrique Lopez-Giron
Gabrielle Elizabeth Lozama
Jordan Alise Lozama
Pauline Gilmer Lynch
Hendrik Moes Ma
Michelle Ven-Sen Ma
Kaylyn Ann Macaluso
Tyler William Macaluso
Ted Mooney Madden
Sarah Adnan Madi
Caitlyn Tansey Maginniss
Aryan Mahdi
Osiris Sarai Majano Saravia
Kriszta Ilona Major
Michael Malone
Alyssa Hongsha Maring
Jonah Warren Markowitz
Christopher Patrick Marshall
Kayla Dominique Martin
Paola Noemi Martinez
Erick Martinez Galvan
Micah Jude Bienfang Mastrovito
Kevin Osmaldo Mata Rodriguez
Connor Manuel Matthes
Taylor Patricia Mauceri
Dominique Kaleel May
Angela Susanna McCarthy
Alyson Louise McCarty
Andrew Charles McCool
Katherine Deborah McCool
Kareem Ali McCoy
Michael Joseph McDermott
Luke Robert McGee
Molly Nicole McGrath
Ryan Michael McLain
John Alexander McLellan
Geofferson Eric McNeese
Cassidy Nicole Mechalske
Shannon Margaret Meehan
Tesfamariam Mamo Mehrete
Gabrielle Maria Meixner
Karl Philip Mellen
Christopher Yashet Mercado
Clay Robert Randall Mickiewicz
Brian Jefferson Miles
Brianna Michelle Miles
Sean David Miller
Taylor Jean Mills
Diana Claire Minnix
Ebony Samone Blackwell Mitchell-Goodfellow
Panashe Tanyaradzwa Mnyulwa
Morsal Mohamad Akbar
Ali Mohamed Ali Mohamed
Ekhlas Mohamed Ali Mohamed
Morsel Mohammad Osman
Rana Mahmoud Elsayed Mohammed
Arya Moin-Amin
Dara Moin-Amin
Alyssa Ann Monfredo
Samuel Abisai Monge Henrriquez
Trey McKinley Montague
Jennifer Lexi Montes
Maria de los Angeles Morales Orellana
Tucker James Morgan
Cierra Tatianna Morrison
Sabrina Ellora Muldrow
Steven Carl Muldrow Jr.
Alexander Joseph Muller-Thym
Madeleine Colette Murphy-Neilson
Tasneen Naeem
Jacquelina Chiara Nagle
Ricardo Mutsuo Nakamura
Rakesh Nalli
Sabrina Nasir
Jacob Alexander Manuel Nassau
Alexander Terry Neely
Kara Noelle Nelson
Brenda Lynon Nguemgne Kamga
Khoa Dang Nguyen
Austin David Nicholls
Angelique Gabrielle Nicholson
Samuel Todd Nicol
Claire Catherine Nieusma
Devin Anne Nieusma
Hayne Noh
Jeremiah Edwin No'eau Norman
Helen Rose Noyovitz
Vivian Nyako
Christine Heejin O
Kaelin Gilmore O'Donnell
Natalie Marie Obando
Wendell Maurice Orange
Ebaid Osman Mohamed Osman
Jane Fontaine Oswalt
Elizabeth Mae Owens
Mika Karli Pagani
Jocelyn Arabella Palmer
Jesus Alfredo Pado
Amay Reddy Paripati
Gabrielle Elise Parisi
Derek Jordan Parker
Karlee Alexandra Parker
Michael Thomas Paros
Saray Abigail Danae Partidas Rivas
Neelam K. Patel
Zachary David Pearl
Annais Michelle Pena Santiago
Monica Amelia Perez
Alexander Andreevich Petrov
Madeline Dale Planton
Rony Estuardo Polanco Rivera
Sydney Vannae Ponder
Levi Marcus Prudhomme
Charles Walter Quinn
Unzila Qureshi
Sudaba Rahimi
Elise Lynn Rakoff
Maria Guadalupe Ramirez Juarez
Kinza Rauf
Rohana Raufi
Rakesh Kumar Raveendran
Neel Ravishankar
Terressa Rebecca Rayle
Comfort Cienna Reed
Hazel Sofie Reges
Katherine Victoria Rensel
Rhina Gabriela Reyes Granados
Sweetlove Reyes-Pleitez
Joseluiz Reymoso Avalos
Victoria Elizabeth Rice
Avery Webster Robinson
Phylicia Iman Robinson
Valencia Alisha Robinson
Valerie Pauletta Robinson
Maya Linsey Rodriguez
Ortila Catalina Rodriguez
Anthony Emmanuel Rodriguez-Escalona
Kathleen Adelle Roherty
Alexa Lauren Rolph
Jordan Darius Rose
Nathan Elliott Rosner
Catherine Ada Rugari
Mateo Andre Rul
Nathan Yu Rulona
Aaron Yarbrough Rutherford
Richard Lee Ryan
Sami Naseem Saab
Jose Andres Saavedra Zambrana
Fatema Safi
Mawadda Salah Said Ahmed
Tehmeena Seher Salahin
Reem Kamal Salih
Nicole Jeanette Salvatore
Jena Marwan Samman
Alondra Sanchez Munoz
Cesar Alberto Sanchez Reyes
Alexandra Sanchez-Ovaje
Asley Nicole Sandoval Castro
Laith Salah Sanjak
Caroline Louise Sartorius
Julian Alexandre Sauvage
Natalie Danielle Schauer
Taylor Edward Schrembs
Natalie Paige Schwarzkopf
Alexandra Leigh Sedgwick
Samantha Marie Sedgwick
Jordin Cristine Servey
Jonah Rogers Shahid
Ali Ahmed Sharaf
Megan Sharifi
Ryan Sharifi
Denisha Ann Sheppard
Jerrell Franklin Sheppard
Daniel Youngkwang Shin
Dora Lillian Shprentz
Hanna Shukran
Tiffany Anne Shye
Manaal Fatima Siddiqui
Jonathan Hayes Sieber
Robert Rock Simmons
Amar Rohin Singh
Harleen Singh
William John Sipher
Amanaki LeLei Ki Moana Siuhengalu
Zachary Matthew Skeen
Tania Monae Smiley
Hope Elizabeth Smith
James McAlister Sogandares
Daniel Young Gun Song
Sohum Mahesh Sontakke
Kaitlin Nicole Soto
Jacob Robert Spiewak
Amy Kathlyn Springfield
James Odysseus Van Der Loo Stassinos
Nathaniel Anthony Russell Stone
Kyra Brooke Stosch
Ghais Suliman
Brent Michael Sullivan
Lily Elizabeth Swartz
Ross Martin Taylor
Amanda Ching-Yee Teh
Amy Lorraine Terrien
Brandon Rashaun Terry
Sahana Rajeswari Thirumazhusai
Cole Tyler Thomas
Katherine Grace Thomas
Kaung Myat Thu
Jacqueline Lee Trautman
Jesse Robert True
Evelyn Sofia Turcios
Todd Irvin Turner, Jr.
Erin Alexis Ujueta
Hadiya Marie Upshaw
Maria Victoria Urioste Talamas
Pablo Ignacio Urioste Talamas
Christian Lawrence Vagonis
Gina Allesandra Valentino
Christopher Manuel Valenzuela
Jair Ernesto Valenzuela
Willem Owen Van Engen
Hector Jeremy Vargas
Joel Antonio Velasquez Guevara
Lyric Evangeline Venable
Sara Terese Vigen
Jennifer Paola Villa
Jocelyn Odalis Villafani
Martina DelMarie Vinas-Rike
Christopher Jarad Virnig
Lilyanne Olivia Vogelson
Anya Marie Walker
Rodney Raydell Walker Jr.
Brentan Vanier Walter
Harman K. Waraich
Athena Yolanda Washington
Kendra Carllyssia Watkins
Ilija Journor Watson
Samantha LeAnna Webb
Collin Austin Weirick
Brienne Michele Welch
Ashley Marie Welker
John Harrison Westenhoff
Asia-Aylana Simone White
Delaney Helen Wickman
Gracelyn Ann Willard
Alison Shand Willebeek-LeMair
David Allison Wilmer
Halle Marie Wilson
Josephine Lynn Wnek
Matthew Conner Wojciechowski
Christopher Andrew Wolf
Katherine Lynne Wolfe
Sarah Alexandra Wood
Chloe Marie Cruz Wright
Neiko Mariell Wright
Lina Diwei Wu
Matab Seifeldin Yasin
Amanda Ju-Young Yi
Kellye Morgan Young
Sophia Nadia Yu
Christopher John David Zaboji
Adam Azim Zaman
Hamidullah Zamani
Saba Zamani
Samantha Ali Zambrano
Andrew Scott Zimmerman