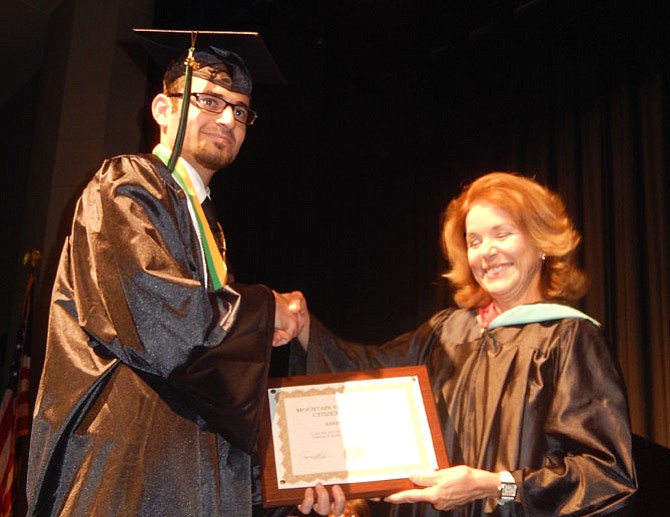 See more Mountain View High School Graduation photos on Facebook.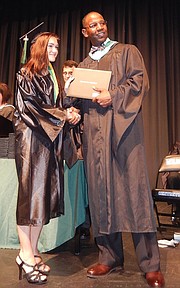 Mountain View High graduations always tug at the heartstrings. That's because the students have had to overcome so much to reach that finish line.
Many times, they've come here from another country and had to learn a new language. Often, they've run into problems at a previous high school or gotten involved with the wrong people. Sometimes, they've had a turbulent home life or are already parents, themselves.
But instead of giving up, they worked harder. And last Tuesday, June 16, at Centreville High, they were rewarded with high-school diplomas. And Assistant Principal Gary Morris — newly named as Mountain View's next principal — couldn't have been happier.
"We consider this the best high school in Fairfax County," he said. "We are Timberwolves and we are proud."
When Morris coached high-school and college athletes, he said, the head coach would relate a motivational story "to get our athletes ready for battle. But I believe we all should serve as motivational storytellers to others in our lifetimes, telling someone, for example, why they should stay in school."
He then noted a couple examples at Mountain View. Despite having no transportation, one boy took a bus and rode a bicycle to get to school; and a girl with a child made it to class every day.
"You didn't give up — you grew up," said Morris. "You became students and leaders and finished what you started."
At Mountain View, he said, "You found people who called you at home and said, 'Come to school,' and people you could cry to. And you could come to a place every day that felt like home. Our promise to you wasn't getting a piece of paper, but having a path to get there."
While jokingly saying the Class of 2015 seniors are responsible for half the gray hairs on his head, Morris also told them, "There's more for you to do, and I know you can do it. You've been challenged and battle-tested and you've overcome. We love and respect you, and you will always be a part of the family."
Next came the two student speakers who embodied the grit and courage it often takes for Mountain View students to just make it through the day, let alone study, work hard and graduate. Both of their stories were filled with emotion and difficult for them to get through, but they did it — and received thunderous applause afterward.
"I was 12 when I started putting myself on the wrong track," said Mariela Martinez. "I had no structure in my life. I had low self-esteem and hung out with people who were bad influences on me. I was sent to [juvenile detention] three times and ended up in a residential [substance-abuse] treatment program."
By age 14, she was expecting a baby and was placed into foster care. "I felt like my world had ended when I was taken from my mother," said Martinez. "I had to take my son Matthew into consideration, but I didn't want to stay in foster care."
Gradually, though, she said, "I realized my foster parents, Rebecca and Mark, were a blessing in my life. They pushed me into taking school seriously because they could see the potential in me that I didn't. For the first time, I had a curfew and ate dinner with a family. They encouraged me to stay on my feet and do my best, and now I consider them my family."
For a long time, said Martinez, "I felt I wasn't smart enough or good enough to do anything good at school. But when I started Mountain View, I decided to make education my number-one priority — and this school kept me on the right track to reach my goal."
"When I wanted to give up, I remembered my son was depending on me," she continued. "[At first], I didn't have anyone to steer me in the right direction, like I want to do for him. If it wasn't for him, I wouldn't be graduating. He's my motivation and will be, forever. Because of him, I've grown into the person I am today, and we will continue to grow together."
Eden Tekola's story was equally compelling. "For most of my life, my teachers didn't support me," she said. "Everyone didn't think I would succeed. My dad put his work before his family and was verbally and physically abusive to my mother and me. He criticized and degraded me."
However, her mother was her role model. "As a single mom, she was stronger underneath her broken façade," said Tekola. "When my father said I was weak and helpless, she said I was valuable."
At age 15, she dropped out of school, but her mother was still there for her. "In my depression, my mother and my youth pastor reached out to help me. I couldn't understand why they had so much faith in me and I kept pushing them away — and then it clicked."
Tekola came to Mountain View two years ago and took advantage of the opportunities it offered her. "The teachers made me feel important and valued and treated me like an individual," she said. "I realized, maybe I wasn't destined for failure and that I could conquer my traumatic past. And for the first time, my voice was heard. People told me I'd never make it past high school, and here I am graduating at 17."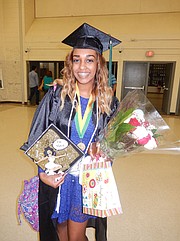 So, she told her classmates, "Don't ever let other people's opinions define you.
The way you overcome the obstacles you face is how you should define yourself. This is my mother's work and this diploma is for her; it proves that everything we've worked for came true. I am smart, strong, valuable and important. I do have a voice and I made it through."
Assistant Principal Susan Lee said students' stories such as these "explain what drives the Mountain View staff to come to school every day and work so hard. We all refuse to quit."
Then four students received special awards. English teacher Cecilia Carr presented the Personal Achievement Award to Juan Colis. "Like many of our students, Juan's overcome a multitude of obstacles," she said. "He's had to deal with a difficult immigration process, the death of a parent and abandonment by another parent, as well as extrication from a gang. But he's now on his way to becoming a U.S. citizen. Felicidades, m' hijo, [congratulations, my son] and happy birthday."
Both Yaw Owusu and Assim Shammo received the Citizenship Award, given to students who help build a positive school community through their example and work with others. "Assim has a full-time job, but helps people here and in other countries," said Social Studies teacher Cathy Collins. "He also won the Fairfax County Student Peace Award. Yaw also balances school and a full-time job. And he volunteers with his church and the school newspaper."
Like the Personal Achievement Award, the Faculty Award goes to a student who's achieved academic and personal success, despite significant hurdles. That person must also have earned the admiration and respect of the faculty and maintained a 3.5 or higher GPA. And this year, it went to Milton Lemus.
"He worked diligently, in and out of school, and is dedicated to his family, his church and his wife," said math teacher Jude Welling. "It took a great deal for him to be here today, but we're so proud of you, Milton, and we're blessed that you're part of our Mountain View family."
Then came the diplomas and, afterward, the new graduates celebrated with family, teachers and friends before walking outside, ready to face whatever the world has in store for them next.