Centreville — Mountain View High is a school of second chances, and its students make
the most of them. But nothing comes easy. They have to work hard to succeed, and many have more to deal with than does the average student.
Some have fled adversity elsewhere, some must take care of older family members or their own children. And many have to work full-time jobs while attending school and learning English – all at the same time.
Such challenges would be daunting to anyone, but Mountain View's students have consistently proven that they're up to the task. And last Wednesday, Feb. 15, at Centreville High, 49 of them reached their goal of graduation.
"I'm honored to be the principal of the best high school in Fairfax County," said Principal Gary Morris as the ceremony began. "With every passing semester, I experience more and more the resilience and pride at Mountain View. Forty-nine students are graduating today; but if there was only one, I'd still be standing here – because you've earned it and you deserve it."
For some students, he said, the pressures of family, jobs, social and emotional difficulties are too much to overcome. "But you've made it," said Morris. Paraphrasing Ecclesiastes 9:11, he said the race doesn't always go to the swift, but to he who endures to the end.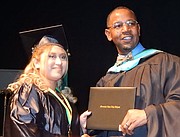 "As long as you're committed to us, we'll be committed to you," he said. He then acknowledged all the teachers, staff and family members comprising the students' support system. "As your principal, I saw firsthand how it wasn't so easy for all of you to get to this day," said Morris. "But you've accomplished everything it's taken for you to get here."
He said the grads will now demonstrate to others in life that "it's not a matter of 'if,' but 'when.' Noting how people often come home from work and share the details of their day with their families, Morris said, "I tell my family about the young people I meet each day, the hardships they've overcome and about the students who've become achievers."
He told the graduates, "You give us the inspiration to do what we do. You make us want to work and do our jobs. The education profession can seem thankless at times, and we hear that our products – our students – aren't as good as students in other countries. It's obvious they've never been to Mountain View." Then, with tears welling up in his eyes, Morris said, "Graduating Class of 2017, we love you! #Gotimberwolves."
Stepping to the podium next were the school's two graduation speakers. Herman Ayala went first, saying people used to describe him as a "future inmate" and a troublemaker, when he was actually a big, friendly guy.
"I grew up in Alabama and had a tough time; it was just me and my mom," he said. "We moved to Virginia because we thought it would be a safer place to live. My mom was working two jobs and we lived out of a Honda Civic."
But things changed for the better after his mom met and married his stepdad. "Life got easier," said Ayala. "We had more money but, most of all, my stepdad became my role model and real father. He taught me how to be a man."
At 14, Ayala started working construction with him, sharing some of his earnings with his mom. "I worked hard for that money and had a sense of accomplishment," he said. "And the more I worked, the more I wanted to drop out of school. But my dad wanted something better for me and told me to go to school."
As a sophomore, Ayala's coach told him he couldn't play football unless he focused on his grades, so he did. He also played football as a junior and returned to working. "But I got into fights and talked back to my teachers, so I had to repeat my junior year," he said.
He then transferred to Mountain View. "I thought its motto of 'Family, Love and Respect' was fiction," said Ayala. "But it's true. Here, there are no cliques or fights over dumb things. Teachers helped me and didn't give up on me, and they made me feel like I had potential."
"I could have dropped out, done drugs and maybe gone to jail," he continued. "I could have conformed to the negative ideas people had of me in the past. But I didn't want to; I wanted to succeed at Mountain View. Here, we're not slackers or drug addicts. We're students, we're us, we're Mountain View."
Brandi Johnson also shared her story at graduation, saying she used to have a "bittersweet" relationship with school. "I'd get bullied and let negative people influence me to change things about myself," she said. "In middle school, I got into fights and cut classes. And in high school, I gave up on school completely – I was stuck and I was lost."
Then things got even worse. "When my house caught on fire and we had to move to another neighborhood, I had to go to a new high school," she said. "But I still had no motivation or drive." Shortly afterward, doctors diagnosed her mother with two tumors and operated on her.
"We didn't know if she was going to live," said Johnson. "And when she got home, she needed lots of help, and I took care of her and missed a lot of school. I learned I had to mature quickly and that you can't let negativity impact who you are."
Her family then moved from Washington, D.C., to Virginia. "I knew I needed to get good grades and do well in school so I could succeed," said Johnson. "I learned that life is about knowing who you are and who you want to be."
A friend told her about Mountain View, and enrolling there was "the best decision I ever made," said Johnson. She said her English teacher, Tim Harris, "saw my potential and treated me like an adult. I'd never seen anything like this before, and my mentor became my best friend." As a result, she made all A grades this year.
"My teachers gave me the motivation to keep going," she said. "Mountain View is straight to the point – you come, do your work and graduate. And it's close-knit like a family. Now I realize I can become a teacher and complete my goals. In life, things happen that you can't control, but you don't have to let that be the end of your story."