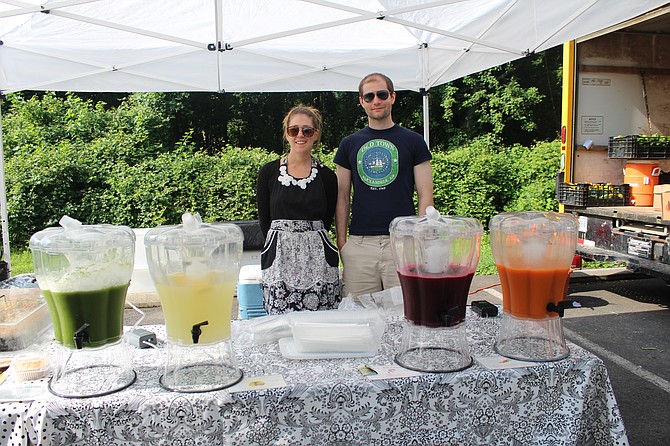 Cartons of berries, boxes of tomatoes and tables full of flowers attract local residents to the farmers market at Lewinsville Park in McLean.
Every Friday from 8 a.m. – noon customers in search of fresh produce swarm the parking lot of the park to visit popular vendors such as the Westmoreland Berry Farm or Country Gardens.
While it may not be as big as rival markets such as Dupont or Arlington, the McLean market's calmer atmosphere is exactly what locals love about it.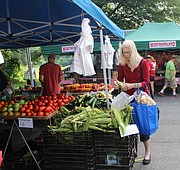 "It's the perfect size," says Megan Rounsaville, a first grade teacher at The Langley School. "It's easy to find whatever I need, and it has a lot of variety. I come here every Friday during the summer. Everyone is so friendly, and it's a great way to start the day."
Sabry Alsharkawi opened his herb stand, Sharkawi Farm, in 1985. He's sold his herbs at the McLean market since, and believes that the market itself has become less active since 2008, due to the economy.
"Since the economy drop, however, the market hasn't lost any more activity," says Alsharkawi. "People love herbs, and are always asking for cilantro and basil to cook with. This year has been good so far, and I hope it stays that way."
Many of the vendors are family businesses. These families travel from places such as Warrenton and Orange County to sell their products. Valentine Miller has been a vendor at various farmers markets since 1991, and sells everything from meats to pastries.
"My wife and kids do the baking. We have plums and a lot of fruit right now," says Miller. "I find that people love meats, and always stop by to get some. We have chicken, lamb, beef, pork and rabbit. Every year we do a little bit better."
Vendors are even branching out, and opening actual stores filled with fresh produce. Mike Larson of the Lokl Gourmet stand at the market is opening up a Lokl Gourmet store on the corner of Old Dominion and Spring Hill in McLean. It will have all the same fresh produce and ready-to-eat sandwiches, but these goods will be accessible more than once a week.

The local feel, fresh products and eager customers are what keeps McLean's farmers market up and running. Shoppers love the produce, especially the tomatoes, and enjoy supporting family run businesses.
"It's a community gathering place," says Laura Marchisotto of McLean. "Everything is so fresh, and the farmers are so knowledgeable. They talk about the way they grow their food and they suggest recipes. Every community needs a least one farmers market."