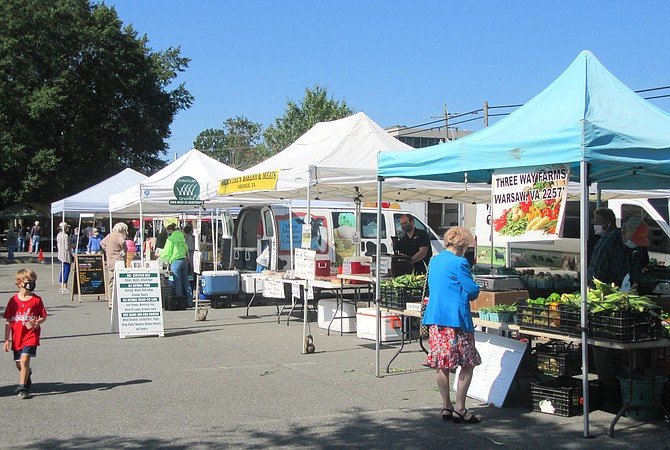 They get up before dawn every Wednesday from May to December and load up tables, tents and boxes, crates and coolers filled with meats, baked goods, fruits, vegetables, plants and other wares. Then they slog to Mount Vernon's Sherwood Regional Library parking lot and by 8 a.m. are ready to greet their 500 to 600 customers at the Mount Vernon Farmers' Market.

These dedicated vendors come from Virginia towns like Hague, Orange and Broad Run and have won over many loyal customers who regularly shop for food and homemade specialties, like chocolate-raspberry "cigars," M&M cookies and whoopie pies.

Vendors from Laurel Grove Farms from Westmoreland County, Virginia, Threeway Farms from Warsaw, Virginia, and Twin Springs Fruit Farm from Adams County, Pennsylvania, wow their patrons with fresh fruits and vegetables like apples, peaches, broccoli, squash, potatoes, greens, radishes, carrots, peppers and melons, some so bountiful they seem to almost fall off the tables. Other vendors' tables are crammed with seafood, breads, pastries, pies, ice cream, herbs, spices, teas, honey, jams, salsas and flowers.
Tight Eggs
At Valentine's Country Bakery and Meats stand, the multi-generational Miller family sells chicken, turkey, beef, pork and lamb products, and at times, rabbits and pheasants raised on their Madison County, Virginia, farm. Their free-range chickens eat insects and their pigs wallow in the woods. "Our animals have been raised to be happy and healthy, the way God intended," Valentine says.
Customers nab products like ham biscuits, pork chops, tenderloin roasts, country-cured hams, smoked and cured bacon, spareribs, sausages, dog bones, and even chicken feet, most kept frozen in big coolers. In their home-based bakery, Valentine's wife, Darletta, and daughter, Veronica, produce pies, breads, snickerdoodle cookies, coconut macaroons and more.

Marvin Turner raves about the Millers' fresh eggs: "You know how to tell if an egg is fresh? It stays tight when you fry it. If it's not fresh, it runs all over the place. The Millers' eggs are tight."

Organic Herbs and More
Sabry Al-Sharkawi and his daughter, Iman, offer around 60 organic herbs, spices and teas. Since 1985, Sabry has grown herbs and flowering plants organically in Broad Run, Virginia. Today, they make and sell 20 teas like Jasmine, Paradise Black, Fiji Green, Imperial Spice and Relaxing Tea. Roger Miller, a devotee, loves the Red Fruit Cocktail Tea with elderberries, which he says is "especially refreshing served chilled on a hot day."
This fall the Al-Sharkawis are also selling fig trees, winter pansies, perennial violas and other plants.
Fresh Seafood
Greeting fans from her red tent, Karen Arnest is always chipper, even though she rose at 3:30 a.m. and drove two hours north from Hague on Virginia's Northern Neck. She lays out a glistening spread of just-caught scallops, rockfish, mackerel, soft-shell crabs, hand-picked crabmeat and homemade crab cakes.

"Can I clean the crabs for you?" she offers and in a 20-second flash, snips the softshells and hands them back to a grateful customer. Arnest Seafood is also a family affair. Her father and husband fish in the Potomac and Rappahannock Rivers and the Chesapeake Bay. "My brothers-in-law crab," she says.
Yummy Pastries
For 30 years, Grace Banahene has had a Herndon bakery, Grace's Pastries, where her four sons help. Faithful customers make a beeline for her sweet and savory breads, turnovers, scones, croissants, strudels, cakes, meat pies and vegetable-topped focaccia. Originally from Ghana, Grace learned to bake growing up. She works most nights until 11 or midnight and loads her van before the next morning's market.
It's a symbiotic relationship. Customers love the vendors and vendors love the customers.

For Fairfax County farmers' markets and covid-19 protocols, visit https://www.fairfaxcounty.gov/parks/farmersmarkets.