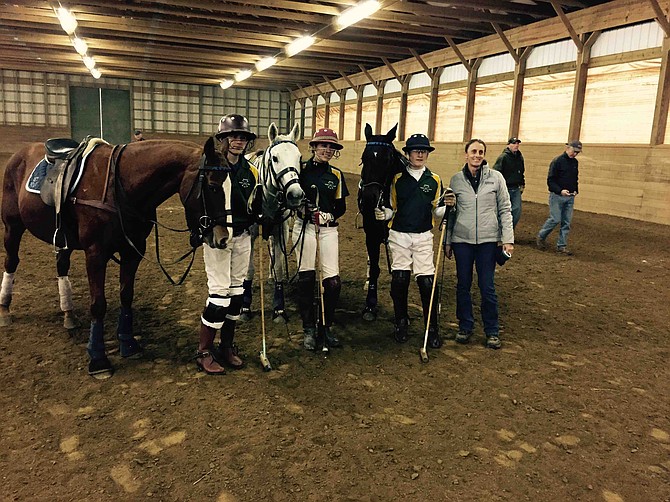 "Spain is the polo capital of Europe. We'll go again in the summer. He'll play with 240 kids over there."
— Gustavo Fraga
Gustavo Fraga and his son, Patricio Fraga-Errecart, share a love of horses that Fraga brought with him from his native Spain.
After a move to Potomac from New Jersey a few years ago, the opportunity to ride and care for horses increased, and soon Patricio found himself following in his father's footsteps in a rather unexpected way: He began playing polo.
"When we moved here, I got started in equestrian," said Patricio, 13. A short time later, he was asked if he'd be interested in learning about polo, a sport normally associated with Ralph Lauren ads and the British royal family.
Polo is "more interesting and more challenging" that just riding a horse, he said. "If you go to a club and use their horses, you could get a bad horse and have to work harder to control it" during a match, whereas if a player uses his or her own horse, there's a better understanding between the two and play is a little easier.
Overall, the game is "pretty simple," he asserted. "There are a lot of lessons but you can get the hang of it pretty easily."
There's one drawback, however. While there are a number of polo clubs and associations in the Washington, D.C., area, there are few teams for children and teenagers not yet old enough to play for a college. Patricio and his father are hoping to change that.
Still, Patricio is doing well, playing with older teams that have made their way to the national competition three years in a row, Fraga said.
Players can participate in indoor or outdoor matches, and the setting changes the game entirely, he said.
"Indoor games are three-on-three and very fast. Outdoors, there are four players and it's very open," Fraga said. "It's a totally different sport. The balls used are different — the indoor ball is like a small soccer ball while the outdoor ball is small and hard. If you're a good indoor player, it will help you outside, and the same is true outdoors for inside."
FRAGA HOPES to see more young players get interested and promises parents that the sport isn't as pricey as they might expect. There are fees involved for lessons and horse care, of course, but polo's reputation as a sport only for the wealthy is unfair, he said. Plus, unlike other sports, polo requires its players to care for the animals they ride, teaching responsibility and compassion in addition to good sportsmanship.
"They have to tack the horse, take care of the horse, clean the horse before and after matches," he said. "In polo, you use four horses. Every time you play, you have to switch horses."
Fraga grew up playing polo in Spain and he's been fortunate enough to take Patricio back to his homeland to participate in a few games. "Spain is the polo capital of Europe," he laughed. "We'll go again in the summer. He'll play with 240 kids over there."
There are only eight to 10 children who play polo at the club in Warrenton, one of two places where Patricio plays, which is why he ends up playing on teams with adults.
THERE ARE SOME benefits to this, Patricio said. It helps him learn from older, stronger players, who are eager to foster the interest of a younger generation in a game they love.
Patricio has two coaches in the two local clubs where he plays, including Cindy Halle, coach at Garrison Forest School in Owings Mills, Md., and who first met Patricio through a program for adults and young players from other schools that don't have polo programs. Patricio was a member of her West Shore Polo Club in the United States Polo Association middle school tournament.
A polo player at least since college, Halle said she works with up to 40 players per week, between Garrison Forest's women's teams and club activities. She said the adults who are nearby when younger athletes are playing are just as likely to learn something new.
"Everyone's equal because horses are a great equalizer," she said.
Interest in polo has grown a lot in the past 20 years but it's got a long way to go, she said. "It's very grassroots. It's a hobby."
It would be wise for someone interested in polo to know how to ride a horse before getting started, advice that seems like common sense but deserves repeating. Egos should be checked at the door, as polo is as much a team sport as football or baseball.
"It's not for the timid," Halle warned. "It's a contact sport. I say it all the time to the girls that I coach, it's a very tough game with a lot of competition."
She also said the risk for injury isn't greater than any other sport, so long as it's played smartly and with the proper protection.
But the friends an athlete meets through polo are likely to stay in touch, as the same faces appear throughout the close-knit world of college and amateur polo leagues, Halle said.
Patricio's other coach, Amir Ahmad Pirasteh, is the owner and coach with Natania Farm and Polo Club in Warrenton. A polo player for 20 years, he, like Fraga, became enamored with horses as a child and began playing polo after a knee injury sidelined his tennis game. Polo is the best way to indulge his passion for horses and sports at the same time, he said.
At his wife's suggestion, Pirasteh began coaching 15 years ago, mainly focusing on indoor arena games, with a playing area of 150 by 300 feet. Indoor facilities are easier to maintain than outdoor arenas, because outdoor polo clubs typically have several fields to care for, a chore than can cost up to $50,000 year before any games are played.
Pirasteh, like Fraga, said he tried to interest his own son in polo as a child, but it didn't take.
"I introduced him to it when he was seven or eight years old, but he didn't like it," Pirasteh said. "He just wanted to play soccer. But when he turned 13, he decided to try it and he started to like it. Now he does both."
His club has gained a reputation for being exceptionally talented, and he and Halle have squared off in competition in the past. Both are very complimentary about the other and are preparing for this summer's tournaments. Pirasteh admitted that, as some of his older players have gone on to college or taken up other activities, Halle's team might beat his this year.