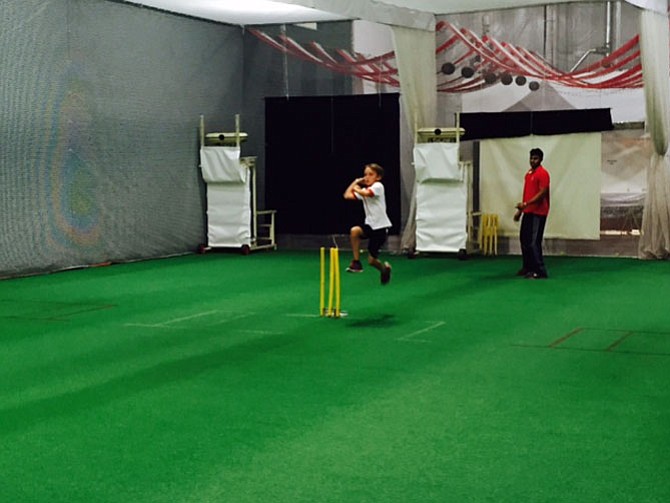 Wicket Club in Sterling is a magnet for young cricket players from Northern Virginia. It's one of the few indoor cricket facilities on the east coast and immediately found an audience with the Southeast Asian cricket community when it opened in 2012. Initially only for adult players, but the need for a space for children to also learn and play cricket soon became apparent.
There are outdoor leagues playing all over Fairfax and Loudoun Counties on the weekends. Lake Fairfax Park in Reston even has an outdoor pitch for the summer games hosted there for the Washington Cricket League.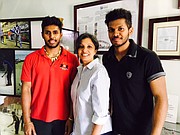 Like many first generation Indian Americans, Wicket Club owner Shaista Chaudhry, grew up in Mumbai, India playing cricket. "I loved cricket when I was a kid in India. I was even suspended as a kid once for instigating running away from school to play cricket," laughs Chaudhry who now lives in Reston with her husband.
In 2013 Chaudhry, the mother of two grown sons, realized there was a lack of qualified cricket coaches for children. She wanted children to be able to learn the fundamentals of the game, understand the rules and develop their skills in bowling, fielding and batting. Wicket Club soon began running popular seasonal camps and weekend leagues as well as offering one on one coaching.
There are now two cricket coaches at Wicket Club, Madhun Lal and Dev Santosh. Lal recently graduated and has signed on to coach with the club for a year. "He is the only ICC Level II coach in the area. We are very, very lucky to have him here," said Chaudhry. The International Cricket Council (ICC) is the governing body for the sport and oversees 105 participating countries.
"We get kids that it's their first time playing or they want to come in and smash the ball. We take these kids and teach them how to play. This sport helps them focus. Helps with patience. It helps build the daily skills that any job will require," explains Lal.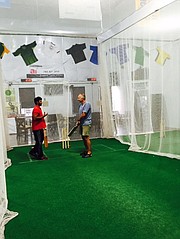 CHILDREN AND ADULTS both seem to thrive under Lals tutelage. He has a passion for the game that comes out even after he has been playing for hours. "Anyone who comes here, they are going to build on what they came here with. I promise that. Playing indoors and outdoors is different. This is easier for kids. It is easier to teach them without them being distracted," explains Lal. Indoor cricket conditions are temperature controlled, consistent light, no bugs and none of the irritants that children can be bothered by and lose focus from. "All international players practice indoors and outdoors. As a player I can say when I play outdoors it changes the whole mentality," said Lal. Wicket Club also has an outdoor pitch where they can take students to show them how the ball reacts differently on grass.
Many South Asian immigrant parents are uber focused on education and their children are not participating in the sports teams that some of their peers do, like baseball and football because those games weren't played in their home countries. Chaudhry says most of her students come from Great Falls, McLean, Reston, Vienna and Loudoun but their parents came from generally either India or Pakistan, with a few other cricket playing nations represented. "Parents are becoming aware that just being a geek is not enough. There is that awareness now. Where they wanted kids to do karate a while ago, they are doing this now," says Chaudhry. Most Ivy League colleges have a cricket team and because the sport is growing in America some wonder if more colleges won't look at cricket players for scholarships in the near future.
In the nearer term, some parents are finding cricket as a way to connect with their children. Parents can come with their child to bat and bowl. Carl Garland grew up in Great Britain and played cricket on the street and in school. He came to the U.S. and married an American and settled in Northern Virginia. They tried baseball for their 9-year-old son Nate but it wasn't a good fit for him. Garland found Wicket Club and both he and his son have found a game they enjoy playing.
"Socially this just worked better for Nate. In baseball all the lads come from the same school and Nate didn't know any of them. Here no one comes from the same place so all the lads get on well together. There are good coaches and a good group of lads to play with. It's amazing the progress he's made," said Garland.
Raji Ganguli's 10-year-old son plays cricket at the club. "Cricket is not confined to India. It is picking up in the U.S. as well and hopefully we will get a bit of diversity with more kids playing," said Ganguli. Lal said they have recently had an uptick in Hispanic kids enrolling to learn the game. These kids saw boys playing cricket in their neighborhood, started playing with them, and wanted to learn more so they came to Wicket Club.
EIGHT YEAR OLD Arjun Alagappa plays cricket on Saturday afternoons at the club. "They teach me so much and I'm working so hard," said Alagappa. One of the reasons he said he wants to learn is so he can take the game back into his neighborhood. "They really want to play cricket with me. When I'm playing cricket with them, they are learning. I'd say cricket is way more popular than baseball." Not quite yet, but you never know …
For more information, visit www.wicketclub.com