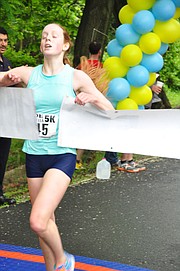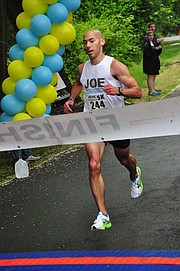 The Joe Cassella Foundation will host the 2015 Joe Cassella 5K Run/Walk that will take place on Sunday, May 17, beginning at 8:30 a.m., at Great Falls Village Center. Participants of all ages and skill levels will gather together for a great cause and enjoy a day of fitness and fun. The Kids Fun Run will kick off this event followed by the competitive, ChronoTrack-timed 5K Run/Walk. The Joe Cassella Foundation will host a post-race celebration to include food, music, entertainment for kids, cash prizes, awards and giveaways.
The Kids Fun Run starts at 8:30 a.m. and the 5K Run/Walk starts at 8:45 a.m. on a USATF certified course. Participants include competitive runners, corporate teams, occasional joggers and even walkers with strollers and dogs are welcome. The top three male and female finishers overall will receive cash prizes. Every child 12 years of age and under who participates in the Fun Run will receive a goody bag and a commemorative ribbon. Registration fees to participant will be $30/adult ($35 after May 14th), and $10/child 12 & under ($15 after May 14th.) Pre-registration and late registration will be available at www.JoeCassellaFoundation.org.
New for 2015, the Joe Cassella 5K will be introducing a Virtual Runner category for participants who are unable to attend the event in person. The virtual race allows anyone to run a 5K from a remote location in support of this great cause. The fee to register as a Virtual Runner is $45, and you must register before April 17.
The foundation raised close to $45,000 at the 2013 Joe Cassella 5K, with proceeds going to Gianna Hess, a one-year old baby battling Hepatoblastoma, a rare form of liver cancer. If you are thinking about making a tax-deductible donation this year, sponsorships are needed for this worthy cause. All of the money, time, and race gifts donated will go entirely to a sick child in need. If you are unable to sponsor, consider making an in-kind donation or becoming a volunteer.
The Joe Cassella Foundation is based in Leesburg and its mission is to provide financial assistance for medical expenses to families of children who are ill in the Washington D.C. Metro area. This organization was born from the loss of an amazing man and inspired by the overwhelming support his family received throughout their journey.
To find out more, go to www.JoeCassellaFoundation.org.