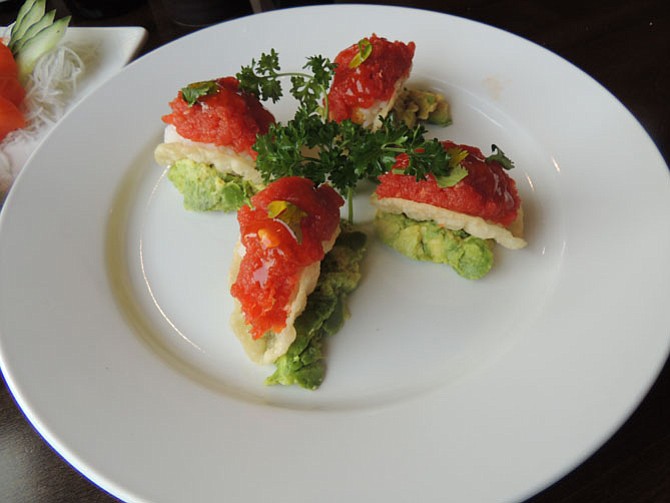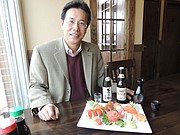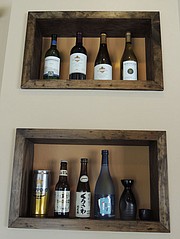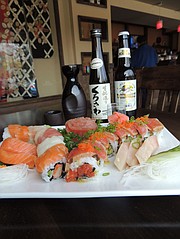 Since opening this past year, En Bistro and Sushi has impressed the Potomac community with its fresh sushi and sashimi, served in a manner that resembles a piece of fine art, instead of a dinner entrée. The small restaurant, located behind the Verizon store and next to Tally Ho in the Potomac Village Shopping Center is a Japanese bistro, complete with a kimono, once owned by a Japanese movie actor. The kimono was sent to owner Billy Ye by his mother many years ago — and he has been waiting to find the just right spot for hanging it.
The restaurant opened last March and has been an instant success. "However," said Ye,"we had to wait a year for a license to be able to sell beer, wine and sake." Ye, who owned Momo Taro Sushi (now closed) and Sushi EN in Rockville and EN Asian Bistro in Germantown, has sold his other restaurants and is focused on Potomac's EN Bistro, as well as on his catering business. "I provide sushi for Congressional Country Club, Bethesda Country Club, the Woodley Park Marriott, the AT&T Golf Tournament, private homes, National Harbor and many more places," he said. "We delivered 7,000 pieces of sushi to a big event at the National Harbor one weekend." Right now, he is catering out of the Potomac restaurant but hopes to develop plans to move his catering business to a bigger site.
"My wife Lily and I are very pleased to be able to offer my customers both warm and cold sake," Ye said. "We also have Ichiban and Sapparo Gold beer and Kendall Jackson, Berringer and Woodbridge wine. I am working to improve our choice of wines for our customers. They are very happy that we are able to offer sake, beer and wine."
"Now, when our customers casually come by the restaurant and they can sit at the bar, enjoy a cold beer or glass of wine and watch their favorite sports. We offer complimentary edamame and they can relax while waiting for carry-out or for their sushi or other menu item," said Ye.
Some of Ye's newest menu items include his own creations: a spicy tuna won ton taco, a Mango-tango roll made of salmon, mango, avocado, lettuce and tempura crunchy wrap with yellow soybean paper, a Spider roll made with soft-shell crab tempura, crab meat, avocados and lettuce with fish eggs on top and Jalapeno chili and eel sauce and his Shiitake mushroom and asparagus entrée.
Everything that is served at En Bistro and Sushi is fresh – and now customers can enjoy a glass of Japanese beer, sake or wine with lunch or dinner. En Bistro and Sushi will also deliver; one can place their order on line at www.eat24.com and the full menu is on-line at www.enbistro.com. Call the restaurant for reservations or take-out at 301-983-8600 or 301-983-8700.