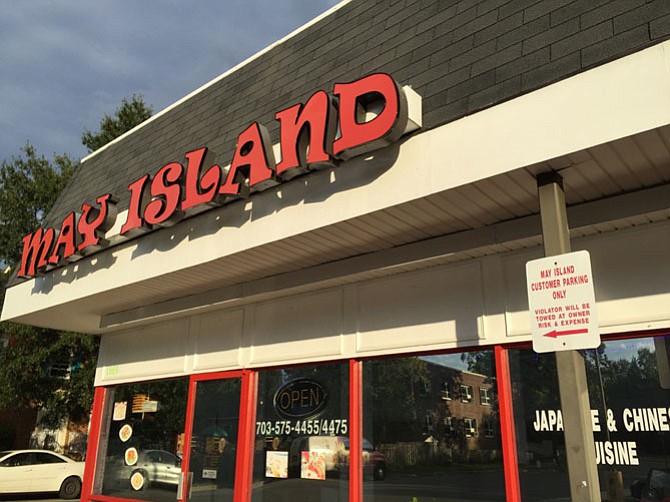 Alexandria — The recent warm February weather has pushed the spring foliage to its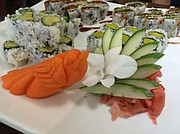 budding point early, and the cherry trees are no exception. Cherry blossom time – that season where all the region's cherry trees are bursting with pinks and whites – is nearly here, and the festival celebrating the United States' relationship with Japan begins March 20. Here are three sushi selections to celebrate the occasion.
May Island, 1669 North Quaker Lane
Tucked away in an unassuming strip mall, adjacent to a convenience store, May Island could easily be overlooked for more flashy locales. But to drive by without stopping in would be a mistake. Once you're inside, a menu of sushi delights awaits.
Peruse the menu of "fusion rolls" and it's hard to miss some of the more exotic and festive of May Island's options. The Godzilla, for instance, is a mix of spicy tuna and avocado, wrapped with seaweed on the outside and deep-fried. Or try the Dinosaur, which does not in fact contain any of our prehistoric brethren but instead sports shrimp tempura and is topped with avocado. Vegetarians, too, will be at home: May Island offers a number of unusual vegetable sushi selections, ranging from sweet-potato tempura to an avocado-cucumber-squash roll.
Is someone in your party not feeling the sushi love? No problem. May Island offers up a host of standard Asian dishes — teriyaki, lo mein, fried rice, and the like — to suit a host of palates.
Momo Sushi, 212 Queen St.
The stalwart sushi restaurant in Old Town, Momo Sushi has only strengthened its popularity in the years since it opened several blocks off of King Street, near the water. It's a rare evening that doesn't find Momo teeming with diners (and takeout orders), and one taste will show you why.
Gravitate toward the combination plates to maximize your sushi sampling. The "roll combination" – which allows diners to select from a maki combo, a spicy combo, or a veggie-roll combo – will give you an easy round-the-bar taste of several of Momo's favorites. Go a step further and share an entrée with a compatriot with the "deluxe" sushi and sashimi combination – a feast of sushi and sashimi options at the discretion of the chef, alongside a spicy tuna roll.
So often at sushi bars, the non-sushi menu options are lacking in punch. Not so at Momo, where the yakisoba remains a favorite from year to year. Order it or its noodle kindred the udon, and you won't be disappointed.
Kyoto Japanese Restaurant, 3676 King St.
Two words reign supreme at Kyoto: Sushi boat. The sushi-laden monstrosity pulls into port with well more than two people can reasonably eat, but it's absolutely worth the time (and the money). A generous offering of various rolls, teeming with fresh fish, it gives diners a veritable tour of Japan right from a wooden serving boat.
For those not quite so committed (or so hungry), the combinations for one are an excellent option, as is Kyoto's a la carte selection. And don't rule out the teriyaki and ramen selections, either – they're always worth a second look (and another bite), especially while the weather stays cool.