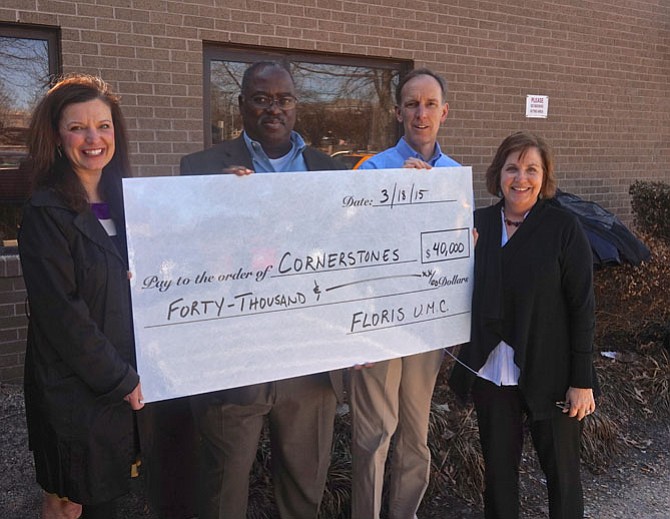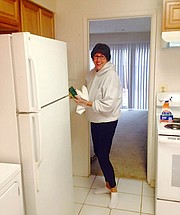 Floris United Methodist Church (Floris UMC) in Herndon really knows how to keep the Christmas spirit going, long after the last of the decorations have been put away, the tinsel has disappeared from the carpet, and you've finally gotten "It's the Most Wonderful Time of the Year" out of your head. For more than 10 years, Floris has given away its entire Christmas Eve offering to nonprofit partners, causes and special needs in the community and around the world. It is an intentional decision to reach out to the poor and the vulnerable and to support the work of those who positively impact the world. It is also an opportunity for the congregation to be engaged in works of mercy, justice and compassion. This past Christmas was no different, and Floris decided that the beneficiary of the $40,000 collection would be local charitable organization Cornerstones for their participation in the Rapid Re-Housing Challenge.
Given Floris' commitment to helping alleviate the struggles of the homeless, Jake McGlothin, director of Serve Ministries knew the members would be excited by the work that Reston-based Cornerstones is doing to move families back into permanent housing as quickly as possible. Floris and Cornerstones have a long-standing partnership, with church members preparing meals on Saturday mornings for the residents at the Embry Rucker Shelter. Floris also participates in the North County Hypothermia Prevention Program, taking their turn to house and feed dozens of homeless persons for one week during the coldest winter months. "It just made sense to include this as part of our Christmas Eve Offering," said McGlothin.
RAPID RE-HOUSING is proving to be one of the most effective tools in the campaign to end homelessness. Many of today's homeless suffered a financial or domestic crisis. Most have lived independently in permanent housing and can do so again with limited assistance. Helping people stay in their homes during difficult situations, or moving them quickly into permanent housing after the loss of their home has been credited with keeping the homeless rate from soaring during the recession. Rapid Re-Housing opens more space in emergency shelters and often reduces the public and personal costs of homelessness. In the period from July 1 – Sept. 30, 2014, Cornerstones was able to move 18 families and 28 individuals out of the Embry Rucker Shelter into affordable and permanent housing, surpassing the goals that the organization had set. The generosity of the members of Floris United Methodist Church will help Cornerstones continue serving this need in the community.
This year's collection and donation is more than a check for Floris UMC. For quite a few, it's hands-on as well. On Saturday, March 14, a team from Restoration Church, a new campus of Floris UMC meeting at Forest Edge Elementary in Reston, recently cleaned and prepared a newly renovated townhouse for a family transitioning from homelessness.
FLORIS LEAD PASTOR Reverend Tom Berlin explains, "we are excited to be partnering with Cornerstones not only with financial resources but also through the time and effort of volunteers. Our desire is to be an active participant in the work we financially support."
For more about Floris UMC, visit their website at www.florisumc.org. Information about Cornerstones and the work they do can be found at www.cornerstonesva.org.