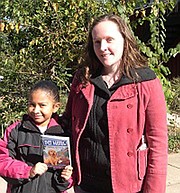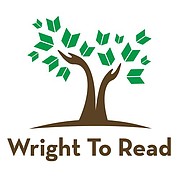 "I hate it. I don't want to read it anymore."
That was Arianna's first reaction to "Runny Babbit" by Shel Silverstein. However, with the encouragement and support of her tutor/mentor, Lorene Wescott, the following week she tried it again and fell in love with the book.
Wescott and Arianna have been working together since the spring of 2013. Wescott, an avid reader, remembers going to the library several times a week with her family and being surrounded with books. She believes reading is an important skill and wanted to help a student improve his or her reading.
Tutoring is the base of their relationship, but they enjoy doing other things as well. Wescott and Arianna have participated in many of the enrichment activities hosted by Wright to Read, such as the annual picnic and holiday dinner. One of their favorite trips was going to Burgundy Farm and interacting with the animals. Arianna, although nervous, held a bunny in her hands for the first time.
Wescott enjoys sharing some of her childhood favorite things with Arianna. She recently found her sticker collection and showed it to her. Arianna enjoys seeing the variety of stickers Wescott collected when she was about her age. She also enjoys taking a sticker home with her at the end of their weekly tutoring.
They've conintued to read other Shel Silverstien books and Wescott also introduced Arianna to Amelia Bedelia. Although, Arianna was unsure about reading the same books Wescott enjoyed while growing up, at the end, she always asked, "Are there more?"
Celebrating 35 years of giving the gift of literacy, Wright to Read has been serving elementary school students who are reading below grade level. Volunteers meet with their student once a week for an hour in the evenings or on the weekend. Wright to Read is a member of the Alexandria Mentoring Partnership. The Alexandria Mentoring Partnership (AMP) was created in 2006 to ensure that quality mentors and mentor programs are available for Alexandria's youth and young adults in need. There are 11 professionally managed programs in the partnership that need adult mentors. To learn more about AMP, visit: http://www.alexandriava.gov/Mentoring.