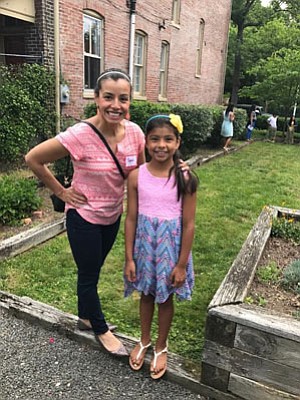 Alexandria — From Student, Melani
My name is Melani and I have been a part of Wright to Read since first grade. I am so happy that I am with Sophia because she helps me read fluently. I have succeeded in moving from picture books to chapter books. I have read fiction books about mermaids and nonfiction books about history. I have learned about Helen Keller and Martin Luther king Jr.
I have enjoyed reading with my tutor and getting treats. I also enjoyed going to the pool and the animal shelter. Also we have gone to watch movies about books or people we have read about. I have worked with my tutor to not rush to finish books. I have also learned to sound out words like ignoramus. My tutor is the best and she has been working with me for three years. I just want to thank her and I believe I have the right mentor.
From Tutor/Mentor, Sophia Fuentes
Volunteering with Wright to Read has been a rewarding and occasionally challenging experience. I had been looking for an opportunity to help a child within my community who could benefit from my support and time. I've always enjoyed reading and its benefits so Wright to Read seemed a natural fit. I first met Melani in the fall of 2014 and initially found her to be shy and compliant. She has since become more independent and gradually more confident.
We've progressed from reading picture books to completing chapter books including the last two: "Matilda" and "Charlotte's Web." Initially we took turns reading the longer chapter books, but I've encouraged her to read more recently with only my assistance on specific words she's never seen before. We keep a list of these vocabulary words and review the definitions at the end of our sessions. Genuine and incessantly are two words that she has used in sentences.
Melani enjoys learning about important historical figures such as Martin Luther King, Jr. and Abraham Lincoln. We are still exploring other subjects that might be of interest to her. Her comprehension has improved noticeably in the time I've worked with her. She also asks insightful questions which I strive to answer to her satisfaction. That frequently leads to more questions. She's a bright child, and I've been working hard to convince her of that as well. My next goal will be to improve her writing ability.
She enjoys visits from Miss Luisa in particular as she often arrives with gifts, usually in the form of books. Outside of the library, we've also made a trip to the pool which we can hopefully repeat this summer. We've watched movies while eating pizza as well as a painting and make-up party with my niece. She was disappointed she missed the annual IHOP breakfast dinner last year but she accompanied me to the picnic a week or so ago. She also occasionally benefits from a sweet snack as a reward for a job well done. Her mother, Reyna, has been a huge support in our reading endeavors. Miss Luisa and Wright to Read have also been invaluable in their support and resources. I hope to continue volunteering with Melani through elementary school and beyond. She's come a long way, and I would like her to realize her full potential.
Wright to Read, a program of The Campagna Center, is a member of the Alexandria Mentoring Partnership (AMP). AMP was created in 2006 to ensure that quality mentors and mentor programs are available for Alexandria's youth and young adults in need. To learn more about Wright to Read, visit https://www.campagnacenter.org/programs/elementary-level or to learn more about AMP, visit: http://www.alexandriava.gov/Mentoring.