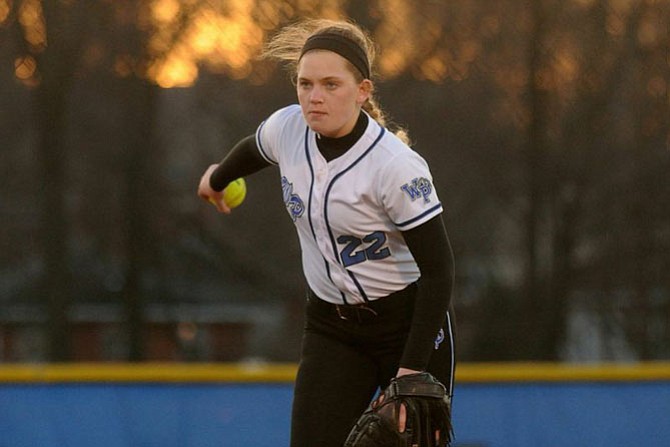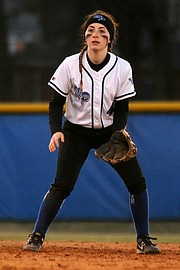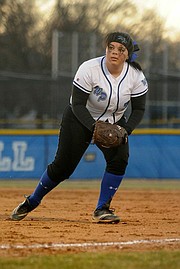 West Potomac senior Jayne Orleans headed to the dugout to get warm after pitching five innings during the Wolverines' season opener against Mount Vernon on March 18.
With West Potomac leading, 5-1, Orleans' night appeared be over. But after her replacement in the pitcher's circle struggled against the first four Mount Vernon batters in the sixth inning, Orleans had to remove the layers she had added in the dugout and return to action.
Off came the winter gloves, jacket, hat, ear warmers and blanket. Moments later, Orleans went from cozy onlooker to determined hurler, mowing down the Majors while maintaining the Wolverines' lead.
After allowing one inherited runner to score on a fielder's choice, cutting West Potomac's lead to 5-4, Orleans struck out the next three Mount Vernon batters and the Wolverines would hold on for a 6-4 victory at West Potomac High School.
Orleans earned the win, allowing one unearned run while striking out 10 in seven innings.
"It was amazing, the fact that she could pull that off," West Potomac sophomore Caroline Bowman said. "We were in the dugout with blankets on, chipping away at our nails."
Orleans' clutch performance helped West Potomac start the 2015 season on a winning note. The Wolverines have since improved to 4-0, with victories over Yorktown, Robinson and Woodson.
West Potomac plays in the loaded Conference 7, led by Lake Braddock and South County. Lake Braddock won the 2014 conference title, but South County responded by beating the Bruins in the 6A North region championship game and the Stallions went on to win their first state championship.
West Potomac has been competitive in the Patriot District/Conference 7 for years, but hasn't been able to conquer both South County and Lake Braddock in the same season. The Wolverines reached the district championship game in 2011, but lost to South County 2-0 in 12 innings.
Last year, West Potomac lost to South County in the conference semifinals, but responded by advancing to the region final four. The Wolverines return the majority of last season's team, and hope this is their breakthrough year.
"We're an old team this year and we've all been playing together for so many years and we're so ready to win," Orleans said. "We're so beyond ready to take that next step and stop being the 3 seed [in the conference] and be the 1 seed."
While Orleans is a big piece of the puzzle for West Potomac, she has plenty of help. Junior infielder Raven Williams is a middle-of-the-order slugger who made the move from third base to first base after shoulder surgery. Williams is one of West Potomac's top players both in the batter's box and in the field.
"She's probably the best first baseman I've ever coached," West Potomac head coach Craig Maniglia said. "As a result, I'm looking for her to be the vacuum over there and have her bat get into the game."
Senior shortstop and leadoff batter Nikki Minnis, junior third baseman Annabelle Miller, senior right fielder Maddie Miller and senior catcher Torie Bolger are experienced members of the Wolverines.
Sophomore designated hitter Bowman is a first-year varsity player who showed her talents during the Mount Vernon game, going 2-for-3 with a double and three RBIs.
"She's going to make a big difference for us," Maniglia said. "Her bat is spectacular and her attitude is spectacular."
Bowman slugged an opposite-field, two-run double to right during the second inning against Mount Vernon.
"I was behind [Mount Vernon pitcher Susannah Anderson] the first time and I was trying to correct it," Bowman said. "[The pitch] was outside, so I just [hit] it that way."
West Potomac will travel to face Annandale at 6:30 p.m. on Thursday, March 26. The Wolverines' first meeting with Lake Braddock is scheduled for April 10 at home, and the first game against South County is April 14 in Lorton.