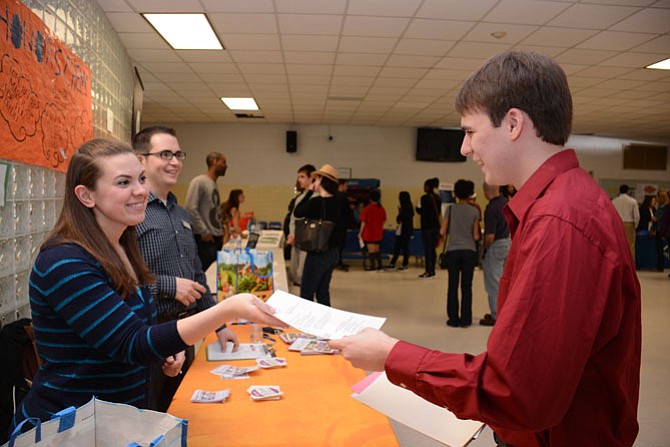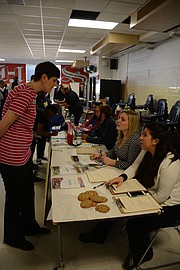 Robinson graduate Jackson Muse was looking for some professional direction. Currently a junior political science major at Shepherd University in West Virginia, he's worked at Barnes & Noble but is potentially interested in counseling for the Fairfax County Park Authority, or helping open the new Wegmans at Hilltop Village Center.
On Saturday, March 21, Muse was one of about 600 high school and college students who attended the community's first job fair and opportunity expo at West Springfield High School.
THE EVENT, organized collaboratively between supervisor Pat Herrity's (R-Springfield) office, the Greater Springfield Chamber of Commerce, West Springfield PTSA and high school leadership organizations, featured nearly 40 companies.
"It's good to see what you might be interested in," said Muse. "I'm a little nervous, I see this as a stepping stone."
From Wegmans, Starbucks and Cafe Rio to the U.S. Army, Great American Restaurants and Greenspring retirement community, vendors represented a wide variety of part time, full time and seasonal work and volunteer opportunities. Kingstowne, Alexandria resident Pat Malone helped draw the vendors, visiting 270 businesses in three days.
"It's been overwhelming," said Herrity, commenting that attendance more than tripled the students that pre-registered for the fair. "People getting jobs is what it's all about, starting somewhere."
David Edgington of Herndon attended the fair with his son Cameron and wife Catherine. "It's a good place to feel out what's available," he said. Cameron, a freshman at Langley High School, was the driving force behind coming to the fair.
Despite the pervasiveness of online applications, students and employers alike said they still value live interaction in the hiring process.
"It's about getting to meet face-to-face versus online," said West Springfield senior Nicole Verdin. "It's important to see potential employees making the effort to come in and make first impressions." Verdin helped out at the event as part of the school's student government and DECA organization.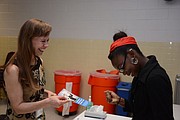 Nancy-jo Manney is executive director of the Greater Springfield Chamber of Commerce. "I'm very pleased, it's been very organic and different from traditional fairs," she said. "The vendors were prepared for this to be high school-focused." Companies not only interviewed and hired new employees, but offered interview tips and job-seeking advice.
"We're connecting to guests from around this area, looking for great applicants, people who want to further themselves," said Alexandra Badell, a restaurant manager with Great American Restaurants. "And we're helping with interview preparation, setting them up for success."
THOUGH MANY of the employers were looking for applicants aged 16 or older, Wegmans and Greenspring Village were among a few businesses with opportunities for younger students.
"It gave me some hope that people are willing to accept me," said Duke Ellington School of the Arts freshman and Springfield resident Alexis McGee. She has done some volunteering and wants to make sure she stays busy over the summer. "I'll be sitting here like, I'm free," she said.
Greenspring service manager Nahid Nasseh said they hired 10 new employees from the fair. They were impressed by the personality and communications skills of students who made time on the weekend to come out to the fair, "ones that really wanted the job," she said.