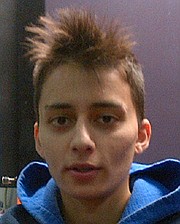 Rubina Ellis of Oak Hill is one of 96 men and women that pledged to perform 10 months of national service as part of the Atlantic Region's 21st Class of the National Civilian Community Corps (NCCC), an AmeriCorps program.
As a Corps Member, Ellis has spent 10 months getting things done for America while strengthening communities and developing her leadership. Ellis and her team have worked on a variety of projects focusing on disaster response and recovery efforts. She has already worked with such organizations as Habitat for Humanity, American Red Cross and various state agencies.
"I heard about the program through my brother who did AmeriCorps NCCC standard and was inspired to serve through him," said Ellis.
Ellis will graduate from NCCC in May 2015 with an education award of $5,645, which can be used to continue education or pay back student loans.
"I find I get more self-satisfaction when I see that I've helped someone other than myself, this program gives me the opportunity to be humble and serve others. Not just for myself, but others," said Ellis.
To learn more about FEMA Corps or to apply (individuals aged 18-24), visit AmeriCorps NCCC's website www.nationalservice.gov or FEMA's website at www.fema.gov.
AmeriCorps NCCC and FEMA Corps are programs of the Corporation for National and Community Service, a federal agency that engages more than five million Americans in service through its AmeriCorps, Senior Corps, Social Innovation Fund, and Volunteer Generation Fund programs, and leads the President's national call to service initiative, United We Serve. For more information, visit NationalService.gov .
AmeriCorps NCCC is a full-time, residential, national service program in which 2,200 young adults serve nationwide each year. During their 10-month term, Corps Members–all 18 to 24 years old–work on teams of eight to 12 on projects that address critical needs related to natural and other disasters, infrastructure improvement, environmental stewardship and conservation, energy conservation, and urban and rural development.
In exchange for their service, Corps Members receive $5,645 to help pay for college, or to pay back existing student loans. Other benefits include a small living stipend, room and board, leadership development, increased self-confidence, and the knowledge that, through active citizenship, people can indeed make a difference. AmeriCorps NCCC is administered by the Corporation for National and Community Service, a federal agency. The Corporation improves lives, strengthens communities, and fosters civic engagement through service and volunteering. For more information about AmeriCorps NCCC, visit the website at www.americorps.gov/nccc.

More like this story