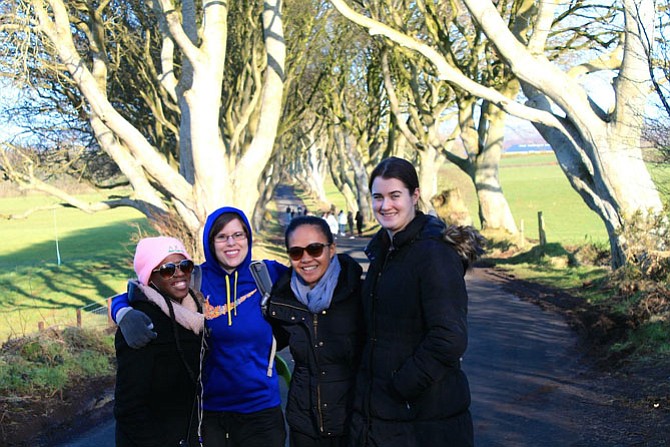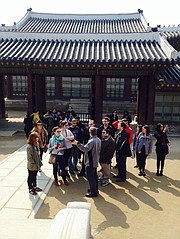 It's one thing to read about East Asian politics in a textbook. Discussing the topic with citizens of the Republic of Korea takes the subject to a new level, as a group of Marymount University students learned over spring break.
"I now understand so much of their mindset and traditions," said Austin Bloom from Cleveland, Ohio, a senior majoring in economics. "I feel like this trip made me a more global and understanding citizen of the world."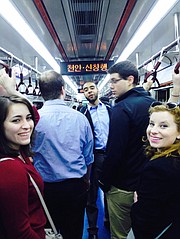 Bloom was one of 125 Marymount students who took advantage of the university's annual Global Classroom Series, which involved a weeklong international trip over spring break as part of a three- credit, full-semester course. She and her classmates traveled to Seoul, visited the Demilitarized Zone between North and South Korea, spoke with a diplomat and met North Korean refugees.
She also learned about Korean culture. "Korean people are extremely mindful of rules and where they fit within the society," Bloom said. "They place so much emphasis on their achievement and will do anything to move up. I see how this attitude has gotten them to where they are today, but it made me appreciate U.S. culture as well, where we are not afraid to fail and try new things. I think both cultures have a lot to learn from each other."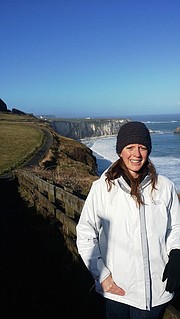 This year's Global Classroom Series offerings also included five other classes:
• Literary Nonfiction, Spain
• The Fashion Industry and its Promotion, London
• Applications in Human Performance, Northern Ireland
• Entrepreneurship, The Netherlands
• Information Technology, Estonia and Finland.
The school ensures that the program is affordable. The $1,100 fee includes round-trip airfare, ground transportation, accommodations, entrance fees to all required site visits and cultural activities, daily breakfast and international health insurance coverage.
For more information about Marymount's Global Classroom Series, go to www.marymount.edu/ Academics/Services-Resources/Center-for-Global-Education/Education-Abroad/Global-Classroom- Series.