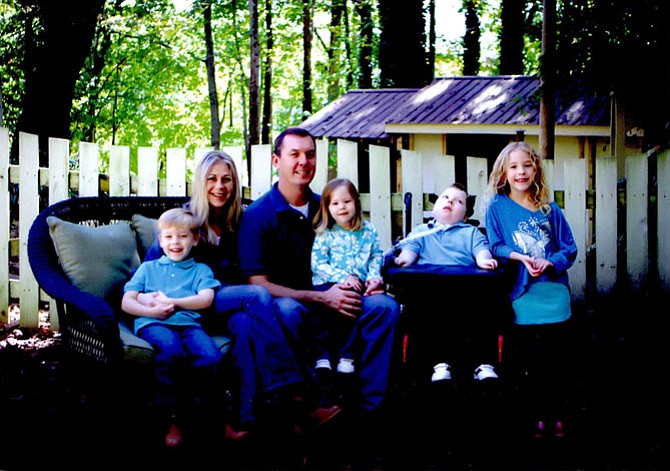 To honor his grandson Patrick, Stan Corey donated the lift that the Great Falls therapeutic riding program, Lift Me Up, will use to lift wounded warriors and heavier riders with disabilities safely onto horses.
"I hope it's a small way to recognize Patrick's struggle and help other people," he said.
Patrick, Corey's first grandson, is currently in a Georgia hospital and his death is imminent, Corey said. Patrick fought to live 11 years after a traumatic brain injury from a crash when he was 5 months old.
"He is a beautiful boy that never had a negative thought. He was not supposed to survive a year. It's been a long struggle," Corey said. "We're in the last chapter now."
"My son said, 'For someone who has never spoken a word, he has touched more people,'" said Corey. "The lift is another way that Patrick will help people."
When he dies, Patrick's family hopes that his kidneys and organs will be used to save other children's lives. "He will be able to help other children," Corey said.
Corey heard leaders from Lift Me Up speak to the Great Falls Rotary, and approached them about the need for the lift. "I said, 'I would like to fund the purchase of the lift. There's only one condition. I'd like it to be called Patrick's Lift.'"
The project is scheduled to be highlighted at Lift Me Up's 40th anniversary party, Founder's Day, on May 17.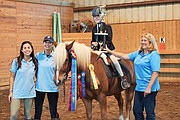 AFTER A WEEK OF TURMOIL, that same belief in the mission of Lift Me Up brought volunteers to the Great Falls facility on Sunday, May 3 to paint fences and prepare to resume classes.
Lift Me Up announced the last week in April that it would suspend its spring classes and therapy, but after an outpouring of concern from parents of children disappointed by the cancellation of their therapeutic riding sessions, Lift Me Up mobilized to resume classes Monday, May 4.
Georgia Bay, Lift Me Up's executive director, resigned on April 26, citing a need to spend more time with family. Several Lift Me Up instructors resigned following Bay's departure, and Lift Me Up announced via an email message to clients that classes would be suspended for the spring, with plans to resume in June.
Parents whose children rely on their therapeutic riding session said they were blindsided and left in the dark.
Kimberly Nelson, whose 12-year-old daughter has been riding at Lift Me Up since she was 6 years old, said she heard via email that Lift Me Up had canceled all upcoming lessons.
"As a parent with a child, who has a medical order for this type of therapeutic treatment, it is like your pharmacy closing with no advance notice and you don't have the medical treatment, i.e. medicine, that you need," Nelson said.
Parents of children with special needs have often spent their child's lifetime advocating strenuously, and those skills and instincts kicked in over the confusion and suspension of services at Lift Me Up, with many parents engaging via social media and direct communication.
BOARD MEMBERS at Lift Me Up scrambled, and convinced Georgia Bay to rejoin the organization as acting executive director to oversee a more orderly transition, and classes will resume this week.
"I want to reach out to you all as people who are so very important to me," Bay wrote to Lift Me Up families, riders and volunteers. "As you may know, I resigned to spend more time with family. While that continues to be true, in what I never anticipated; the program was thrown into disarray."
In returning to her duties, Bay got right down to resuming services: "For most of you there will be no change to your lesson time. But due to the limited number of instructors we may request shifting of a couple of the lesson offerings," said Bay. "Every attempt will be made to accommodate all our riders."
While the exact details of the "disarray" are unclear, board member Tracy Kenny reached out to parents promising better communication in the future, including establishing a Rider/Parent Advisory Committee to the board.