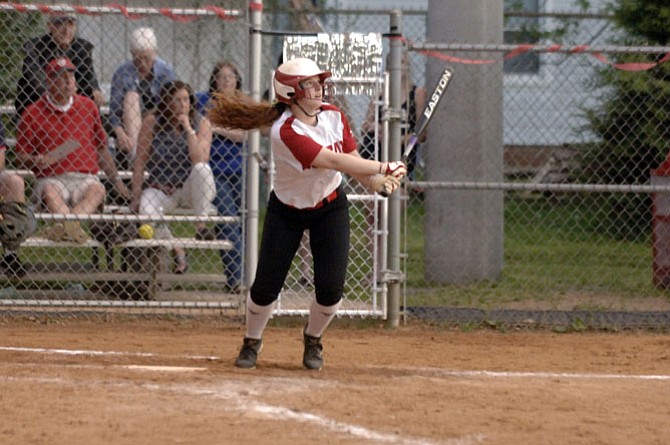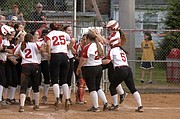 Erin Calpin stood with a softball in her hand and described her moment of glory as "absolutely amazing."
But before she clutched that ball during a joyful postgame interview Friday night, McLean's senior third baseman crushed it.
Calpin's solo home run in the bottom of the seventh inning gave the McLean softball team a 1-0 victory over Madison on May 8 during senior night at McLean High School.
Facing an 0-2 count, Calpin ripped her walk-off homer over the center-field fence, ending a pitcher's duel between Madison junior Katie Vannicola and McLean freshman Julia Longo while creating an ever-lasting memory.
After the game, Calpin held her home run ball and said she planned to frame it.
"I've been dreaming of this since my freshman year," Calpin said. "One of our seniors when I was a freshman, she hit a grand slam on senior night and I've just admired that so much and to have it actually happen for me is absolutely amazing."
Calpin said she momentarily considered trying to lay down a bunt, which could have helped set the stage for one of her teammates to drive in the winning run if Calpin had reached base. Instead, No. 6 ended the game with one swing of her bat.
"That was such a perfect way to end the game for her," Longo said, "especially being her senior night."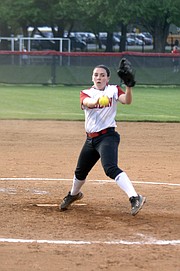 McLean head coach Maurice Tawil said he was surprised by the location of the pitch Calpin saw after falling behind in the count.
"I'm surprised that the pitch was where it was," Tawil said. "It might have been a mistake. I don't think anybody on the Madison side wanted the pitch quite there, not the pitcher, as well. [Vannicola] did a really good job all night long. She made one mistake and unfortunately it cost them the game."
Vannicola allowed the one run on five hits over 6 1/3 innings. She walked one and struck out five.
While Vannicola performed well in the pitcher's circle, McLean's Longo was even better. The freshman tossed a two­hit shutout and did not allow a runner to reach second base. Longo walked one and struck out 11.
"Julia killed it," Calpin said. "... I'm beyond proud of her."
McLean second baseman Olivia Bravo had two hits. Shortstop Zoe Dobson and catcher Bella Norton each had one.
Madison catcher Cat Arase and right fielder Kristy Williams each had a hit.
The victory improved McLean's record to 18-1. The Highlanders finish the regular season with a road game tonight against Fairfax.
"I feel we're playing as well as we have all year long," Tawil said. "We're ready to charge into the conference championship."
Madison bounced back with a 7-1 victory over Fairfax on Monday, improving its record to 16-3. The Warhawks close the regular season with a home game tonight against Langley.
The Conference 6 tournament is scheduled to begin Friday, May 15.