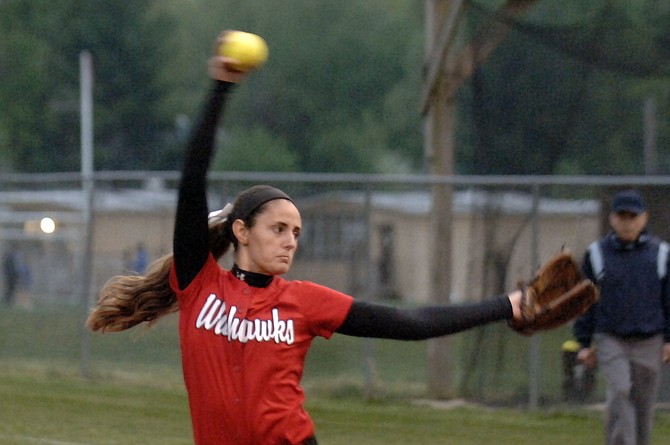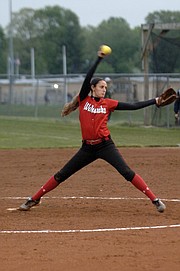 Madison senior Katie Vannicola praised South Lakes sophomore Aly Rayle for her improvement in the circle after the two engaged in a 10-inning pitcher's duel on Friday.
Vannicola's performance on the field, however, wasn't as kind toward the Seahawks.
The future Georgetown University pitcher struck out a career-high 21 batters and worked her way out of a bases-loaded jam in the bottom of the 10th inning, helping the Madison softball team defeat South Lakes 2-1 in Reston.
South Lakes, down 2-1, loaded the bases with one out in the bottom of the 10th, but Vannicola recorded her 21st strikeout of the evening before inducing a game-ending groundout.
"I've been in that situation quite a few times, actually, especially in travel ball, like [at] nationals," Vannicola said. "It's really important that you keep your mind clear and don't worry about what could go wrong and just kind of go pitch by pitch."
Madison took a 2-1 lead in the top of the 10th inning when a South Lakes infielder dropped a one-out pop up, allowing what proved to be the winning run to score from third base.
Vannicola allowed one run on six hits while walking two in 10 innings. She did not allow a run until the ninth inning, when international tiebreaker rules give teams a runner at second base to start each half-inning for the remainder of the game.
Vannicola threw 157 pitches, including 119 strikes. She threw a first-pitch strike to 26 of 38 batters faced.
Vannicola's career high for strikeouts in a seven-inning game is 19. She had 18 through seven innings on Friday.
"Katie's such a good pitcher," Madison senior catcher Julia Hoy said. "I've known her for so long, I've been catching her for so long, her pitching as well as she did today is something I'm just used to."
Head coach Jim Adkins said Vannicola was dealing with pain in the index finger on her pitching hand during the game. Hoy praised her teammate for the performance.
"I'm so insanely proud of Katie," Hoy said. "She hurt her finger and it's been bothering her, so the fact that she was able to push through that and deliver for the team, that was amazing."
At one point, Vannicola struck out seven consecutive batters between the third and fifth innings.
"I thought she did great," Adkins said. "I thought she had command of all her pitches and I thought she did a great job of keeping the hitters off balance. It was probably one of the better games she's pitched all year and we knew that we would need that kind of performance from her against South Lakes, which is a great team.
"With Aly Rayle pitching, you know you're not going to score a lot of runs. We knew that we just had to kind of keep it close and hope we got a couple breaks and fortunately we did."
Rayle suffered the tough-luck loss on Friday. The sophomore allowed two runs --- one earned --- on four hits while walking three, hitting one batter and striking out six in 10 innings. She did not allow a run until the ninth inning.
After sharing time in the circle as a freshman last season, Rayle has emerged as a standout pitcher.
"It's really interesting to watch her because I remember her when she was [a freshman]," Vannicola said. "… I know that her speed has gotten better. I know, from hitting off of her, that her spin has definitely gotten a lot better. She's probably been working really hard, so I applaud her for that."
Rayle threw 131 pitches, including 93 strikes. She tossed a first-pitch strike to 29 of the 40 batters she faced.
"It was a lot of pressure, but I tried to just not let it get to me," Rayle said. "Rather than feeling the pressure on myself, I think about the situation that the batter's in and how much pressure they feel and I try to take it off myself."
Madison scored the game's first run in the top of the ninth when bunt by shortstop Cameron Pistilli plated Alex Echazarreta. South Lakes tied the score at 1 in the bottom of the ninth on an RBI single by third baseman Jazmyn Stokes.
Madison sophomore leadoff hitter Cat Arase went 2-for-4 with a pair of singles. Third baseman Echazarreta and right fielder Kristen Williams each had a hit for the Warhawks.
Stokes finished 2-for-4 with two singles and an RBI for South Lakes. Designated player Natalie Pritz, catcher Danielle Barr, second baseman Calista Somer and Kaylin Tang each had one hit for the Seahawks.
Madison improved to 16-2 overall and sits atop the Conference 6 standings at 11-1. South Lakes, which snapped a lengthy regional tournament drought last season, fell to 12-6 overall and 8-4 in the conference.
"I'm not upset at all," second-year South Lakes head coach Carlos Soto said. "I really think that the girls battled so hard. Madison is such a good team. They're so composed, they have so much experience. Vannicola up there, she's a rock. It doesn't look like anything fazes her. No matter what the situation, she just kept going at it. … I'm nothing but impressed by both teams and how they both played and how they composed themselves. In some ways, I wish I was watching. I was just glad I was here."