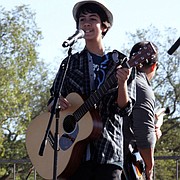 Burke resident Jake Sizemore was diagnosed with low-functioning autism at the age of 2-and-a-half. Now, 11 years later at age 13, he plays in a band at a music school called "School of Rock" with other students who are his age. And while he still has trouble communicating, he is able to excite audiences with his music, from the stage. And this year he became one of 21 young people across the country honored in the "Yes I Can" Awards ceremony at the Council for Exceptional Children (CEC) 2015 Convention & Expo.
Sizemore is a sixth grade student at Kings Glen Elementary School. In the fall, he will be a seventh grader at Lake Braddock.
"Playing music and being on stage is easy for him, while talking is difficult," said Rachna Sizemore Heizer, Sizemore's mother. "Before age 4 we got him a toy piano. I was sitting in the kitchen, and all of a sudden twinkle a little star and it was him playing the piano. I noticed a talent there."
"I am a musician and a dancer but my first dance studio wouldn't let me perform at the recital because they were afraid of what a kid with autism might do on stage," wrote Sizemore in his application letter to the CEC. "Even though I had played at the Arts for Autism Gala, the assistant principal at my school didn't believe I could play music well enough to be in the talent show because I have autism. No one believed that I love to perform on stage and I am good at it and I am a very good musician. I proved them all wrong because I never gave up and I kept trying."
He was also nominated by Dr. Irene Meyer, the Director for Special Education Instruction in Fairfax County, who knew of his musical talent.

"Jake goes nuts on stage. He knows that's where he is most comfortable," said Travis Adams, Sizemore's music teacher at School of Rock. Adams admits to being initially hesitant about teaching a kid with autism, but decided to give it a shot, since he too has a brother with autism.
"One of my biggest fears was not knowing what might trigger his autism, set him off or whatever. I was really concerned with sound level, over-simulation from groups of kids, but basically once I saw what he could do, I was like this kid belongs here."
Sizemore plays about 20 hours a week and wants to become a rock star when he is older.
"I like crowds. Enjoy the applause the most," said Sizemore. To those who are nervous about performing, he just says "Take a deep breath and rock out!"