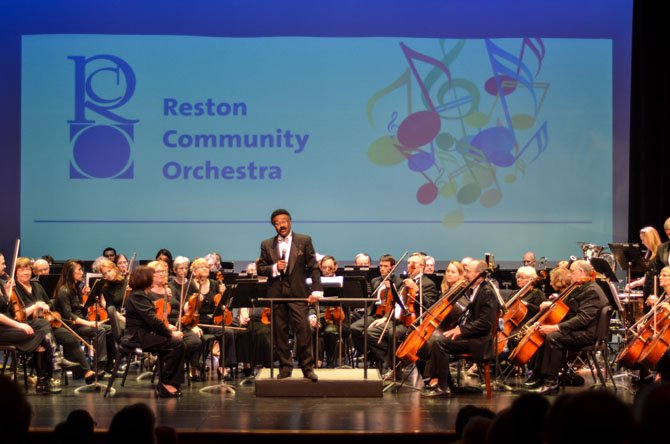 The afternoon of Sunday, May 18, at Reston Community Center CenterStage, the Reston Community Orchestra (RCO) preformed their final concert of the 2013-2014 with a performance featuring two young pianists. Pianists Mark Dang and Matthew Geier performed Haydn's "Piano Concerto in D Major." The program also included Grieg's "Peer Gynt Suite #2" and selections from "Forest Gump."
Conducting the orchestra was Dingwall Fleary, a maestro who has directed Reston Community Orchestra for 16 years.
"I am a firm believer that all communities in our nation's cities and towns are fortunate when there are talented youth within them who yearn to be involved in wholesome activities," said Fleary. "When those young people are identified they ought to be showcased, not only to encourage and reinforce their skills, but more importantly to be examples to other youngsters, whether the talent be with music, art, writing, theater, dancing, or even sports." A native of St. Louis, Fleary is also conductor of the The McLean Symphony, which he has been founding music director since its inception in 1972.
Mark Dang started learning music with Maestro Fleary since the age of 4 at Kiddie Country Learning Center. By the age of 6, he began taking private piano lessons with Dr. Carol Ann Barry. Since then Dang has been participating in county and state-wide piano festivals. He won Best Intermediate Repertoire, and Most Improved Intermediate Musicianship 2011 at the Barry Studio of Piano. Dang is currently pursuing piano lessons with Sarah H. Mbi at Keys to Creativity Music Studio. "It was my very first time in an orchestra," said Dang. "I was really excited."
Matthew Geier, 13, is an eighth grade home-schooled student who resides in Springfield. He began piano lessons at the age of eight at the studio of his current and only instructor, Sarah H. Mbi. Matthew has performed in a variety of local music festivals, as well as in recitals ranging from solos to orchestra accompaniments. While he enjoys playing a wide variety of music, his favorite composers are J.S. Bach and Joseph Haydn. In addition to piano, Matthew takes violin lessons. "It was a good concert, I really enjoyed it," said Matthew.
"Fleary is amazing with people of all ages, a wonderful communicator," said Linda Geir, Matthew's mother. "This has been an amazing experience for students to play with other musicians." Fleary started the tradition of bringing local youth soloists to the final show of the season since he joined Reston Community Orchestra. Founded in 1988, the RCO is an all volunteer ensemble devoted to music and the community. Reston founder Robert "Bob" Simon also attended the Sunday concert.
"I firmly believe that if more attention were given to exposing and nurturing children's participation in, and appreciation of the fine arts during their formative years, they will grow up and pass along their positive experience to their offspring," stated Fleary. "Because of my position as the conductor and director of symphony orchestras in Reston and elsewhere, I am delighted to be able to shine the spotlight on budding young talents such as Mark Dang and Matthew Geier. The concert the Reston Community Orchestra just presented was fun for the musicians, and hopefully provided the boys and the audience an experience they'll remember for the rest of their lives."
"It is really motivating for the kids to play at this concert," said music instructor Sarah Mbi, a resident of Arlington. "This was a nice reunion for everyone to get together." RCO will hold Summer Readings and open rehearsals on July 21 and 28, and Aug. 4 and 11 at 7:30 p.m. at Sunset Hills Montessori. The RCO will hold their 2014-2015 season opener on Nov. 16. For more information on the RCO visit restoncommunityorchestra.org.