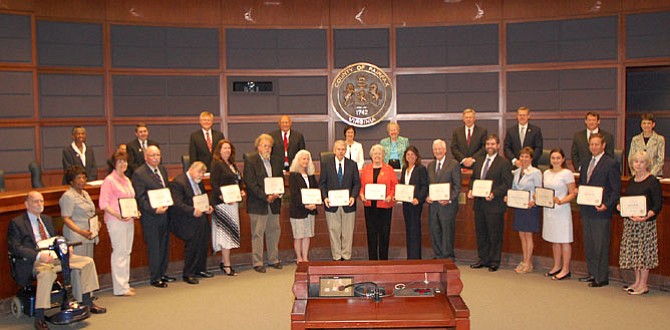 Celebrate Fairfax, Inc. announced the 2015 Lords and Ladies Fairfax at the Board of Supervisors meeting on Tuesday, May 12 at the Fairfax County Government Center.
"The tradition of honoring Lords and Ladies Fairfax began in 1984 to recognize exceptional citizens of Fairfax County," according to Celebrate Fairfax. The Fairfax County Board of Supervisors selects two people from each district who have demonstrated superior volunteer service, heroism or other special accomplishments.
Hunter Mill: Adelle Jones and Kenneth R. Fredgren
Supervisor Cathy Hudgins honored L. Adelle Jones as Lady Fairfax and Kenneth R. Fredgren as Lord Fairfax in the Hunter Mill District.
Jones, a 43-year resident of Reston and a native of Greenville, N.C., was the Langston Hughes Middle School guidance counselor for 19 years and was commended by the Fairfax County School Board for her work with parents, students and the community.
"She piloted and developed a core school, community mentoring program at Hughes that expanded to thirteen other Fairfax County schools and involved more than 400 students," said Hudgins.
Since her retirement, said Hudgins, Jones has served as the vice president of the Martin Luther King Jr. Cultural Foundation, Inc., which has provided more than $400,000 in scholarships to diverse student groups in Northern Virginia, according to Celebrate Fairfax documents.
"She was a former member and chairperson of the Dr. Martin Luther King Jr. Birthday Day Celebration Planning Committee for 18 years that has evolved into three days of community service, musical salutes and inspirational programs in honor of the life and legacy of Dr. King," said Hudgins.
Jones also coordinated a career workshop for middle and high school students and regularly provides food service to residents of the Embry Rucker Homeless Shelter in Reston.
Fredgren advocates for the accessibility of the community for people with disabilities.
"When it becomes noticeable that a new curb ramp, appropriate signage or additional accessible parking spaces are needed at local retail and service establishments, Mr. Kenneth R. Fredgren also becomes noticeable," said Hudgins. "Surveying shop landlords and restaurant owners, Mr. Fredgren is quick to point out accessibility is just a plain good business opportunity to offer the growing market of aging customers and those with disabilities."
Fredgren has also served as a member of the Fairfax County Interagency committee to review existing policies and determine if there might be opportunities to improve the process in ensuring public accommodations.
The Lords and Ladies will be honored at a special dinner hosted by Great American Restaurants, Celebrate Fairfax, Inc., and the Fairfax County Board of Supervisors, on Tuesday, June 2, 2015.
Providence: Peggy A. Koplitz and Paul J. Wexler
Providence District Supervisor Linda Q. Smyth named Peggy A. Koplitz as her Lady Fairfax and Paul J. Wexler as her 2015 Lord Fairfax.
Koplitz served as the Providence District representative to the Library Board from November 2005 to this year, and was the vice chair for the board and chairman of the Personnel Committee.
In 2007, Koplitz "helped to open the long awaited Oakton Community Library, the only library in Providence," said Smyth.
"When community concerns were raised in 2013 about the re-organization of the Fairfax Public libraries and the discarding of books, she stepped forward to join the Ad-Hoc Floating and Discards Committee, instrumental in identifying ways to clarify policies and practices to address public concerns as well as questions raised by the Friends of the Library groups," said Smyth.
Koplitz was a library media specialist and curriculum specialist with Alexandria City Public Schools and a member Emeritus of the Library of Congress Teaching with Primary Sources program, which works with schools and universities to help teachers use the library's vast collection.
For 35 years, Wexler devoted his career to advocacy for people with intellectual and developmental disabilities and their families. "He has worked closely with families, board members, colleague agencies, regulatory authorities, committees and task forces to support legislative efforts to improve services and procure proper resources," said Smyth.
Wexler, a sibling of a man with Down Syndrome, "has a keen awareness of both individual needs and family concerns, enabling him to develop a strong empathy and understanding of challenges faced in daily life and long term planning," said Smyth.
Wexler became the Executive Director of Central Fairfax Services, Inc., (CFS) in 1986 and in July of 2010, CFS affiliated with Service Source, which raises and distributes funding for programs that serve people with disabilities. He is an active volunteer with local civic groups, including Civitans and Scouting.
At Large: Kate Hanley and Lt. Col. John P. McAnaw
Fairfax County Board of Supervisors Chairman Sharon Bulova named Katherine K. Hanley, former Board Chairman, as this year's At-Large Lady Fairfax.
Hanley was first elected to the Fairfax County School Board, then the Board of Supervisors as the Providence District Supervisor and then as Board of Supervisors Chairman.
"During her tenure, Ms. Hanley worked tirelessly with other members of the Board, not only advocating for education, but also for human services and affordable housing. In recognition, a homeless shelter for families, was named after her. Recently additional transitional housing units called 'Kate's Place' were built adjacent to the shelter," said Bulova.
Hanley was instrumental in the establishment of the Revenue Stabilization fund along with a significant investment in building Fairfax County's Information Technology infrastructure, said Bulova. "She was also a great proponent of transportation initiatives, helping to position the Silver Line for federal funding."
After leaving the Board of Supervisors, Hanley served as Secretary of the Commonwealth, and is now on the Metropolitan Washington Airport Authority, the Fairfax County Electoral Board and the Community Services Board. She has led the bipartisan election commission, the committee on the meals tax, an effort that brought together disparate, competing groups who came up with a near unanimous vote to bring a report to the Board of Supervisors, said Bulova.
Bulova cited Lt. Col. John P. McAnaw's love for history, love of country and love of service reasons she named him the 2015 Lord Fairfax.
"Lt. Col. John P. McAnaw is well known for his tireless work to preserve history in Fairfax County," said Bulova. "His love of our past earned him a Lifetime Achievement Award from the History Commission for his decades of service as a Civil War Historian."
The Park Authority honored Lt. Col. McAnaw by naming a Recreation area for his significant preservation efforts.
A veteran serving in leadership roles within VFW Post 8469, Lt. Col. McAnaw is the past President of the Bull Run Civil War Roundtable. He helped lead the effort to preserve Ox Hill, an important Civil War site. In addition to this, he is also a Board Member of the Fairfax Station Railroad Museum and has served as a historian for a number of local organizations in Fairfax County.
In his Kings Park West community, Lt. Col. McAnaw has served as Chairman of the Parks committee, leading numerous efforts to mobilize scouts and volunteers to build and maintain trails throughout the parkland surrounding Royal Lake.
In Dranesville, Sarah C. Kirk and Robert D. Vickers Jr.
Supervisor John Foust awarded this year's Lady Fairfax honor in Dranesville to Sarah C. Kirk, a horsewoman, entrepreneur, mother of six children and a 30-plus year resident of Fairfax County, he said.
"When the riding arena opened at Turner Farm Park, Fairfax County Park Authority leadership asked for help in maintaining it," said Foust. "Ms. Kirk had an idea, and the charity, Turner Farm Events, or TFE, was born."
Turner Farm Events raises funds and has donated more than $13,000 to the Park Authority by running horse shows and other equestrian events at the park. It has purchased new jumps, poles and equipment.
"Putting her passions into action, Ms. Kirk engages like-minded souls and makes good things happen in Fairfax County," said Foust.
In 2013 after her daughter died of suicide, Kirk founded the Becky Love Foundation, a charity to raise funds and awareness for mental health. Last year, the Foundation held a fundraiser at Turner Farm Park, Mothers 5K for Mental Health, and raised more than $3,000.
Foust honored Robert D. Vickers Jr. as Lord Fairfax in the Dranesville District, a "strong advocate for tree preservation."
Vickers has been the Dranesville District representative on the Fairfax County Tree Commission for the past eight years.
"Mr. Vickers was the driving force behind the creation of the Fairfax County Celebrated Tree program, which has since led to 70 of the largest trees in the County being placed in the Virginia Big Tree database, including about 20 current state champions and three former national champions," said Foust. "Since becoming Chairman of the Commission in 2012, he has greatly improved the annual County Tree Preservation and Planting awards process, and he continues to work closely with citizens groups in McLean, Great Falls and Herndon to preserve and protect our endangered urban tree canopy for future generations."
The Lords and Ladies will be honored at a special dinner hosted by Great American Restaurants, Celebrate Fairfax, Inc., and the Fairfax County Board of Supervisors, on Tuesday, June 2, 2015.
Donna Goldbranson and Richard B. Chobot are Braddock's Lady and Lord Fairfax
Braddock District Supervisor John C. Cook named Donna Goldbranson and Richard B. Chobot as this year's Lady and Lord Fairfax for his district.
"Donna Goldbranson is a champion for young adults with life-long disabilities," said Cook.
Goldbranson developed Specially Adapted Resource Clubs (SPARC) to meet the growing need for inclusion services in the community and dreams of bringing the program to each district in Fairfax County.
SPARC, her legacy, tackles the question "What will my adult child with disabilities do after school graduation."
She used 20 years of experience in advocacy and "team building abilities to pull together diverse organizations and stakeholders to bring about this unique day support program for young adults with multiple disabilities," said Cook. "This challenging effort required entrepreneurial insight, boundless energy, and commitment to build the powerful partnerships needed to realize this dream," he said.
Richard B. Chobot moved from New York State for a three-year assignment in 1975 with his wife Mary Chobot.
"Forty years, two doctorates, two children and two grandchildren later, they live in the Red Fox Forest neighborhood, serving as president and secretary of their civic association," Cook said .
Chobot serves as a member of the Consolidated Community Funding Advisory Committee (CCFAC) and is the Chair of the Fairfax Area Commission on Aging (CoA), focusing on the completion and implementation of the 50+ Community Action Plan.

Chobot is a member of the Knights of Columbus, the Men's Club and the Men's Spiritual Group at Holy Spirit Church.

He and his wife are co-coordinators of the Holy Spirit Parish Transportation Ministry and members of the Bellarmine Choir, Catholic Campus Ministry at George Mason University.
The Lords and Ladies will be honored at a special dinner hosted by Great American Restaurants, Celebrate Fairfax, Inc., and the Fairfax County Board of Supervisors, on Tuesday, June 2, 2015.
Jeffrey H. Saxe and Kyra M. Beckman named Lord and Lady Fairfax in Springfield District
Springfield District Supervisor Pat Herrity honored Kyra M. Beckman, a senior at West Springfield High School, as this year's Lady Fairfax.
"She has lived around the globe as part of a Navy family and settled in Fairfax County in 2010," said Herrity.
Beckman, who is scheduled to go to the College of William and Mary in the fall, is involved with many organizations that help less fortunate individuals and is an "outstanding example of the impact our young residents can have on the community," said Herrity.
The high school senior founded Spartans Against Human Trafficking in 2013 to educate students about the ways traffickers coerce their victims, so they can protect themselves and their friends. "She has led awareness campaigns, an effort to write letters to recently rescued victims both locally and abroad, and speaks about human trafficking to a variety of organizations community-wide," said Herrity.
Herrity nominated Jeffrey H. Saxe as Lord Fairfax for his commitment to land use through Springfield District's Land Use Committee, serving on the Fairfax Forward working group and actively participating in the chamber of commerce.
"He truly is an outstanding citizen," said Herrity. "Mr. Saxe has worn many hats throughout his career, from working as a Fairfax County Planner to Project Manager for the Peterson Companies, to a consultant to the development community, and an active member of the community. His experience gives him a unique perspective when reviewing land use applications and his engagement has assisted the County in providing an atmosphere of transparency and approachability."
The Lords and Ladies will be honored at a special dinner hosted by Great American Restaurants, Celebrate Fairfax, Inc., and the Fairfax County Board of Supervisors, on Tuesday, June 2, 2015.
Lee: Christopher M. Soule and Elizabeth M. McGhan
"For Ms. Elizabeth M. McGhan, a healthy community begins with kids and youth," said Supervisor Jeff C. McKay, who named McGhan's the Lee District's Lady Fairfax.
McGhan is a longtime president of the Garfield Elementary School PTA, president of Key Middle School, co-chair of Lee High School's All Night Grad Party and a bi-weekly volunteer at the Lee High School Career Center as well as family and academic mentor to a specific Lee High School student.
"And if that weren't enough, she also manages several Springfield Youth soccer teams," said McKay.
Of her work as PTA president, "McGhan sees the organization as a community building block where parents, teachers and administration work together to create a healthy environment for students."
McKay named Christopher M. Soule his choice to be this year's Lord Fairfax.
"He exemplifies community service," said McKay.
Soule has spent a decade as president of the Jefferson Manor Citizens Association, one of the largest and most active civic associations in Lee District and is an active member and a leader of the Lee District Association of Civic Organizations and is dedicated to revitalizing the Route One Corridor.
He recently joined the board of the Southeast Fairfax Development Corporation, a nonprofit economic development organization that promotes redeveloping and revitalizing the Richmond Highway corridor from the beltway to Fort Belvoir, said McKay.