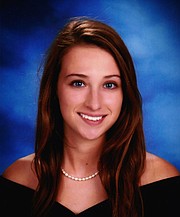 Each year, the U.S. Presidential Scholars Program recognizes 170 students selected from around the Country for their accomplishments in academics and in the arts. This year, two students from Fairfax County were among those named Presidential Scholars. McLean residents Kevin Joel Broom, II (Joe Broom) and Anna Venetianer are seniors at Thomas Jefferson High School for Science and Technology. Broom, a Presidential Scholar in the Arts and the first euphonium player to receive this recognition, plans to study music performance at the University of Michigan, Ann Arbor.
Venetianer earned this recognition, in part, for achieving a perfect score on the ACT and plans to become a pre-med student at the University of Virginia.

"I actually had no idea about the competition before," said Venetianer. While the Program does not provide financial awards, to be named a scholar carries a tremendous honor.
Broom, who has played the euphonium for many years, underwent jury evaluations with other students in the running to be named scholars in the arts.
"Annually they receive 11,000 applications and they accept about 170. From there, once selected, you spend a week in Miami and a jury evaluates you," said Broom.
He has been an advocate for the arts, creating and teaching a course at Kent Gardens Elementary School called "Full Steam Ahead," designed to peak students' interest in music, and to also introduce them to the sciences. The course takes place on Saturday mornings for six weeks during the winter and spring semesters of the school year.
Venetianer became involved with a club that some of her friends started to also help expose more middle school students to the sciences. In her sophomore year she also started coding and helped create a carpooling app to help students in different parts of the County find rides to school.

"We entered this app into a contest and were nominated to present our app at a world summit in California," said Venetianer. Their app was designed to cut down on the area's congestion, and so was named the most environmentally-friendly app. They also entered the app into a Verizon contest and received honorable mention. Outside of the academics, Venetianer is the number one player on her school's tennis team. Because of practice, her day usually does not end until the evening.
Broom also devotes a great deal of time to music outside of school, practicing the euphonium for at least two hours each day. He uses what he learns in the classroom to help develop the curriculum for students at Kent Gardens.
"I liked physics last year because it helps me visualize the vibrations on my instrument. When you're perfectly in tune there are a lot of vibrations above and beneath, and it's a really powerful visual. Great ideas for the course," said Broom. "People often talk about how gifts in the sciences often correlate with gifts in music. I think I've helped bridge science and music."
As a part of this honor, in June, Venetianer and Broom will attend a White House-sponsored medallion ceremony in Washington, D.C. along with other scholars selected.