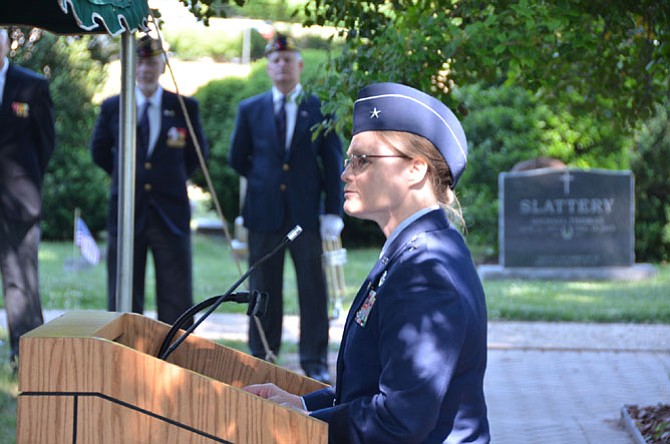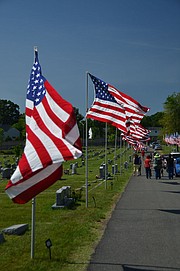 Herndon residents came together on Monday, May 25 at Herndon Chestnut Grove Cemetery to commemorate Memorial Day. The annual ceremony featured members of the American Legion, Herndon High School Naval JROTC and guest speaker retired US Air Force Brigadier General Lyn Sherlock. Over one hundred persons attended the ceremony, including local officials such as Supervisor John Foust (D-Dranesville) and Town of Herndon Vice Mayor Jennifer Baker.
Herndon councilmember and commander of American Legion Post 184 David Kirby welcomed everyone to the event. After an invocation by Post Chaplain David Womack, Kirby discussed the significance and history of Memorial Day. "Let us not forget what Memorial Day means," said Kirby. "Remembering our fallen once a year is not enough," said Kirby, who then introduced guest speaker retired General Lyn Sherlock.
Both General Sherlock and Post Commander Kirby laid wreaths on the graves of unknown soldiers at the cemetery, and Post 184 legionnaire Eric Claunch performed a sounding of "taps." Members of the Herndon Naval Junior ROTC helped prepare the annual Avenue of Flags in the cemetery. The major road was lined with 61 American flags, casket flags on loan from families of deceased veterans. Chestnut Grove Cemetery, located at 831 Dranesville Road in Herndon, is a community heritage resource, providing 25 acres as an active historic cemetery. "The speakers were wonderful," said Roger Claff, a Herndon resident and scoutmaster.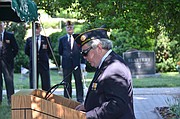 "As we work with families, we always ask if the loved one was a veteran, and we can pass this information to the American Legion," said cemetery manager Mike Moore. The families can then loan the flags to American Legion for the Avenue of Flags on Memorial Day and Veterans Day. The Town of Herndon took over operation of the cemetery in 1997, and in 1999 the Town Council adopted the Chestnut Grove Cemetery Master Plan. In 2000, due to the historical significance of the cemetery and many of the individuals buried there, the Town designated the cemetery as a Heritage Preservation District. Herndon resident, Army sergeant and Vietnam War veteran Wayne Kidwell is buried at Chestnut Grove Cemetery. Herndon's American Legion Post #184 is named after him.
The American Legion, sometimes referred to as simply The Legion, is a veterans organization providing financial, social, and emotional support to members of the United States Armed Forces, veterans, and their dependents.
To learn more about the American Legion and local chapters, visit www.legion.org.