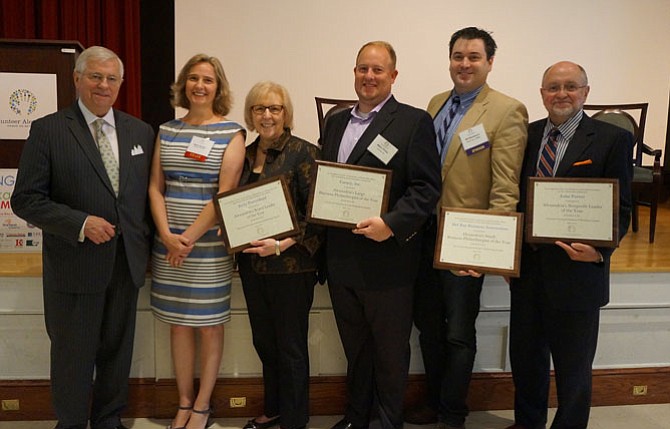 See more Business Philanthropy Summit photos on Facebook.
Community leaders from across the city gathered May 6 for the 17th annual Business Philanthropy Summit to honor the 2015 nonprofit and business philanthropists of the year.
Held at First Baptist Church, more than 250 turned out for the Volunteer Alexandria event designed to showcase the work of local nonprofits. U.S. Rep. Don Beyer (D-8) gave the keynote address.
The 2015 award winners were: Carney Inc, Large Business Philanthropist of the Year; the Del Ray Business Association, Small Business Philanthropist of the Year; Kitty Porterfield of the Literacy Council of Northern Virginia, Board Leader of the Year; and ACT for Alexandria president John Porter, Nonprofit Leader of the Year.
In accepting his award, Porter thanked the many attendees who give their time and resources back to the community by quoting children's author Dr. Seuss: "Unless someone like you cares a whole awful lot, nothing is going to get better. It's not."
For more information about the Summit and opportunities at Volunteer Alexandria, call 703-836-2176 or visit www.volunteeralexandria.org.