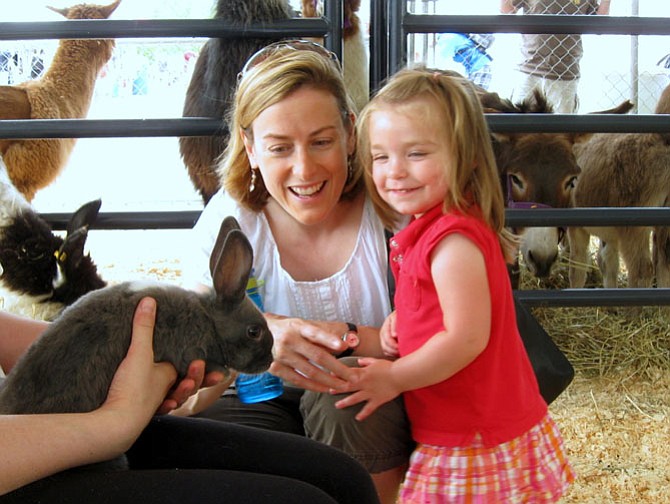 Northern Virginia's largest community-wide event, the 34th annual Celebrate Fairfax! Festival, is set to take place June 5, 6, and 7 on the grounds of the Fairfax County Government Center, 12000 Government Center Parkway, Fairfax. The Celebrate Fairfax! Festival features 25 acres of family programs, green living, thrilling carnival rides, nightly fireworks, and amazing concerts with more than 130 performances on eight stages. An exceptional line-up of national, regional, and local artists includes these headlining performances:

In addition to the outstanding entertainment schedule, there are plenty of enhancements to the festival programming at Celebrate Fairfax!, including Greenology, Fairfax County Karaoke Championship, the popular Silent Disco, a craft beer garden, the Fairfax County DockDogs Competition, The Hub – featuring local wineries, giant lawn games and two stages of entertainment – Emerging Artist Showcase, plus more than 40 carnival rides and attractions, and 30 food vendors with enough variety to please anyone.
General admission includes all performances; shows are included with daily tickets to the event. Advance ticket sales began on April 1 at www.celebratefairfax.com, and as of May 1, tickets are available at all Northern Virginia Wegmans locations.
At the gates, general admission is $15 per adult; $5 per youth; free for children 2 and under.
Festival Hours: Friday, June 5, open 6 p.m. until 12 a.m.; Saturday, June 6, open 10 a.m. until 12 a.m.; Sunday, June 7, open 11 a.m. until 7 p.m. Find more information at www.celebratefairfax.com
The 34th annual Celebrate Fairfax! Festival is a presentation of Celebrate Fairfax, Inc. and will be held Friday, June 5 through Sunday, June 7, at Fairfax County Government Center, 12000 Government Center Parkway, Fairfax. Celebrate Fairfax, Inc. is a nonprofit, 501(c) 3 organization commissioned in 1982 by the Fairfax County Board of Supervisors. Its mission, "The Celebration of Fairfax County and Its Communities," is met through the production of the Celebrate Fairfax! Festival, Fall for Fairfax KidsFest, and educational programs such as Events101. For more information call 703-324-3247 or visit the website at www.celebratefairfax.com.
2015 Headline Entertainment Schedule for the Bud Light Main Stage
*Friday, June 5 at 8 p.m.: KONGOS
The brothers KONGOS -- multi-cultural, multi-faceted, multi-instrumentalists -- craft a unique and irresistible sound spawned from shared DNA, diverse influences and spot-on melodic and lyrical sensibilities. On Lunatic, their Epic Records debut, the band's talent shines on "Come With Me Now"; the rock-alt crossover tune kicking off with the accordion, jumping into foot-stomping, staccato rhythms, slide guitar, and soaring epic soundscapes reminiscent of U2 and their South African upbringing. "I'm Only Joking," whose lyrics hint at the album's title, hits the mark with decisive tribal rhythms and Pink Floyd-esque mysterious modern rock. Thanks to an earlier self-release of Lunatic, KONGOS are already stars overseas, playing their numerous hits off Lunatic for crowds of up to 65,000 at South African festivals.
*Saturday, June 6 at 8 p.m. 3 DOORS DOWN
Since forming in 1995, Mississippi rock quintet 3 DOORS DOWN has sold more than 16 million albums worldwide, garnered three Grammy nominations, two American Music Awards, and five BMI Pop Awards for songwriting, including BMI's coveted "Songwriter of the Year" award. The band's debut album, 2000s The Better Life, which is now certified six times platinum, featured the smash hit "Kryptonite." Their sophomore album, 2002s Away from the Sun, saw similar success with its radio mainstays "When I'm Gone" and "Here Without You." Their subsequent efforts 2005s platinum certified Seventeen Days and 2008s 3 Doors Down debuted at #1 on the Billboard Hot 200 Chart. In 2012, 3 DOORS DOWN released The Greatest Hits, a collection of nine #1 hits and three new songs, returning to the Top 5 at radio with "One Light." The band will begin recording their sixth studio album in early 2015.
*Sunday, June 7 at 4:30 p.m. THE AMISH OUTLAWS
THE AMISH OUTLAWS are made up of former and "Honorary Amish" men in full Amish garb that dance and sing a range of covers from Lady Gaga to Bon Jovi to Johnny Cash. THE AMISH OUTLAWS like to keep their audience guessing as to what they could possibly play next. The members include: Brother Amos Def, Brother Big Daddy Abel, Brother Eazy Ezekiel, Brother Elijah Rule, Brother Hezekiah X and Brother Jakob the Pipe Layer. According to their website, throughout each show, THE Amish OUTLAWS "spin yarns about the Brothers' upbringing and adventures since Rumpsringa."