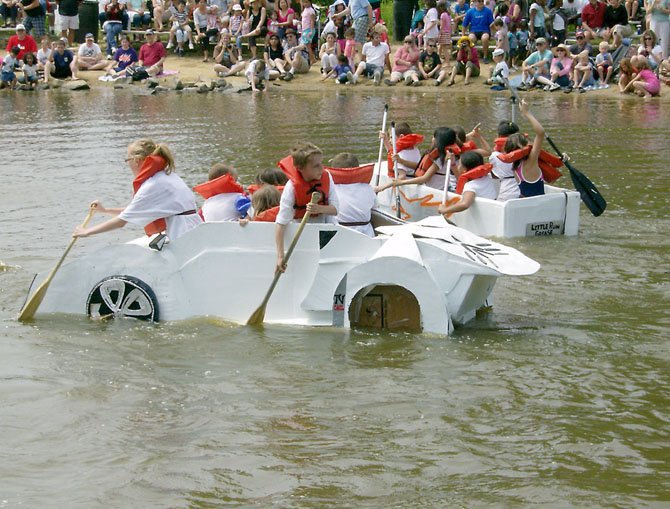 Here's your top ten list of events to check out this summer.
Springfield Days/Party in the Park. May 31. 8-10 a.m. South Run Park, 7550 Reservation Drive, Springfield. Springfield Days is a community wide celebration that includes a 5K run, "Pet Fest" and car show! This is an event your summer calendar won't want to miss! www.springfielddays.com.
Cardboard Boat Regatta. June 1. 10 a.m. - 2 p.m., Lake Accotink Park, 7500 Accotink Park Road, Springfield. Witness cardboard boat creations race along Lake Accotink's shoreline! This is the family event of the season! $4 vehicle fee. 703-569-0285 or julie.tahan@fairfaxcounty.gov. http://www.springfielddays.com.
Celebrate Fairfax! Festival. June 6, 6 p.m. – 12 a.m.; June 7, 10 a.m.- 12 a.m.; June 8, 11 a.m. -7p.m. Fairfax County Government Center, 12000 Government Center Parkway, Fairfax. This is your community-wide summer festival with musical performances, rides, games and food! Come one, come all! 703-324-3247 or http://www.celebratefairfax.com/.
Historic Fairfax City Walking Tours. June 7. 11 a.m. Ratcliffe-Allison House, 10386 Main St, Fairfax. Join a seasoned tour guide for a walk through the historic section of Fairfax and featuring the Old Courthouse and other historic sites! Approx. 90 min, weather permitting. $3-$15. 703-385-8414.
Father's Day Golf Tournament. June 14. 8 a.m.- 12 p.m. Burke Lake Golf Center, 7315 Ox Road, Fairfax Station. Gather on the course with dad for the golf event of the summer! Teams of 2 will compete in all divisions. $65/team. Registration includes lunch: 703-323-1641.
Engine #62 Trackless Train Rides at Lake Fairfax. 1400 Lake Fairfax Dr., Reston. Hit the pool and hitch a ride on the trackless train! Come ride on the second week of June, July, and Aug. Special runs also May 31, June 1, and July 4. Watermine park opens May 24. $3. 703-471-5416.
Braddock Nights Concert Series. Fridays, June 27- Aug. 29. 7:30-8:30 p.m. Lake Accotink Park, 7500 Accotink Park Road, Springfield; or Royal Lake Park, 5344 Gainsborough Drive, Fairfax. Listen to musical performances in the great outdoors! http://www.fairfaxcounty.gov/parks/performances/
Burke Arts in the Parks. Saturdays, June 28- Aug. 23. 10 - 11 a.m. Burke Lake Park Amphitheater, 7315 Ox Road, Fairfax Station. Entertain children, teach them the importance of protecting our natural resources, introduce them to live entertainment in an informal kid friendly atmosphere, and forge a connection between kids and parks! Fun for all ages. 703-323-6601.
Fairfax's Independence Day Celebration. July 4. 10 a.m. – 10:30 p.m. Downtown Fairfax Historic District. Celebrate with our Independence Day parade, historical tours, games, entertainment and fireworks! http://www.fairfaxva.gov/about-us/special-events/independence-day-celebration
Fort Ward Civil War Re-enactment Weekend. July 12, 10 a.m.-5 p.m.; July 13, 10 a.m.-3 p.m. Fort Ward Museum & Historic Site, 4301 W. Braddock Rd., Alexandria. To commemorate the 150th anniversary of the Battle of Fort Stevens, Fort Ward Museum & Historic Site will feature an interpretation of the historic battle, highlights of Union and Confederate camps, military and civilian living history activities and a President Lincoln interpreter. $2-$5. 703-746-4848. www.AlexandriaVA.gov/FortWard
37th Annual Burke Centre Festival. Sept. 6, 9:30 a.m.-5 p.m.; Sept. 7, 11 a.m.- 5 p.m.
Conservancy Festival Grounds, 6060 Burke Centre Parkway. Enjoy face painting, food, rides, and other amusements at the Burke Centre Festival at the close of the summer!
Fairfax's Fall for the Book Festival. Sept. 11-18. 4400 University Drive, Fairfax. Whether you enjoy nonfiction or fantasy, enjoy literature and hear authors give readings at the Fall for the Book Festival! www.fallforthebook.org