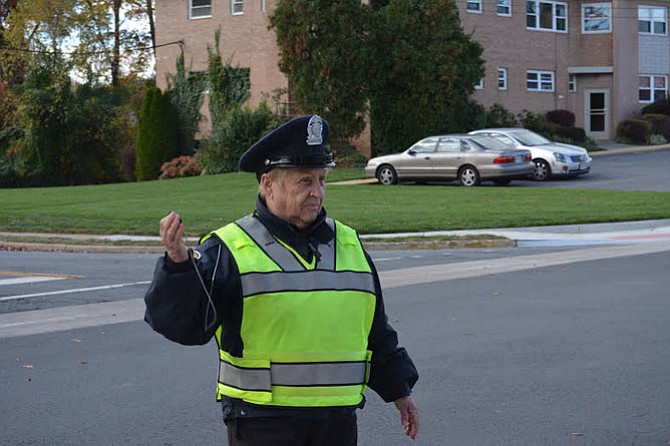 After 39 loving, friendly years as a Fairfax County crossing guard, Peggy Maines of Vienna is to retire. In her many years, Maines has worked at various crossings in Vienna and currently works the busy traffic morning and afternoon hours at Vienna Elementary and Thoreau Middle School. Friend and fellow crossing guard of 27 years Cathy Stride said, "She will really be missed by a lot of people."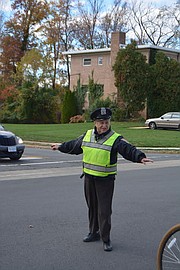 When asked about her life as a crossing guard, Maines was convinced her story would not be an interesting one. "I don't think this will make a great story," Maines said many times, "I'm only someone who loves her job." Set to retire on Nov. 6 at the age of 75, Maines will pass on the crossing guard torch. Maines said, "I have been very fortunate to have had this job and I am going to miss it… But it's time for these young people to take over and have the opportunity to be as fortunate as I." Despite suffering from many injuries and illnesses unrelated to her job during her 39 years, Maines continued to work. "The average person would have retired," Cathy Stride said. Peggy Maines did no such thing. She wanted to get back to her schools to see her favorite familiar faces. "She wanted to get back to 'her kids' as soon as possible," Stride said.
When Maines started working as a Fairfax County crossing guard, she expected to only stay for a few years until her three-year-old graduated from elementary school. "Now look at me," she said, "39 years later." Maines said that crossing was the perfect job for being a mother of six – as she could keep her kids close and ensure the safety of her own children and others. "This is the best job I could have ever had…it couldn't have been cut out for anybody but me. I have been very fortunate and am going to miss it all," she said. "It's the best job I've ever had and I've loved every bit of what I've done," she added. When she started crossing at Gallows road 39 years ago, Maines remembers how it used to be only a two-lane road.
Coworkers and friends Cathy Stride and Edie Adcock call Maines "the Ever-Ready Bunny." They said, "It's because she keeps going and going and going." Maines remembers many of the kids she crossed every day many years ago. "Some come back and say, 'Do you remember me?' and it's just sort of unreal to think these kids are married now with their own kids," said Maines.