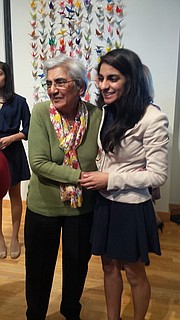 Urmilla Khanna was never a writer; her friends and family knew her as a doctor. Growing up in India, she knew what she wanted to do at an early age, and began her pre-med studies at the age of 15. By the time she was 17, she enrolled in medical school, and by the age of 22 she became a medical doctor.
"In India it was very streamlined," said Khanna, whose father supported her studies. But her life became a paradox when she returned home from school only to find that her father had arranged a marriage for her.
"I was very rebellious about the thought that my father had arranged a marriage," she said. "On the one hand my father trusted me to treat patients, but at home I had to be an absolutely obedient daughter."
OUT OF THIS TENSION grew a story that would fill the pages of Khanna's book, "Boundaries of the Wind," which was published earlier in 2015.
The book launch took place at the Unitarian Universalist Congregation of Fairfax in October, bringing her friends, family members and fellow writers together.
"It's been a long process," said her granddaughter, Anjali Khanna. "I found [the book] surprisingly relatable. She talks about wanting to be intellectually curious. I'm figuring out who I want to be and she was figuring out the same."
Khanna moved to the United States with her arranged husband in 1963. Despite initial aversion to the idea of being told whom to marry, she came to terms with it.
"I was not married against my wishes. I started to take interest in the man and the choices I was given." Her husband, Kris, had one more year of postgraduate study left in the United States, and planned to return to India in order to marry before completing his studies. He and Khanna met each other only briefly before marrying 10 days later.
They moved to Connecticut where Khanna got to know her husband, who she said became her very best friend. She worked part-time jobs in the basic sciences, needing to be recertified to practice medicine. Raising two small children, she eventually did everything to meet all licensing requirements and board certifications, and earning her master's in pharmacology in Ann Arbor.

They moved to Annandale, where she had a pediatric practice in the City of Fairfax located off of West Drive across from the Old Courthouse. She had a solo practice for about 25 years.
However, the untimely death of her husband in 2003 caused her life to take a different turn. She expected them to have a long and happy retirement together.
"When he was no longer around I didn't know what to do with myself. My son suggested that I start writing my feelings in a book." To take her mind off things, she started traveling and considering a second career.
"I knew I had to engross myself in something that would engross my life," she said. Without any formal training in how to be a writer, Khanna enrolled in a Fairfax County ACE Class taught by Joanne Glenn.
"Students can choose what they write about and we try to teach them the conventions of the genre," said Glenn.
"I took my first class with Joanne," said Mary Lucas, a friend of Khanna's who attended her book launch. "In my first class I sat by Urmilla."
THE TITLE of her book comes from a quote by her husband, who said, "Just like the wind, knowledge has no boundaries." Khanna never planned to craft a book, but writing and coaching from her teacher helped her to put a story together.
"Everybody has a story to tell if you really delve into it and work hard at bringing out the heart. If you write it from you heart, everybody has a story. You just have to really work very hard," she said.
Khanna has maintained friendships with individuals vastly different from herself.
"My own temperament has been described as boundless," she said with a laugh. Her book can be purchased on Amazon.
More like this story