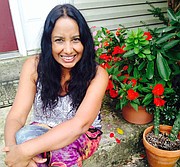 Longtime Centreville resident Naila Q. Parveen released her first novel "Under the Magnolia Tree" this month. Although Parveen has been writing and illustrating stories since she was a child, she still describes becoming an author as something that "miraculously happened" to her.
Initially, she began chronicling the story of how her parents fell in love as a memento for her two young daughters. However, as she shared excerpts with colleagues and friends, they all agreed she should share this story with a wider audience.

When she first began writing the novel, she was a single mother of two daughters, ages six and seven and working full time. In addition, she was also traveling to various jewelry and craft shows selling her jewelry and artwork.
Eventually she fell in love and married Bill Burke, the chair of Centreville High's Performing Arts Department. As her parents grew older, she travelled to Pakistan to take care of her mother and took in her father during the last six years of his life. She credits her father with giving her the inspiration to complete the novel.

"My father blessed me to write this book. He was very proud of me," she said.
Despite facing various life changes and challenges, Parveen was finally able to finish the novel she began nearly 10 years ago. Amid the quietness of her home, she completed "Under the Magnolia Tree" as she was recuperating from surgery resulting from breast cancer.
Completing the novel helped her to heal both emotionally and physically. "My illness turned into a blessing. I am a breast cancer survivor. 'Under the Magnolia Tree' is a powerful story, it gave me the strength to get up again, it gave me hope and courage, my fears seemed to drown and fade away as I wrote my book; that even cancer could not break me, nothing did in my past and nothing could now," she said.
Throughout the writing process, she could feel her parents' presence encouraging her.
In "Under the Magnolia Tree," Parveen describes how her mother who was 39 years old and married with three children met and fell in love with her father a highly decorated 21-year-old officer.
"It is a very unique and an unusual true love story in a very different part of the world; a country where strict rules apply to those who go against the tide. It is an amazing story of love and courage. A story where age doesn't matter. Truth does," she said.
Unlike many romance novels, this story also explores the relationships between mothers and sons, fathers and daughters, and "…of lost relationships and forgiveness."
It is through these relationships that the author weaves her own life story into that of her parents. As a result, she discovered many similarities between her mother and herself.
"I too left my mansion and walked out of a marriage with nothing but a suitcase, a few books, my paintings and my two little girls, leaving all the riches behind and coming to a country where I had no idea how to even pump gas," she said.
Parveen describes juggling all of the twists and turns in her life with finding time to write as the greatest challenge she faced. She advises other beginning writers to find time to write every day, "even if it is one little paragraph," and to read books of substance.
"Under the Magnolia Tree" is available to readers through Amazon.com.

"It is a spiritual book where faith plays an important part, where true love conquers all. It is a book of miracles," she said.
Currently, she is working on creating a second book, which will be fictional.
During her spare time, she enjoys creating jewelry, painting, reading, and writing. She also enjoys playing the guitar with her husband. He has released two CDs of his own original music and is currently working on creating an audio version of "Under the Magnolia Tree" in his home studio.
Parveen has a Bachelor's Degree in psychology and English literature and works as a substitute teacher. A native of Pakistan, she has lived in Centreville for over 15 years with her husband and two daughters.