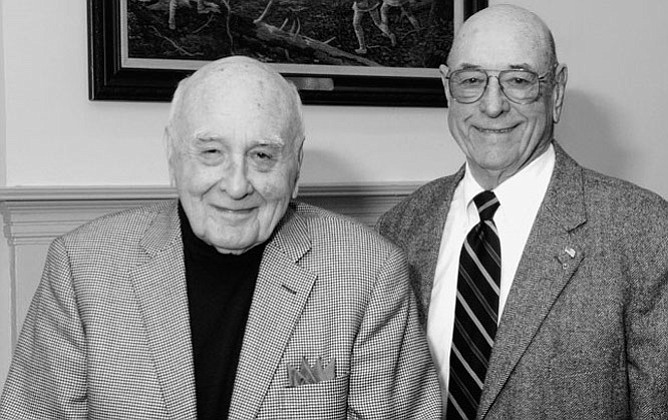 World War II veterans William McNamara and Warden Foley will be honored with the Distinguished Patriots Award at the Chamber of Commerce Salute to Veterans breakfast Nov. 12 at George Washington's Mount Vernon Estate.
As members of American Legion Post 24 for nearly seven decades, McNamara and Foley oversaw the preservation of Gadsby's Tavern, which was owned by the Legion until 1972. Recognizing the building's historical significance, McNamara, as commander of Post 24, led the Legion's decision to turn over the keys to Gadsby's Tavern as a gift to the city with the understanding the building be preserved for future generations.
A recently published book on Gadsby's Tavern by Office of Historic Alexandria Deputy Director Gretchen Bulova bears this dedication: "To the members of American Legion Post 24 ….. whose remarkable dedication and passion preserved this important historic landmark."
The Chamber of Commerce event is open to all and tickets can be purchased online at www.alexchamber.com. It is one of several events taking place in the city during the week of the Veterans Day holiday.
On Sunday, Nov. 8, the Sons of the American Legion Post 34 will once again partner with the Old Dominion Boat Club to host the third annual EOD Wounded Warrior fundraiser. Last year's event raised more than $90,000 to support EOD warriors and the families of wounded and fallen EOD personnel. Tickets are $20 and can be purchased online at www.eodwarriorfoundation.org.
On Tuesday, Nov. 10, the Capitol Post will host a Veterans Day Eve Social from 5 to 8 p.m. at Port City Brewery, which was just voted Small Brewing Company of the year at the Great American Beer Festival. No tickets are required but RSVP is requested to Mary Iafelice at mary.iafelice@thecapitolpost.com.