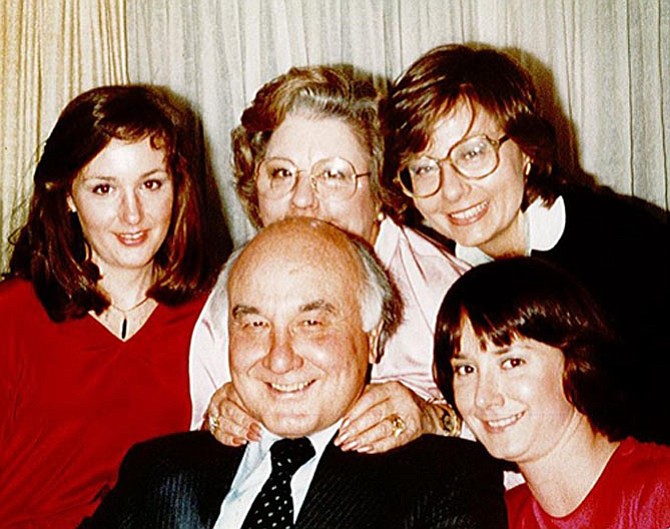 At 15 years old, Bill McNamara was determined to join the U.S. Cavalry. But when he walked into the local armory one Friday night, he was told he was too young. Not to be dissuaded, he walked around the block, stepped back inside and this time gave his age as 18 to the recruiter. The year was 1936 and McNamara had joined what would become America's Greatest Generation, one of thousands who left for battlefields half a world away never knowing if they would ever see home again.
"It was scary going into the unknown," said McNamara, who led a six-man detachment onto Omaha Beach during the D-Day invasion of Normandy in 1944. "What I saw that day was unbelievable. We weren't expected to come out alive."
Gen. Dwight D. Eisenhower had charged McNamara with putting out the Stars and Stripes newspaper for the front line troops. Within days of the landings, he and his crew of Army journalists were churning out thousands of "Beachhead Bulletins" on a mimeograph machine.
"It was chaotic," McNamara told the Gazette Packet prior to the 70th anniversary of the D-Day invasion in 2014. "Nobody knew whether we were winning or losing."
McNamara went on to become publisher of the Stars and Stripes, establishing six later editions that grew to a daily circulation of more than 500,000 by the time the war ended in 1945. On June 4, the decorated World War II veteran died at his Alexandria home from complications of a stroke. He was 95.
Born March 25, 1921, in Blaine, Washington, William McNamara was the third son born to Mary Gatterman and William G. McNamara. He grew up in Tacoma and graduated from Stadium High School in 1939 having already begun his military career as part of the Washington National Guard Headquarters Troop 24th Cavalry Division. His unit was mobilized in 1940 and shipped overseas to England in 1943. McNamara served with the 3051st bombardment group until being transferred to London to join the staff of the Stars and Stripes.
"What Bill did in establishing Stars and Stripes on the European continent after D-Day really should be taught in some sort of management course," said Joe Gromelski, a Stars and Stripes journalist. "The planning was precise but flexible, and the execution had a lot to do with establishing our reputation as a paper that gets to the troops no matter where they are.
"Mr. McNamara was always greeted warmly when he came to the office, because people knew that he was not just a warm, friendly person, but a link to our past who reminded us of why we're in business today."
After WWII, he completed his education with a Bachelor of Science degree and a Master of Arts from American University.
It was during this time that McNamara married Pauline Catalano. The two settled in the Parkfairfax section of Alexandria in a home next door to F. Clinton Knight, a World War I veteran, member of City Council and commander of American Legion Post 24 in Old Town.
"We never heard much about the war growing up," said McNamara's daughter Mary Martha. "Most topics of dinner conversation were about whatever scheme Daddy and Clint Knight were hatching to save Gadsby's Tavern."
At the time, American Legion Post 24 owned Gadsby's Tavern. Knight and other World War I veterans had mortgaged their own homes to buy the building for $18,000 in 1929 to save it from demolition. Badly in need of repairs, Knight and McNamara sought to find a way to preserve the historic structure.
"It was the goal of our World War I veterans to see Gadsby's restored and also have the Legion have some identification with it," McNamara said. "During my time as commander, it was decided to donate the building to the city on the condition that the Legion would be able to maintain in perpetuity its Post in the back wing."
On Aug. 11, 1972, McNamara formally handed over the keys to Gadsby's Tavern to then-mayor Charles Beatley. For his efforts he was named a Living Legend of Alexandria in 2016.
McNamara retired from active military duty in 1958 as a lieutenant colonel. He went on to work in the Office of Public Affairs at the Department of Defense where he specialized in international sporting events. In retirement, he consulted with the President's Council on Physical Fitness and Sports, the Organization of the American States and the United States Military Sports Association. In 2011, he was presented with the President's Council on Fitness Lifetime Achievement award.
Other honors include the Distinguished Patriot Award presented by the Alexandria Chamber of Commerce and the French Legion of Honor Medal.
"Daddy only slowly began sharing some of his stories with us after the World War II Memorial was dedicated," Mary Martha McNamara said. "That was the trigger for him — he would take out maps and show us where he had served. And of course he loved regaling us with Andy Rooney tales, especially after Rooney became so famous on 60 Minutes."
McNamara was a longtime parishioner of St. Mary's Catholic Church and was a member of the executive board of American Legion Post 24 at the time of his death.
"Daddy was enormously proud of his career with Stars and Stripes and of the Legion's work to save Gadsby's Tavern," Mary Martha McNamara said. "But deep down my father was a family man and wanted nothing more than to be remembered as a good husband and loving father."
McNamara and his wife were married for 49 years before her death in 1995. He was also predeceased by two older brothers, Walter and Jim. Survivors include his three daughters, Mary Martha McNamara (Robert L'Heureux), Kathleen A. McNamara (Quinn Sinnott) and Maureen McNamara, seven grandchildren, Brinn (Krista Olex), Corinn, Devinn and Erinn Sinnott, Martin Robert and Christian L'Heureux and by his brother, Tom McNamara (Carlene) of Dallas, Texas.
A visitation will be held Sunday, June 19, from 1- 4 p.m. at Everly-Wheatley Funeral Home, 1500 West Braddock Road. A Funeral Mass will take place Monday, June 20, at 10:30 a.m. at St. Mary's Catholic Church, 310 S. Royal St. with a reception to follow at the American Legion Ballroom of Gadsby's Tavern, 400 Cameron St. Interment at Arlington National Cemetery will be held at a later date. In lieu of flowers, donations may be made to St. Labre Indian School, Ashland, Mont., 59004 or a charity of your choice.

"Most people have no understanding of what it's really like in combat," McNamara said prior to spending a recent Veterans Day at Arlington National Cemetery. "But it's important to recognize what those who serve have gone through."