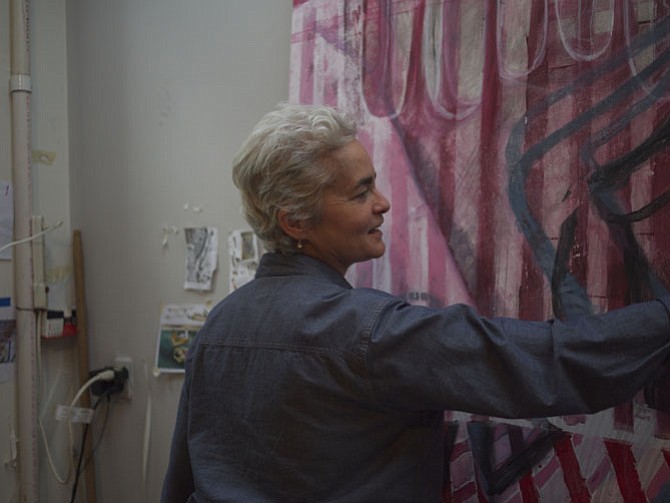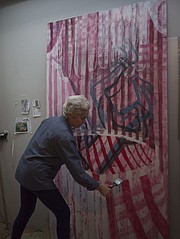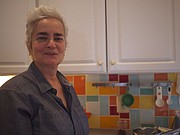 Along a quiet, tree-lined street in the Ashton Heights neighborhood, the house is already a reflection of the painter inside. The front porch has been antique-washed in color: sea greens, pale oranges, blue.
Inside, Sue Grace's canvases from a recent show are on the wall, their warm, rounded mountains resting, like sleeping bears, on the wall. The kitchen is warm and full of light. The tutti frutti Mondrian-ish mosaic backsplash over the kitchen sink reflects the creativity that takes place in the kitchen and the love of color and shape that takes place in the studio below it. The pantry is full of Indian, Italian, Asian, and whole foods cookbooks. The painter offers breakfast of steel cut oatmeal, nuts, and tea. She's fed many people at this kitchen island, two of them children who have gone off to college and a first apartment.
Grace is preparing for a show of paintings she did over the past 20 years, reflecting the profound joy, perplexed exhaustion, and perpetual wonderment she experienced since first finding herself pregnant and giving birth. Although she had read "What to Expect When You're Expecting" and picked out her layette, preparing for an event she suspected would change her life, nothing ... absolutely nothing … could have prepared her for birth itself, and particularly, the artist's perception of it. The guides for new mothers expounded on newborn clothes, the colors and soft fabrics, softer detergents: all of which Grace, as a new mother-to-be studied earnestly. "In retrospect", she laughed, "I realized that what was really called for in this amazing journey towards stewardship of another human being was to go into the desert and fast for 40 days and 40 nights."
"I loved being pregnant; all of my senses were extremely heightened. But beyond that, it was a profoundly spiritual experience. I wanted to create imagery that would share some measure of this — the certitude that was a guiding force — with people for whom there would never be a chance to experience it. I particularly was thinking of men when I made many of these pictures."
Her series of paintings — almost 30 in total — are an effort to express, on canvas, that joy, whoosh, pain, ecstasy, oneness and apartness, that exit from one's body of another human being.
Grace is being talked about — in a good way. Her mix of styles has been written about recently in the Washington Post and her recent series of shows promise this artist is piquing interest among collectors. Her work explores the bridge between abstract and figurative expression. She is interested in this polarity: rendering the third dimension without sacrificing the immediacy of the two-dimensional, abstract aspects of painting. These paintings convey the mystery of giving birth; specifically the experience of the birth of the mother, being pulled towards a presence larger than her own experience.
Coming on the heels of a one-woman show at the Hillyer Gallery in DuPont Circle, she will open "Birth of a Mother" on Nov. 14 at the Lorton Workhouse, the former center of detention for suffragettes who were arrested while demonstrating for equal rights. Like them, Grace wanted it all.
She grew up in the Chicago area, and started painting in the summer of 8th grade. She majored in English, because her art teacher told her to get a practical degree, and soon after getting her B.A. at the University of Chicago, she told her boyfriend she wanted to be a painter, live in New York, not tie herself down; he cleverly said he wanted to move to New York as well, and they married. She went to art school in New York City, studying with Robert Beauchamp at the Art Students League. Through Beauchamp, Grace studied the Push-Pull technique, overlapping warm and cool colors to create depth and movement to the two-dimensional canvas surface. The technique helps give paintings a life of their own.
Grace has shown her art since 1982, including a stint at the Florence Trust Exhibition in London and at the Torpedo Factory, and she has been professionally recognized by the Director's Collection, Workhouse Art Center Winter/Spring 2015, and in 2014 she was juried into the Artist Residency at the Workhouse Art Center.
Besides living in Arlington with husband Bruce since the mid-1980s, and having children here, Grace has been an involved member of the community, as a volunteer assisting a diabetes educator, and working with the Arlington Arts Center. See www.facebook.com for details or visit www.workhousearts.org.
Art Exhibit Reception
"Birth of the Mother"
Workhouse Arts Center, Building W-10 Gallery
9601 Ox Road, Lorton, Virginia, 22079.
Free Reception: Saturday, Nov. 14, 6 – 9 p.m.
Exhibition Dates: Nov. 14 – Dec. 6
Gallery Hours: Wednesdays through Saturdays, 11 a.m.-6 p.m.; Sundays, 12-5 p.m.