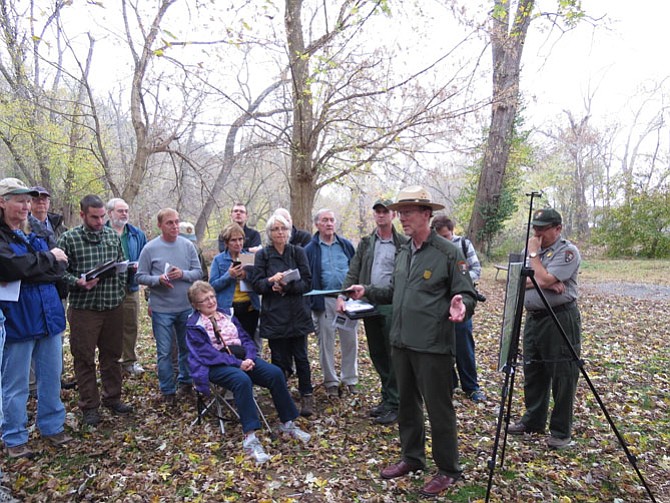 More than 40 people turned out for a community meeting with the National Park Service about planned removal of "defective" trees along the C&O Canal in Potomac.
The National Park Service has to balance tree preservation against visitor safety, and that's why more than 60 trees are marked for removal or pruning at Swain's Lock along the Chesapeake & Ohio Canal National Historical Park.
The action was a result of a recent assessment of the health of trees in three "developed areas" along the C&O Canal in Potomac by park service arborists.
"It's a fairly common cause of visitor injury, from fallen trees," said Kevin Brandt, superintendent of the C&O Canal National Historical Park.
"Visitors are in greater risk on county roads getting here than from falling trees in the park," said Barbara Hoover, a member of West Montgomery County Citizens Association, to agreement all around.
Potomac's County Councilmember, Roger Berliner (D-1) called for the meeting between members of the community and the park service after residents alerted his office that tree clearing was underway along the towpath several weeks ago. Berliner contacted Brandt within minutes, and Brandt agreed to stop the tree work until after a meeting and further assessment.
Representatives from both U.S. Rep. Chris Van Hollen's office and U.S. Rep. John Delaney's office also attended.
"We'll preserve the greatest number of trees consistent with safety requirements," Brandt said. "Visitor safety comes first."
The issue appeared to come down to liability concerns in what Brandt referred to as "developed" areas of the park, including campgrounds.
"Once we identify a hazardous tree, we own it," Brandt said. "We have to take action." There are three options, pruning the tree, taking down the tree and "removing the target."
Community members disagreed with NPS assessment of the health of the stand of towering silver maples in the floodplain by Swain's Lock, and questioned whether such action should be taken just on the basis of the assessment by arborists. One arborist estimated that the trees were 60-80 years old.
Some asked if a hydrologist had assessed what would happen to the stability of the area and river banks after the trees were removed. Brandt said that he would ask the hydrologist who is on staff to take a look at the situation.
Ginny Barnes asked about "removing the target."
"If you're at the point of cutting down over 50 trees, … why wouldn't you consider moving the campground?" Barnes asked.
Closing the campground might be an option, Brandt said. Moving it would probably not be an option because of the lengthy process of environmental assessment that would be required.
After the meeting, Brandt told Berliner that he would follow up on "the suggestions made on Saturday about getting a NPS hydrologist to evaluate the site for impacts from erosion and make recommendations. We are also engaging a NPS landscape architect to evaluate and make recommendations for revegetation."
Brandt also said he would ask the arborist to evaluate if any of the trees could be addressed differently if they proceed as if this is a two-phased hazard tree management action. He also predicted that more tree work would be required in the next two-to-five years, and pledged that communication would be better going forward.
A decision on going ahead with removing and pruning the trees on these three sites in Potomac will take a week or so.