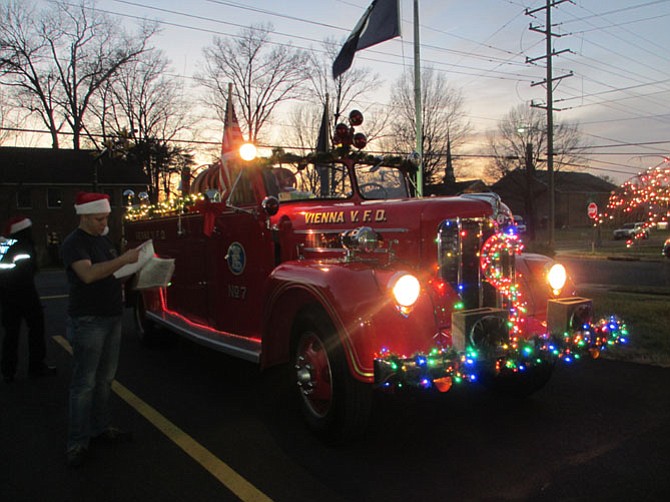 From food drives and coat drives to festive holiday events and activities, there is something for every age group living in the Vienna-Oakton area. Keep this calendar close by …
Annual Food Drive sponsored by the Northeast Vienna Citizens Association (NEVCA) for the benefit of the Committee for Helping Others (CHO), Nov. 1 to Dec. 31.
All non-perishable unexpired food items are accepted. In greatest need are diapers (sizes 3, 4, 5, and 6), canned fruit and apple sauce, pancake mix and syrup, oatmeal, grape jelly, canned salmon, Spam, small canned hams, canned chili, spaghetti sauce, cooking oil, white rice, laundry detergent and dish soap.
Girl Scout Cadet Troop 2684 from Kilmer Middle School joins NEVCA by picking up the food at the locations where food boxes will be: Town Hall, 127 Center St. S, Uniquities, 421 Church St. NE, Evolution Fitness, 216 Dominion Rd. NE, Bikes@Vienna, 128A Church St. NW, Caffe Amouri, 107 Church St. NE, Rexall Drug Store, 150 Maple Ave. W, Vienna Arts Society, 115 Pleasant St, NW, Patrick Henry Library, 101 Maple Ave, E [Co-sponsored by NEVCA and Supervisor Cathy Hudgins].
1st Stage holiday production, "Harvey," Nov. 12- Dec. 20.
Winner of the Pulitzer Prize for Drama, "Harvey" is a story of whimsy and imagination suitable for families. Uncle Elwood's imaginary friend, a six-foot-one-and-a-half-foot tall rabbit named Harvey, causes a stir among family members caught in Uncle Elwood's fantasy.
Harvey runs at 1st Stage on Fridays at 8 p.m., Saturdays at 2 and 8 p.m., and Sundays at 2 and 7 p.m.

General admission tickets are $30. Senior (65+) tickets are $26, and student and military tickets are $15.
Tickets, subscriptions, and Flex Passes can be purchased online at www.1ststagetysons.org or by calling the 1st Stage box office at 703-854-1856.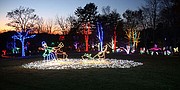 Meadowlark Gardens' Winter Walk of Lights, Nov. 14 to Jan. 4, evening/night, daily.
A half-a-million colorful LED lights span the lakeside and gardens of Meadowlark Botanical Gardens off Beulah Road in nostalgic and fairytale scenes of the holiday season.
Admission charge. To buy timed tickets, go to http://winterwalkoflights.com/.
Unitarian Universalist Congregation of Fairfax, Annual Holiday Bazaar, Nov. 21 from 10 a.m. to 4 p.m., and on Nov. 22 from 10:30 a.m. to 2 p.m.
Open to the public, free admission. Art, jewelry, glass bowls, photography, and additional crafts and goods for sale.

UUCF is located at 2709 Hunter Mill Road, Oakton. Contact Mary Ellen Larkins at 703-281-7847 for more information.

Christmas tree sales from community service organizations open Thanksgiving weekend.
Over Thanksgiving weekend, both the Optimists of Greater Vienna and the Vienna Lions' Club open their Christmas tree sale season. Support service organizations that give back to the community with your purchase of a Christmas tree from the Optimists or the Lions. The Optimists hold their tree sale in the Giant Food parking lot, adjacent to the bank there. The Lions hold their tree sale in parking lot of Walgreen's. Support those who support the community.
Vienna Small-Business Saturday, Nov. 28, throughout Vienna.
Support the locally-owned businesses in Vienna and Oakton that give back to the community with financial support and their time and skills. You know the businesses who donate to kids' sports teams, schools, and special events.
Sponsored by Vienna's Town/Business Liaison Committee, the event offers the community a small town-town shopping experience.
Church Street Holiday Stroll, Monday, Nov. 30, 6 to 9 p.m.
The Historic Church Street corridor closes at 5:45 p.m. Santa arrives at 6:15 p.m. in an antique fire truck and listens to childrens' wish lists throughout the evening.
Santa and the Mayor light the tree at 6:20 p.m. Historic Vienna, Inc. invites the community to roast marshmallows over an open fire, visit the animals in the petting zoo, listen to performances by local choruses, and mingle with neighbors. Church Street merchants remain open during the stroll.
There will also be a canned food and monetary donation collection.
For more information, call Historic Vienna, Inc. at 703-938-5187 or visit viennava.gov.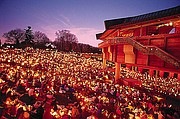 Wolf Trap Holiday-Sing-A-Long, Saturday, Dec. 5, 4 p.m. Filene Center, Wolf Trap National Park for the Performing Arts, Vienna.
Dress warmly, grab some bells and candles, and make your way to one of the region's most-loved holiday concerts, the free "sing-a-long," featuring "The President's Own" marine corps band and local choruses and musicians.
Members of the U.S. Marine Corps will be on-hand to accept donations on behalf of Toys for Tots.
No charge but unwrapped new toys are welcome.
Holly & Ivy: A Christmas Marketplace, Dec. 5, 10 a.m. to 5 p.m., and Dec. 6, 9 a.m. to 3 p.m., Our Lady of Good Counsel Church. Holiday bazaars are in full-swing, particularly those sponsored by community churches.
Our Lady of Good Counsel church is located at 8601 Wolftrap Road, Vienna, 22182.
Epiphany United Methodist Church and Epiphany Preschool, Annual Christmas Bazaar on Saturday, Dec. 5 from 10 a.m. to 3 p.m.
Silent auction, crafts, homemade wreaths, poinsettias, See's Candy, baked Goods. Lunch is available for purchase. Epiphany is located at 1014 Country Club Drive, Vienna.
For more information, go to www.epiphanyumc.com or call 703-938-2391.
Jingle on the Lake, Saturday, Dec. 5, 11 a.m. to 2 p.m., Lake Anne, Reston
Community organizers and plaza retailers host a variety of festive activities ranging from a visit from Santa – who arrives on a lake barge – to strolling carolers, a petting zoo, dog adoptions, music, wine tastings, merchant specials, children's crafts, cookie decorating, holiday arts and crafts market, holiday entertainment and surprises.

Santa arrives at PetMAC in Lake Anne Plaza for pet photos. Donations will be given to New Love Dog Rescue and Oldies but Goodies Cocker Spaniel Rescue. Appointments recommended; call 571-325-2099 to make photo with Santa appointments. See www.petmac.org for news updates.
Santa Claus will be visiting the Freeman Store on two Sundays this year, Dec. 6 and Dec. 13, from 12 to 2 p.m. each day.
Freeman House is located at 131 Church Street NE, and is decorated for the holidays by the Ayr Hill Garden Club. Santa holds court in the period rooms upstairs.
Freeman Store, specializing in nostalgic gifts and made-in-Virginia products, will be open for shopping.
For information call (703) 938-5187 or visit www.historicviennainc.org.
Holiday Tea, Friday, Dec. 11, 2 to 4 p.m., sponsored by Shepherd's Center of Oakton-Vienna and Vienna Parks and Recreation. Seniors of Vienna and Oakton celebrate the season with tea, snacks, and music by the Tallwood Trio at Our Lady of Good Counsel Church, DeSales Hall, 8601 Wolftrap Road, Vienna. Tickets are $10 each and should be purchased by December 2. To reserve a ticket, call SCOV at 703-281-0538.
Vienna Volunteer Fire Department Auxiliary All-you-can-eat pancake breakfast with a visit from Santa is Dec. 12 from 8 a.m. to noon.Santa arrives at 10:30 a.m.
The Fairfax County Sheriff's Office will be there to provide Free Child ID with a paid admission to the pancake breakfast. Admission is $8 for adults; $7 seniors; $6 children age 12 and under; free for children under age four.
The pancake breakfast is held in the fire station's Flame Room.The station is located at 400 Center St. S.
Simbang Gabi, Filipino Christmas Celebration, Dec. 19, 7 to 8 p.m., Our Lady of Good Counsel Church, 8601 Wolftrap Road, Vienna VA 22182.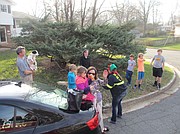 Vienna Volunteer Fire Department "Santa Runs" begin the week leading up to Christmas Eve.
Santa and his elves climb aboard VVFD's antique fire truck and zoom through the streets of the Town of Vienna and outlying communities. Festive holiday music blares as the truck cruises through neighborhoods. Wherever there are children, the fire truck stops and the elves jump off with candy canes as Santa waves. Seniors come to their doors or outside to wave to Santa. Check VVFD's website, VVFD.org, to daily itineraries.
Vienna Choral Society concert: Harmony and Light – a Jazz-inspired Christmas, Dec. 19, 4:30 p.m.

Ticket prices are $25, adults; $20, over 65 and ages 15 to 18; free for students 14 and under, with paying patron. The concert will be at Vienna Baptist Church, 541 Marshall Road, SW. For details and to purchase tickets, go to http://viennachoralsociety.org/.