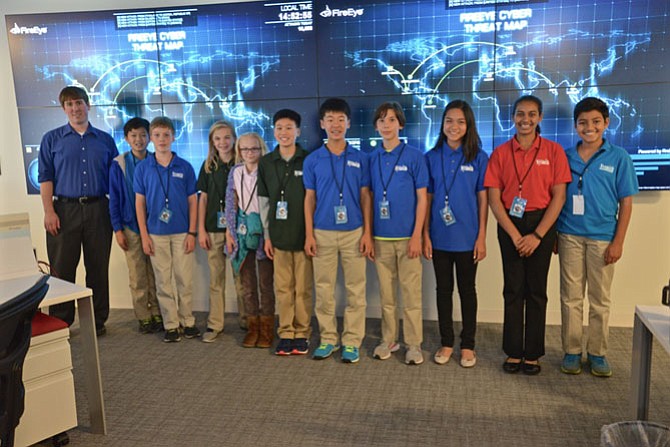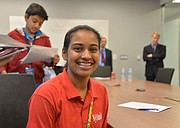 Most school field trips take in a museum, maybe a visit to a historic house or possibly a kid-centric performance of some kind. All of these outside-the-school-walls outings are great experiences and terrific educational opportunities, but a group of students from The Nysmith School in Herndon got a real treat when they visited the Reston offices of FireEye, a leading developer and provider of cyber security products and services.
AN HOURS-LONG VISIT to an office building might not sound like a lot of fun to your average sixth, seventh and eighth graders, but these youngsters were beside themselves because all of them are members of a Nysmith CyberPatriot Team and this was a chance to see the hypotheticals that they work with come to life before their very eyes.
The CyberPatriot National Youth Cyber Defense Competition is part of the Air Force Association's (AFA) STEM (Science, Technology, Engineering and Mathematics) Program, aimed at encouraging interest in these areas of study and developing the skills to pursue related careers. As a school that is known for its excellence in STEM education, Nysmith has embraced the STEM curriculum, and its students have equally accepted the challenge of the competition. One of the two Nysmith teams entered into last year's competition took the Middle School National Championship – no small feat when you take into account that more than 2,150 teams were registered from middle schools and high schools from all fifty states, Canada, and DoD Dependent Schools in Europe and the Pacific.
In the competition, the team members act the part of newly-hired IT professionals tasked with finding and fixing vulnerabilities in a number of operating systems with two major ground rules: cause no further damage to the virtual systems and don't cause additional problems for the imaginary users. "And that's pretty much the same mission for FireEye in the real world," said David Lindquist, an Event Analyst at FireEye and one of several presenters on the Nysmith visit agenda.
"That is so cool," declared sixth grader Ilse Dubert, a first year CyberPatriot competitor. "It shows that the examples and problems we are given are real." Ilse's twin sister Annica is also a Nysmith CyberPatriot and was an attendee at the FireEye field trip.
Ilse was also pleased that their hosts "talked to us, you know, straight." She and several of her schoolmates appreciated that the FireEye gang "didn't treat us just like a bunch of kids."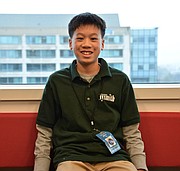 "Actually," admitted Devon Kerr, a Principal Security Advisor with FireEye, "you guys make me a little nervous, like when I am standing in front of a group of CEOs. You really know your stuff. I can tell just from the questions you ask and the answers you've given." Kerr's presentation included examples of investigations he has conducted for clients around the globe and had his audience head-nodding and adding corroborating stories when he described some of the vulnerabilities he has encountered. When Kerr offered a number of tips on daily computer cyber safety, pens were out and notes were being taken by the students, and their adult companions, as well. (OK. I took a few myself.)
Part of the FireEye discussion addressed the skills needed to work in cyber security. "We have a shortage of skilled people in these critical fields today," said Sridhar Jayanthi, VP of Engineering at FireEye and one of the hosts of the school tour. "Cyber attacks are a daily event at all levels, the threat is real and growing." This group might be a bit young to be considering their career options at FireEye anytime soon, but there was a definite gleam in the eyes of the two George Mason University students in attendance. Juniors Jessica Miers and Alex Handley are the mentors of the Nysmith competitors.
In a day filled with high points, the visit to the Reston Security Operations Center (SOC) was still a real standout for the young "cybernauts." Escorted into the "heart of threat monitoring," the visitors were corralled into one area of the room. "Sorry. This is a No-Wander Zone," Lindquist informed them. No one seemed to mind as they watched the enormous multi-screened wall map showing samples of cyber threat incidents that looked like the scene from the movie "War Games" when the sentient computer is trying out nuclear attack scenarios for potential outcomes.
IT TOOK SOME DOING to tear the group away from the SOC, but eventually they gathered once again for the last presentation of the day - and this one was no let down, even after the SOC experience. Alison Cramer, Facility Security Officer and the day's chief liaison, spoke to the Nysmith contingent about the non-cyber aspects of security. Just like the "techie" talkers before her, she brought her topic home for her audience and kept their competitive edges sharpened, breaking them into groups to work on a "daily defense" project.
"Take today's lessons. Think about your school and look for ways to improve on the different areas of security," directed Cramer. Less than five minutes later, each group was ready to make their recommendations. No doubt they will be presenting them soon to school principal Ken Nysmith.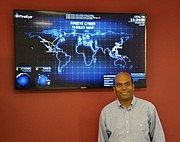 The Nysmith School has upped their stake in this year's CyberPatriot competition, adding a third team, and six more students ready to defend their school's title against 460 other school teams registered to compete. Eighth-grader Monica Saraf, a member of last year's championship team and Team Captain of the 2016 "CyberArmour" admitted that that the challenge was a fierce one, but thought that mentors like Miers and Handley, coaches like parent Bonnie McCrystal and extras like the FireEye visit "will really help us to make Nysmith proud of our efforts."
The 2016 CyberPatriot Competition Nationals will take place on April 10–14 in Baltimore. Good luck to the Nysmith teams. We know the FireEye crew will be rooting for you. Learn more about The Nysmith School and about the CyberPatriot competition at www.nysmith.com and www.uscyberpatriot.org. Even if you are not in the market for cyber security services, check out www.fireeye.com anyway. The company puts up threat information and security tips for the public.