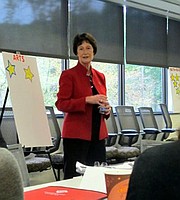 Leadership Fairfax's 10-month LFI Signature Program started off the year with two inspiring opening days at Reston Association on Sept. 25 and 26. The kick-off included an in-depth overview of Fairfax County and a welcome message from Sharon Bulova, Chairman of the Board of Supervisors. Chairman Bulova expressed her admiration of the program stating, "I very much appreciate LFI for what it does in the community and this will be an exciting year. I look forward to your involvement in some key issues facing Fairfax County."
The class of 2016 unites high performing leaders from across the Northern Virginia area to establish pathways for civic engagement and expand students' knowledge of community issues.
Students are tasked with identifying issues within the community and educating their fellow classmates. Through LFI's professional development program, they learn about leadership styles, strengths and competencies, connect with leaders across all three sectors and understand the importance of visionary leadership.
"We look forward to partnering with these talented and capable leaders as they dive into community issues and engage with one another in meaningful ways," said Karen Cleveland, President and CEO of Leadership Fairfax.
Leadership Fairfax has been developing community leaders since 1998. Their graduates, numbering over 1,400, connect the Fairfax community across all sectors – public, private and nonprofit. To enroll or learn more, visit www.leadershipfairfax.org. Leadership Fairfax headquarters are located at 8230 Old Courthouse Road, Suite 350, Vienna, VA 22182. Visit www.leadershipfairfax.org or call 703-752-7555.