With the number and types of commitments made on their daily schedules, it takes a special occasion to gather the entire roster of the Fairfax County Board of Supervisors in one place at one time outside the walls of their meeting chambers. The annual Leadership Fairfax (LFI) Board of Supervisors Breakfast was just that, with all ten members in attendance on April 22 before a packed auditorium of other elected officials, community and business leaders and members of local law enforcement – many of them alumni of LFI programs that the nonprofit sponsors to "create and support leaders."
Welcoming remarks by LFI President and CEO Karen Cleveland and LFI Board Chair Brian Monday of event sponsor TD Bank got things started. Before the supervisors were called to the dais, however, there was an important presentation that had first to be made – a celebration of Bill Bouie, the recipient of the 2015 Katherine K. Hanley Public Service Award. Chairman of the Fairfax County Park Authority Board, Bouie is the embodiment of the award's objective to recognize a member of the community "who exemplifies service above self and has had a positive effect on the County," according to award presenters Rodney Lusk with the Fairfax County Economic Development Authority and award namesake Katherine Hanley.
"Under Bill's leadership," said Lusk, "the Fairfax County Park system received the Gold Medal for Best Large Park System, added 786 acres of parkland," and impressively was the "only park system in the nation to receive a perfect score during accreditation. He's a national leader and has truly made a positive difference in the lives of Fairfax County citizens."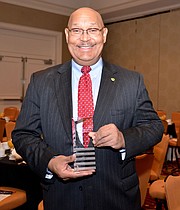 In addition to his work with the Park Authority, Bouie serves on numerous boards, including Wolf Trap Center for the Performing Arts, Reston Hospital Center and Reston Community Center Board of Governors. Bouie grew up next door to a Catholic Church and a convent and came from a family that firmly believed in a "life of service." His service record is one that anyone could be proud of, but in accepting the honor Bouie admitted that he was unable to fulfil his late father's greatest wish – "that I became the first black Pope! He had to settle for really great altar boy!"
Once the applause for Bouie had dissipated, LFI Class of '99 graduate Casey Veatch, principal with Veatch Commercial Real Estate, took the helm as moderator. Not content with simple introductions, Veatch made sure the audience and the supervisors were all still engaged, calling his guest speakers to the stage with organized rhythmic clapping and having each one pass through a line-up of LFI "Super Fans" for some high-fives before taking their seats. "For all they do for the county," declared Veatch, the supervisors deserved some "positive recognition." Veatch started them off with a "soft-ball," asking each supervisor to name a place or an event in the area that's high on their favorites list, as well as a favorite musical group. Answers for the former included Lake Anne Plaza (courtesy of Hunter Mill District Supervisor Cathy Hudgins), Riverbend Park (Dranesville District Supervisor Foust), Clifton ("a place that will lower your blood pressure," declared Springfield District Supervisor Pat Herrity), and the Sully District Police Station, ("if I go by the frequency of my visits there," said Sully District Supervisor Kathy Smith). Harry Connick, Jr. was Lee District Supervisor Jeffrey McKay's musical pick. Kathy Smith went with Bruce Springsteen, while Braddock District Supervisor John Cook chose the group that "keeps having one last tour - The Who."
After getting to know a bit more about our county's elected legislators, Chairman Bulova was then called upon to deliver what she termed the "speed dating version" of the State of the County address – in four minutes or less.
CHAIRMAN BULOVA'S State of the County highlights:
Progress on the Silver Line metro – the extension work beyond the Wiehle-Reston station is proceeding and the rail line is expected to begin service to Dulles Airport by 2020.
I-66 Inside and Outside the Beltway improvements – planning, public input and decisions are on-going, but "at least we are finally moving forward."
Tyson's – so much has already been done, with many more projects well underway.
Ad Hoc Police Practices Review Committee – a final report was delivered to the Board in October, 2015. The full report is available on www.fairfaxcounty.gov website, but includes recommendations on new training and practices that stress "the sanctity of life."
Implementation of Diversion First Program – The county has adopted policies and procedures and is conducting Crisis Intervention Training to "decrease the use of arrest and incarceration" for persons experiencing mental health crises, "diverting them to treatment" wherever possible and allowing them to "access treatment at many points of contact." As of Jan. 1, 2016 the Merrifield Crisis Response Center accepted its first "transfer of custody." Bulova cited numerous benefits to the initiative including better outcomes for the individuals in crisis, enhanced safety of officers and the public, keeping law enforcement in action instead of awaiting mental health assessments and disposition, and considerable savings in cost to the County. According to research conducted for the program, persons with mental health issues remain incarcerated 4 – 8 times longer than those being held on the same charges, and at a cost 7 times higher.
A more than 40 percent decrease in homelessness in Fairfax County. "Since making the commitment in 2008 to end homelessness in our area within ten years, the results show that our efforts are making a big difference," said Bulova.
Preparation of the 2017 Budget – which Bulova said was a determined effort to find the "sweet spot" balancing revenue with the county's many needs.
Once Bulova had completed her rapid summary, moderator Veatch began posing questions of the other supervisors, sometimes in a single-person responder format, sometimes in a "point-counterpoint" method, and even tasking three supervisors to communicate on different aspects of one major issue – Metro. Supervisor Cook commented on performance of the system, Hudgins on maintenance issues, and McKay on why we need to support Metro at all.
Cook pointed out that one of the problems with Metro is that it answers to some twenty different jurisdictions. "We need to operate more like the New York Port Authority, trimming it down to Federal, District of Columbia, Maryland and Virginia. Hudgins reminded the audience Metro is forty years old and was designed as a simple two-track system. "And we are still trying to secure a dedicated funding source to address maintenance, safety and growth," she added. In general defense of Metro, Supervisor McKay said the state would have to add at least one more lane to every interstate if there were no more Metro. He also noted that most major economic development is taking place near Metro rail or other transit stations. "It's not that Metro is too big to fail, it's too important."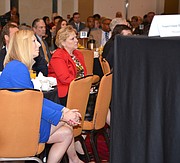 TRANSPORTATION continued to be a theme with Supervisors Herrity and Lynda Smith providing pro and con arguments about the proposals to improve I-66, inside and outside of the Beltway. Smith expressed concern that the project would be "worse than the Beltway construction," and mean major work at artery roads and intersections like Gallows Road, Nutley and Cedar Lane, disrupting the lives of many who "are already major users of transit." Herrity countered that the congestion to I-66 could not go unchecked, citing the improvement in travel times on the Beltway since the addition of the Express Lanes. "These improvements will give people choices in transportation and actually encourage transit usage and carpooling."
Re-visiting an issue from last year's event, Veatch asked for commentary from Supervisor Kathy Smith on the controversial proposed Meals Tax. Smith allowed that it was something that needed discussion. Smith, Herrity and several other supervisors expressed concerned in this regard, indicating that a diversification of the revenue stream was critical. To considerable applause, McKay spoke about "Richmond's assumption of Northern Virginia's wealth" when it comes to the state's formula on providing funding for Fairfax County schools. To keep looking to real estate taxes is "unsustainable" said McKay.
One of the final questions was to Supervisor Herrity, asking him if he agreed that drug overdoses had become a "public health crisis." "Yes," was his immediate and succinct response. "More of our citizens die from heroin overdoses than car accidents." The supervisor noted that 75 percent of heroin usage has been found to have started with the use of legitimately prescribed drugs, often for pain from sports or other injuries. Herrity announced to the assembly that he would be hosting a Town Hall event on the topic in early May.
With final thanks to attendees, LFI staff, sponsors and speakers, Veatch brought the 2016 Leadership Fairfax Breakfast with the Board of Supervisors to a close with a reminder that the new LFI class year will begin in September with programs for current leaders, emerging leaders, and those transitioning towards, or in retirement. Fore more details, go to www.leadershipfairfax.org.