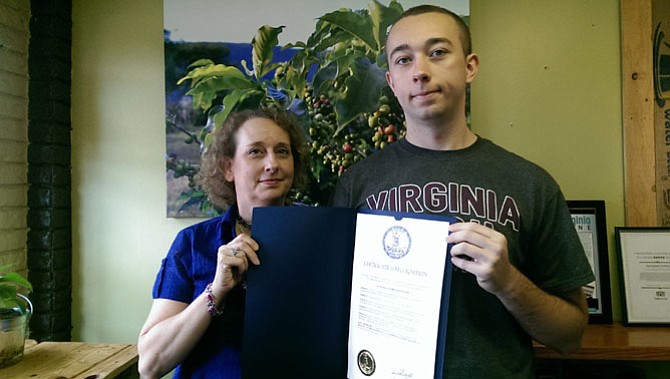 Shannon Duncan of the Falls Church area isn't a big runner herself, but when she sees a 5K road race, it always catches her eye. That's why the mother of three chose to take on organizing one with a best friend and neighbor to raise awareness for dyslexia, a learning disability affecting an individual's ability to speak, read, spell and learn language.
Duncan is a regional leader for Decoding Dyslexia Virginia, a grassroots advocacy group aiming to educate families with dyslexic children about helpful resources available to them as well as lobbying policy makers regarding best practices for identification, remediation and support of students with dyslexia in schools.
Duncan's older two children do not have dyslexia, however her youngest daughter does, they discovered after having her screened specifically for the disability when she was in third grade.
Some parents have criticized Fairfax County Public Schools for not training their teachers to properly identify, remediate and take steps forward to support students with dyslexia. However, the learning disability was highlighted in the latest Strategic Plan issued by the school board and superintendent Dr. Karen Garza has required all elementary school administrators and instructional staff be trained to recognize dyslexia symptoms and warning signs, according to a Fairfax County schools spokesman.

And in accordance with a proclamation from Gov. Terry McAuliffe (D), the board is recognizing October as "Dyslexia Awareness Month."
There will be a workshop hosted by the Fairfax County Public Schools Office of Special Education Instruction for parents of middle and high school students with dyslexia on Oct. 20 from 7-9 p.m. at the Dunn Loring Center, 2334 Gallows Road, as well as a workshop for parents of elementary school students with dyslexia on Nov. 13 from 10 a.m.-12:30 p.m. also at the Dunn Loring Center.
The first annual Decoding Dyslexia 5K Run for Dyslexia is scheduled to take place Oct. 11 beginning at 8 a.m. at Burke Lake Park. For more information on Decoding Dyslexia Virginia and upcoming events, including the 5K, visit decodingdyslexiava.wordpress.com.